Megachurch pastor, social commentator and activist Jamal Bryant was confronted this week at a street rally in Baltimore by grassroots activist PFK Boom.
Boom, whose real name is Davon Neverdon, co-founded the group, "300 Gangstas" as an outreach for some of Baltimore's the most dangerous citizens. Neverdon, who was arrested and ultimately acquitted of murder in 1993 after spending more than three years in solitary confinement, speaks out against such forms of punishment, the Guardian reported.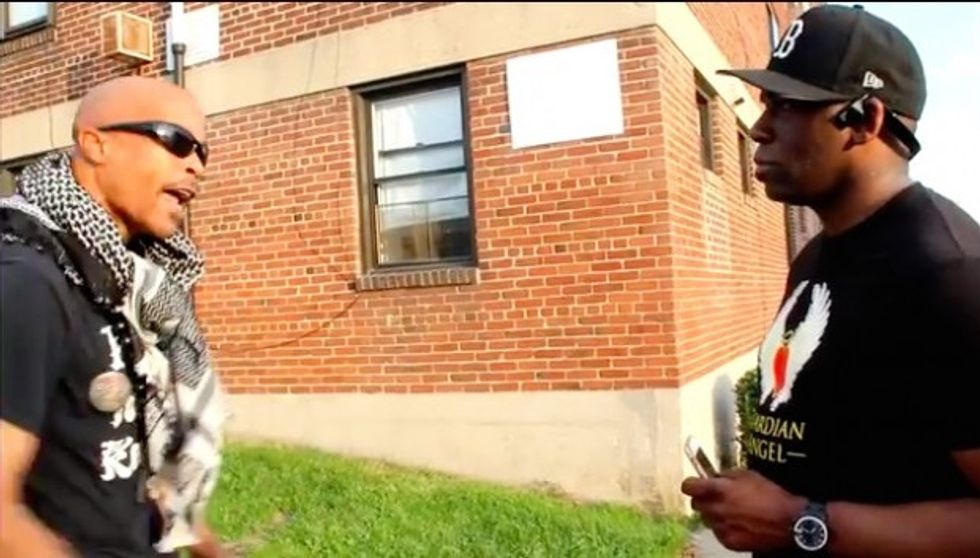 Image source: YouTube
The heated exchange between Neverdon and the 12,000-member Empowerment Temple megachurch pastor, which was recorded and posted to YouTube by another grassroots group called Baltimore BLOC, began shortly after Bryant showed up to West Wednesday, a weekly gathering organized by the family of Tyrone West. After West was killed following an altercation with police officers during a traffic stop in 2013, the Baltimore man's family filed a multi-million dollar lawsuit against the officers involved, WJZ-TV reported.
Several of the activists present at Wednesday's rally made it immediately known that they did not believe Bryant's intentions for being there were pure.
The description under the Baltimore BLOC video reads:
Why did Jamal Bryant finally show up to a West Wednesday after dodging and disrespecting the West Family for the last 3 years? Where was he when the family of Tyrone West first asked him to help? What happened that time Tawanda Jones (Tyrone West's sister) and Abdul Salaam were supposed to speak on a panel at Bryant's church during the Ferguson Solidarity protests in Baltimore in 2014, and he cut them from the program just minutes before it was scheduled to begin? Yeah, we still remember.
In the clip, an angry Neverdon confronts Bryant about the ways in which he believes the megapastor disrespected "the streets," the people who feel that they have been marginalized by Baltimore's government and law enforcement.
"You said you for the people. You got our people all up in your church. You suppose to lead these people man … . You disrespect our streets. You're f**king with our apostles," Neverdon said.
"The streets don't want you here!" he insisted as Bryant nodded and remained silent.
Neverdon proceeded to mock Bryant's t-shirt, which had the words "Guardian Angel" printed on it.
"Don't bring your a** down here no f**king more. I mean it yo. On my f***ing kids yo. You's a f**king disgrace. A guardian angel ... ? For who? Cause you damn sure ain't guarding me ... ," Neverdon told Bryant.
After Neverdon appeared to have finished, Bryant began walking away. As he was doing this, a local rapper who goes by Shy Lady Heroin yelled after Bryant and accused the pastor of "selling out your people."
"Jamal Bryant, you should be ashamed of yourself for selling out your people for your fame and your wealth," she rhymed.
Bryant, who said very little during Wednesday's confrontation, took to Instagram Friday, posting a meme depicting a group of black gangsters claiming to "run our hood."
"Don't be confused a lot of people who claim strength … really don't have any power! #inthesestreets" Bryant wrote for the caption.
Watch the exchange below (Caution: Very strong language):