Presumptive Republican presidential nominee Donald Trump held a press conference Tuesday to highlight the millions of dollars he's raised for veterans groups, but the real subject of his news conference seemed to be the media.
The real estate mogul decried reporters who asked questions regarding the specifics of his donations to various veterans groups. Originally, Trump had said that he'd raised more than $6 million. On Tuesday, Trump announced he'd raised $5.6 million but expected more in the future.
Aside from reading off a list of which veterans organizations benefited from his donations — and by how much — Trump also lambasted the "dishonest media" who he said gave him "bad publicity" despite his raising money for veterans and singled out individual reporters for criticism.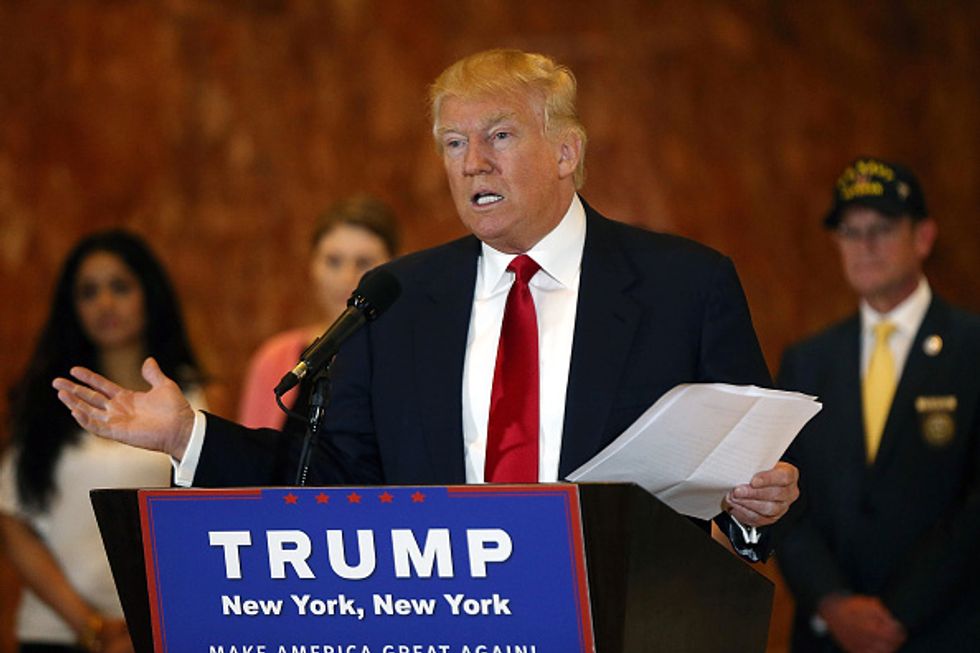 Republican presidential candidate Donald Trump speaks at a Tuesday news conference at Trump Tower where he addressed issues about the money he pledged to donate to veterans groups following a skipped a debate in January before the Iowa caucuses. Trump had previously said he had raised $6 million at the nationally broadcast fund-raiser he attended instead of the debate and that he would donate it all to veterans groups. (Getty Images/Spencer Platt)
"I think the political press is among the most dishonest people that I've ever met," Trump said Tuesday.
Trump engaged in tense, personal exchanges with reporters gathered at Trump Tower Tuesday, including singling out ABC's Tom Llamas by calling him a "sleaze."
"You're a sleaze because you know the facts, and you know the facts well," Trump said after Llamas asked why he was called the name.
Trump just called me a "sleaze." Should be an interesting week.

— Tom Llamas (@Tom Llamas) 1464708604.0
Despite publicly skipping a GOP debate and speaking multiple times on the campaign trail about his massive donations to veterans, Trump maintained Tuesday that he never wanted publicity or credit for his actions but was forced to address them due to the "libelist stories" that came out of the "unfair" media.
"People know the stories are false. I'm going to continue to attack the press," he said. "Look, I find the press to be dishonest. I find the political press to be unbelievably dishonest."
Trump's tense fighting with the press isn't going to end if he wins the presidency, he added.
"Yes, it is going to be like this," Trump said when asked by a reporter if Tuesday's press conference was any indication of what reporters have to look forward to with a Trump administration. "If the press writes false stories like they did where I wanted to keep a low-profile, I didn't want the credit for raising all this money for the vets, I wasn't looking for the credit. And by the way, more money is coming in. I wasn't looking for the credit, but I had no choice but to do this because the press was saying I didn't raise any money for them."
Earlier in his press conference, Trump promised that he's "not going to change."
—
Follow Kaitlyn Schallhorn (@K_Schallhorn) on Twitter