Bryan Pagliano, the man who was responsible for setting up Hillary Clinton's private email server at her home in Chappaqua, New York, has said that he will plead the Fifth Amendment in an open records lawsuit filed by the conservative organization Judicial Watch.
Pagliano was scheduled to give a recorded deposition and answer questions within the next week about the unique setup that Clinton used as secretary of state. However, Pagliano's lawyers now say he will refuse to answer any questions, and instead provide a written deposition.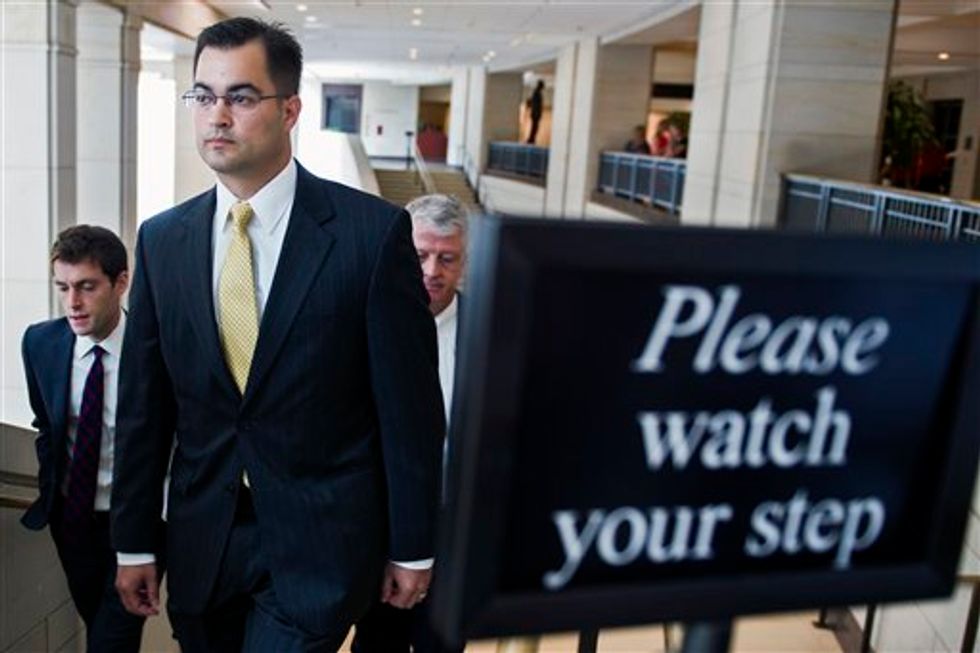 Bryan Pagliano, a former State Department employee who helped set up and maintain a private email server used by Hillary Rodham Clinton, departs Capitol Hill in Washington, Thursday, Sept. 10, 2015, to give his deposition to a House panel on the Benghazi investigation. Pagliano will assert his constitutional right not to testify before any congressional committees, his lawyer says. (AP Photo/Cliff Owen)
"Given the constitutional implications, the absence of any proper purpose for video recording the deposition, and the considerable risk of abuse, the Court should preclude Judicial Watch, Inc. ("Judicial Watch") from creating an audiovisual recording of Mr. Pagliano's deposition," Pagliano's lawyers wrote, according to Fox News.
This isn't the first time Pagliano has asserted his Fifth Amendment right against self-incrimination.
In September, he invoked his right after being called upon to testify before the House Select Committee on Benghazi, something which even one of Pagliano's own attorneys acknowledged "may be controversial in the current political environment."
One thing that is different for Pagliano this time around, however, is that unlike the last time he took the Fifth, he now has immunity from the Justice Department. Federal investigators cut the deal with Pagliano in March after he agreed to cooperate with them in the ongoing probe into the former top diplomat's email practices.
(H/T: Fox News)
—
Follow the author of this story on Twitter and Facebook: