WEST PALM BEACH, Fla. (AP) -- A fired Florida police officer was charged Wednesday in the fatal shooting of a legally armed black musician who had apparently thrown his weapon and was running away when the lethal shot was fired, prosecutors and court documents said.
Officer Nouman Raja was arrested and charged with attempted murder and manslaughter in the Oct. 18 death of Corey Jones, 31, after a grand jury found the shooting was unjustified, Palm Beach County State Attorney Dave Aronberg said at a news conference.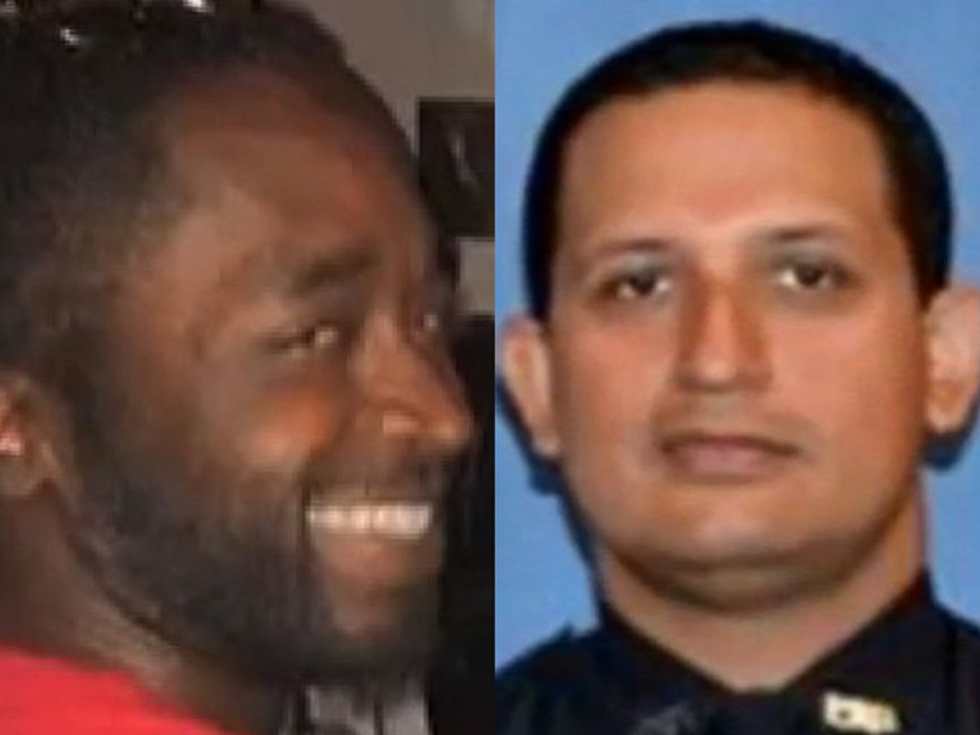 Corey Jones, left, and Officer Nouman Raja, right (Image source: WPTV-TV)
Jones' SUV had broken down on an Interstate 95 off ramp before dawn. He had gotten out and called for a tow truck when Raja pulled up in an unmarked van. Raja, who is of South Asian descent, was investigating a string of burglaries in the area and was in civilian clothes.
"Despite his experience, his extensive police training, and the direction of a superior officer to wear his tactical vest with police markings on it to clearly identify himself as a police officer, Raja chose to approach Corey Jones' vehicle in a tactically unsound, unsafe and grossly negligent manner," according to a probable cause affidavit.
Jones was on the phone with roadside assistance when Raja pulled up in an unmarked white van. The verbal exchange between the two men was captured on the call center recording.
"At no time during the recording did Raja say he was a police officer. Instead, Raja confrontationally replied by asking the single word 'really?' when Jones twice said 'I'm good'" the affidavit said.
Jones and Raja apparently pulled guns on each other. Raja fired six shots, hitting Jones three times. Jones never fired. Raja told responding officers that he saw Jones throw his gun.
Jones had a concealed weapons permit and was legally allowed to carry the gun. His family said he carried a gun because he was hauling expensive equipment.
Raja, 38, was fired shortly after the shooting.
The attempted murder charge came about because he shot Jones twice but did not cause death and attempted to shoot him three additional times, according to the affidavit. If convicted of the charge, he could face up to life in prison.
The manslaughter charge carries up to 15 years in prison.
Jones' family said in a statement that relatives were relieved to learn of the arrest.
"While we understand that nothing can bring back our son, brother and friend, this arrest sends a message that this conduct will not be tolerated from members of law enforcement," the statement said.