Weeks after faith leader Ray Comfort announced that he would essentially crash atheists' upcoming Reason Rally — a secular revival of sorts that will be held in Washington D.C. on June 4 — to preach and hand out $25,000 in Subway gift cards as well as copies of his new book about atheism, there's been a major change in plans.
"Our plan was to give away 5,000 copies of my new book on atheism, and $25,000 worth of Subway gift cards — as a small token of Christin love," Comfort told TheBlaze in an email interview. "Our problem was that a thousand Christians registered to help us."
He continued, "The police said that the only way we could gather a thousand Christians in the Nation Mall was on the condition that we didn't approach atheists, saying that we would be arrested if we did."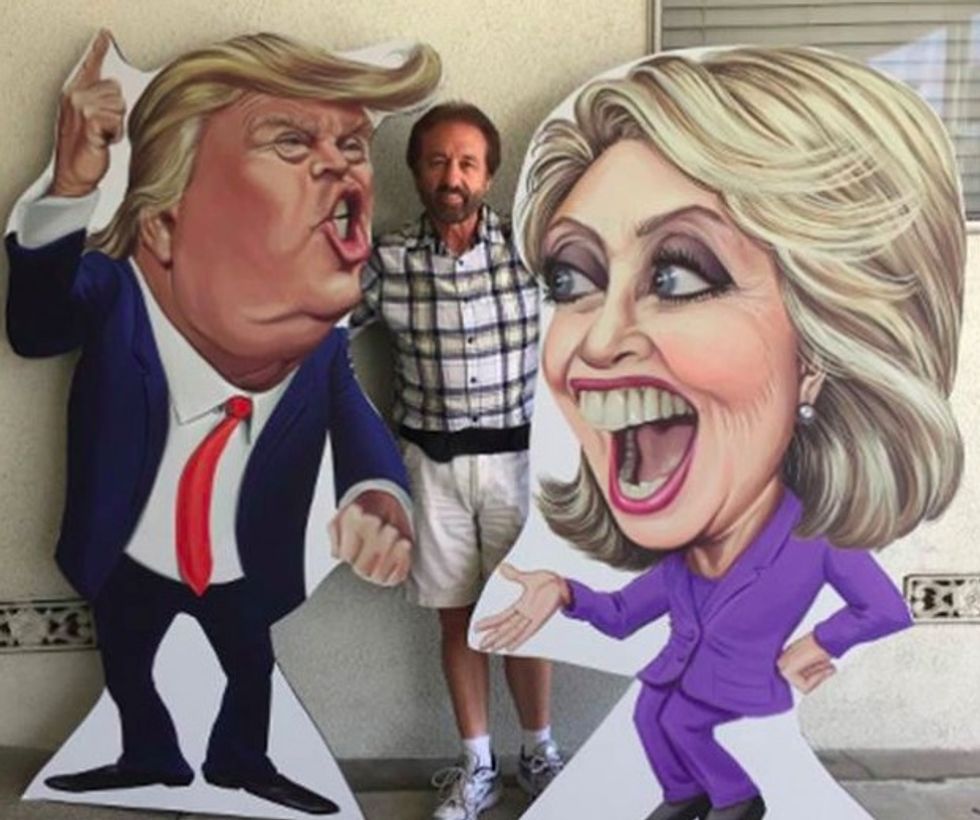 Evangelist Ray Comfort is seen standing next to giant caricatures of Donald Trump and Hillary Clinton (Ray Comfort)
So, Comfort, head of Living Waters and Way of the Master ministries, essentially found a way around the permit process.
He cancelled the invitation to the 1,000 Christians who volunteered to come and help. Then, he and his small film crew decided to hold a smaller event during the Reason Rally — and, considering their size, they no longer needed a permit to gather; in essence, they were no longer seen by police as organizing an official "protest" comprised of more than 1,000 people.
"We then told the thousand Christians that if they came of their own initiative, they too didn't fall under the need of a permit," he explained. "They were not only free to share their faith, but they could join us for the filming of open air preaching at the Washington Monument at 1:00 p.m. on June 4th."
Comfort said that he understands why police made the decision, calling it "a legitimate concern because of the very real threat of terrorism."
"They don't want to have officers policing clashes between a thousand Christians and an estimated 10,000 atheists," he told TheBlaze. "Not that we believe that will happen."
In the end, Comfort said that he's still hoping that atheists "come and heckle" so that he and the crowd can interact with nonbelievers — a central goal of the initial plan to attend the atheist event.
As for the $25,000 in Subway gift cards, Comfort decided to donate them to the homeless in Los Angeles, California. He still plans to give away copies of his new book, "Fat Chance: Why Pigs Will Fly Before America Has an Atheist President," while standing near two giant caricatures of Donald Trump and Hillary Clinton — but it's his message to nonbelievers that he's hoping truly resonates.
"I will be telling them that 54 million people die every year, and that if there was one chance in a million that the Bible is right when it says 'Jesus Christ has abolished death,' they owe it to their good sense to soften their hearts and at least listen," he said. "That's all I ask."
As TheBlaze previously reported, Reason Rally organizers said in a recent press release that members of Congress will potentially be "inundated" in the days preceding the massive atheist rally on June 4 by a large group of "voters who don't want religion to guide public policy."
Atheists, agnostics and "nones" visiting Washington D.C. to participate in the Reason Rally are being encouraged to push politicians to fund only "evidence-based sex education."
Those who wish to attend the "Advocacy Days" portion of the Reason Rally will be trained on effective lobbying techniques and will be given information on sex ed that is pertinent to the funding debate, with the goal of sending at least one atheist, agnostic or "none" out to visit the office of each member of Congress.
Earlier this year, Freedom From Religion Foundation co-presidents Annie Laurie Gaylor and Dan Barker sent a letter to President Barack Obama, asking him to court and give credence to atheist voters by attending the Reason Rally.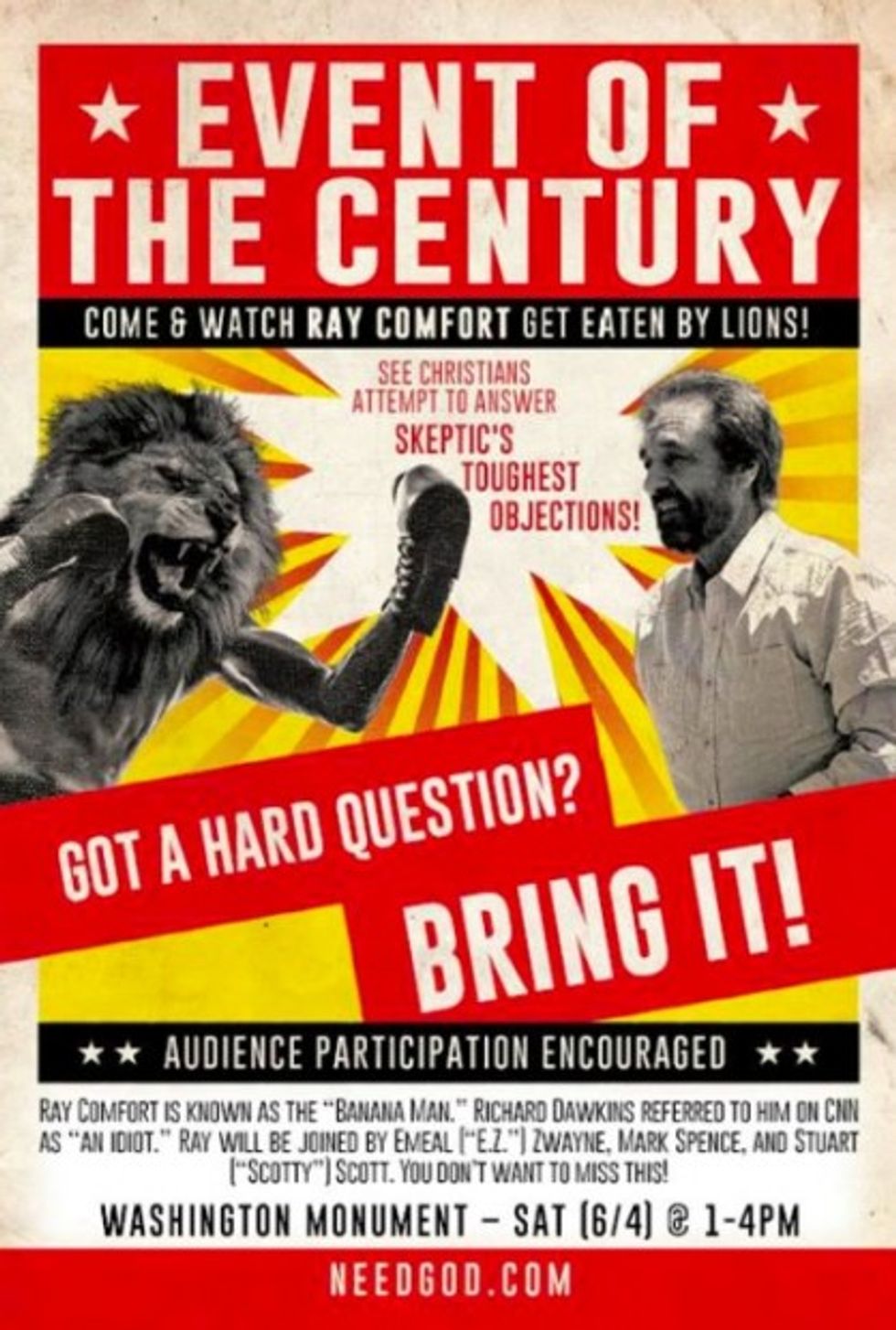 Evangelist Ray Comfort is seen standing next to giant caricatures of Donald Trump and Hillary Clinton (Ray Comfort)
"We respectfully invite you, in your final year in office, to do something no American president has ever done: reach out to secular America," they wrote. "Such attention from the Office of the President would demonstrate that freethinkers, atheists, agnostics, secular humanists and rationalists are accepted citizens."
Gaylor and Barker then asked Obama to "make a historic appearance" at the Reason Rally, as the event offers Obama "an ideal opportunity for the office of the president" to welcome and address those in attendance, claiming that atheists and agnostics fall victim to "unwarranted stereotypes, putdowns and assumptions that we cannot be good people or good citizens."
Among the Reason Rally attendees will be Hollywood heavyweight Johnny Depp, who will join other well-known figures in addressing the crowd, according to a press release from the rally's organizers.
"What do Bill Nye, Andrés Roemer, Johnny Depp, Maryam Namazie, and Killah Priest have in common?" a press release reads. "Two things: They all want reason — not religion — to guide public policy and they will all be speaking at Reason Rally 2016."
The most recent sex-ed announcement from the Reason Rally organizers comes after Obama removed a grant and, thus, cut funding for abstinence-only programs in his proposed 2017 federal budget.
--
Follow the author of this story on Twitter and Facebook and check out his new book "The Armageddon Code: One Journalist's Quest for End-Times Answers":