The State Department is now admitting that it "deliberately" deleted a 2013 exchange between Fox News chief Washington correspondent James Rosen and then spokeswoman Jen Psaki from its website and YouTube channel.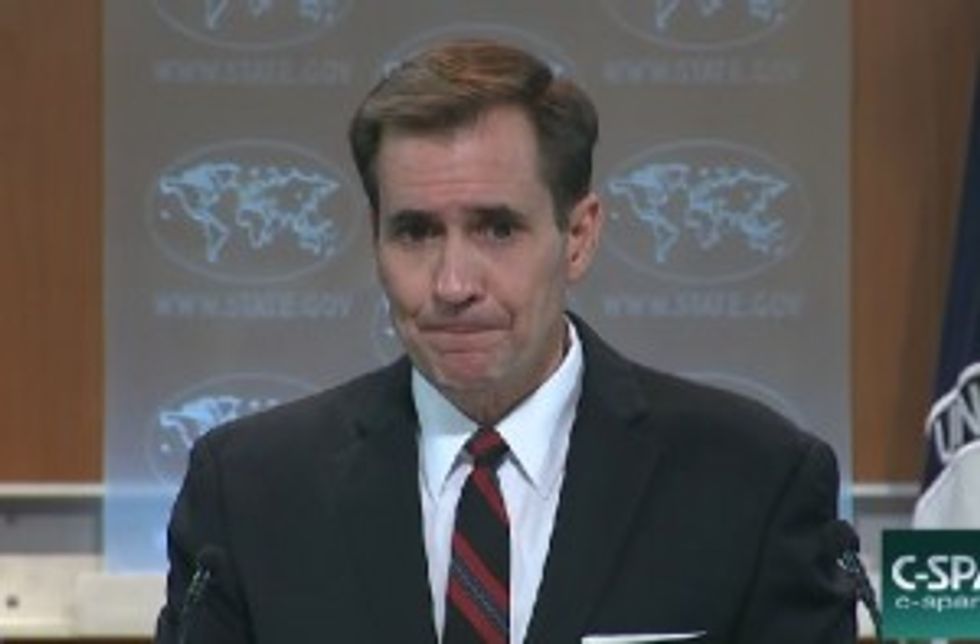 Image source: C-SPAN
"There was a deliberate request [to delete the exchange]. This wasn't a technical glitch," State Department spokesman John Kirby told reporters Wednesday.
The stunning admission comes weeks after the State Department was asked about omitting the exchange in which Rosen asked about U.S. nuclear talks with Iran. Psaki told Rosen in 2013 that "there are times where diplomacy needs privacy in order to progress," and that is why State spokeswoman Victoria Nuland said the same year that there were "no" secret talks going on with the Ayatollah.
"Deliberately removing a portion of the video was not and is not in keeping with the State Department's commitment to transparency and public accountability," Kirby explained.
Rosen asked Psaki in 2013 if it is the State Department's policy to "lie" in order to achieve certain outcomes when doing so is advantageous to the negotiations.
"James, I think there are times where diplomacy needs privacy in order to progress. This is a good example of that," Psaki replied.
In May, Rosen reported that he and others discovered the 2013 video was missing from the State Department's video archive on the department's state.gov website and from its official YouTube channel.
"Late today, we discovered that the State Department's video of its December 2, 2013, press briefing, at which I confronted spokesperson Jen Psaki about the false statement made by her predecessor, Victoria Nuland – the one you saw in my story tonight – has itself, with the use of a white flash, been deleted from both the State Department's official website and from its YouTube channel," Rosen said on Fox News' "Special Report."
"In that exchange, Psaki effectively admitted that the administration had lied to me because the diplomacy needed 'privacy," Rosen continued.
(H/T: Mediaite)
—
Follow the author of this story on Twitter and Facebook: