Presumptive Republican presidential nominee Donald Trump may be convinced Britain will leave the European Union, but he's apparently not quite caught up on all the terminology.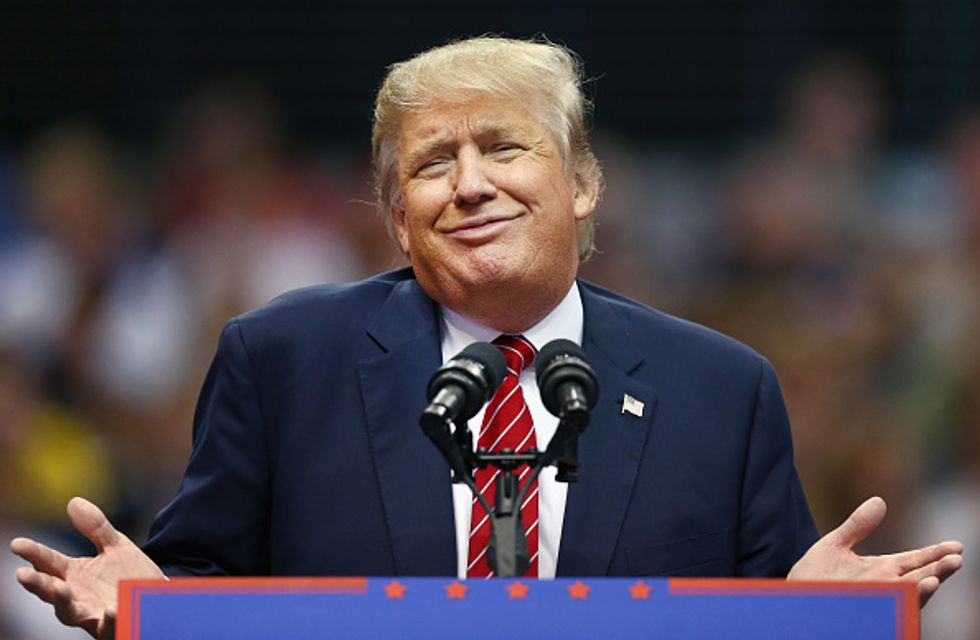 Tom Pennington/Getty Images
During a recent interview with the Hollywood Reporter, Trump stumbled over a question regarding the so-called "Brexit" — Britain's exit from the EU. Michael Wolff wrote:
"And Brexit? Your position?" I ask.

"Huh?"

"Brexit."

"Hmm."

"The Brits leaving the EU," I prompt, realizing that his lack of familiarity with one of the most pressing issues in Europe is for him no concern nor liability at all.

"Oh yeah, I think they should leave."
The Manhattan real estate mogul has been vocal regarding his displeasure over the EU and speculated in March that Britain would leave the organization.
"I think the migration has been a horrible thing for Europe," Trump also told Fox News last month. "A lot of that was pushed by the EU. I would say that they're better off without it, personally, but I'm not making that as a recommendation. Just my feeling."
Trump is expected to travel to the United Kingdom just one day after the country votes on its involvement with the EU.
During the Wolff interview, Trump maintained that he does not see any similarity between himself and any of the anti-immigrant movements in Europe. Wolff also wrote that he asked Trump if he saw any similarities between himself and European nativist leaders such as Marine Le Pen in France and Matteo Salvini in Italy: "And, in sum, he doesn't particularly see similarities — or at least isn't interested in them — between those movements and the anti-immigrant nationalism he is promoting in this country."
Read more of Trump's interview with the Hollywood Reporter here.
—
Follow Kaitlyn Schallhorn (@K_Schallhorn) on Twitter