Not one to mince words, onetime Boston Red Sox ace Curt Schilling made clear his thoughts on President Barack Obama and what Schilling called the president's "intentional slight" at U.S. history.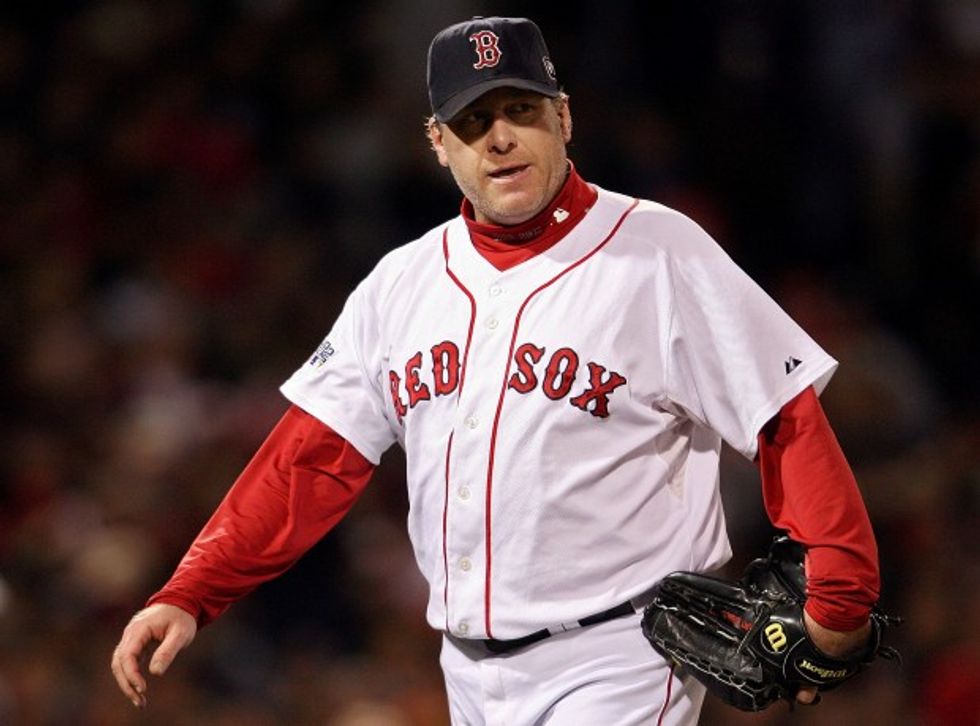 Curt Schilling walks off the mound during Game Two of the 2007 World Series Oct. 25, 2007. (Getty Images/Nick Laham)
Shortly after NBC Sports reported that the Super Bowl champion Denver Broncos would be visiting the White House Monday, Schilling let loose — and not because he's a bitter fan of the Carolina Panthers, who lost to Super Bowl 50 to the Broncos 24-10.
In a short Facebook post riddled with obscenities, the retired all-star — whose tendency to speak his mind recently cost him his job as an analyst at ESPN — ripped the president because Monday is June 6, the anniversary of D-Day.
Schilling said June 6 is a day to remember the sacrifices of our Greatest Generation and to mark "the greatest invasion mankind has ever known" — not to celebrate the NFL champs.
Schilling made no bones about his belief that Obama is intentionally disrespecting America's past and that the president could have had the team in any day he wanted — but he chose D-Day.
And his ire wasn't reserved for only Facebook. On Twitter, when asked about the D-Day invitation Obama extended to the Broncos, Schilling responded, "His willful ignorance is deafening is it not? How about D-Day veterans? Host them for a day? For someone who screams from the mountain tops how much smarter he is than anyone else, the amount of stupid coming out of 1600 Pennsylvania is mind boggling."
@DaddmaxxTim His willful ignorance is deafening is it not? How about D-Day veterans? Host them for the day? For someone who screams from the

— Curt Schilling (@Curt Schilling) 1464803224.0
@DaddmaxxTim mountain tops how much smarter he is than anyone else, the amount of stupid coming out of 1600 Pennsylvania is mind boggling

— Curt Schilling (@gehrig38) June 1, 2016
He went on to say that he hopes for a commander in chief who "loves the USA, and it's [sic] soldiers, openly and unabashedly."
I want another President that loves the USA, and it's soldiers, openly and unabashedly. https://t.co/Ulv0W2lL3P

— Curt Schilling (@Curt Schilling) 1464814964.0
(H/T: Twitchy)