A quote by Nazi dictator Adolf Hitler appeared in a Maine high school's 2016 yearbook, according to WLBZ-TV.
The quote, attributed to Hitler, reads, "Anyone who sees and paints a sky green and the fields blue ought to be sterilized," and appears alongside the picture of a senior in Bangor High School's yearbook.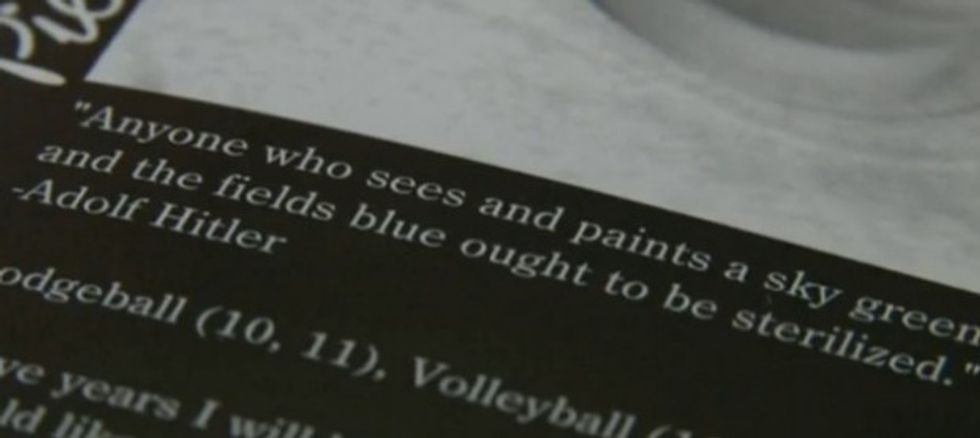 Image source: WLBZ-TV
Nick Danby, president of Bangor High's class of 2016, told WLBZ that it was "disappointing" to see the quote in the yearbook.
"I've never heard someone yell an Adolf Hitler quote or Stalin or Mussolini quote, any fascist quote in the hallways, and I think really at the core of this it's just a joke, a bad joke that was poorly timed and poorly executed," Danby said.
Danby added that he sympathized with his classmates who worked on the yearbook and said they needed more time in order to catch such errors.
School administrators told WLBZ the quote's inclusion in the yearbook is "regrettable," and they have determined that it was included due to "a problem with the timeline for quote submission."
The school administrators asked the yearbook's publisher to put stickers over the quote before they were distributed. Students who received their books early were mailed a sticker.
Bangor High School's yearbook wasn't the only 2016 yearbook to feature a quote from the German dictator. Pennsylvania's Quaker Valley High School's yearbook featured quotes attributed to Hitler, Soviet dictator Joseph Stalin and Islamic State leader Abu Bakr al-Baghdadi.
(H/T The Daily Mail)
—
Follow Kate Scanlon (@kgscanlon) on Twitter