Just two weeks before the first anniversary of the deadly church shooting in Charleston, South Carolina, that left nine African-American churchgoers dead, Gov. Nikki Haley (R) has called on Donald Trump to change his tone.
"I know what that rhetoric can do," Haley told the Associated Press Thursday, connecting the type of language the presumptive Republican nominee uses to the horrific attack. "I saw it happen."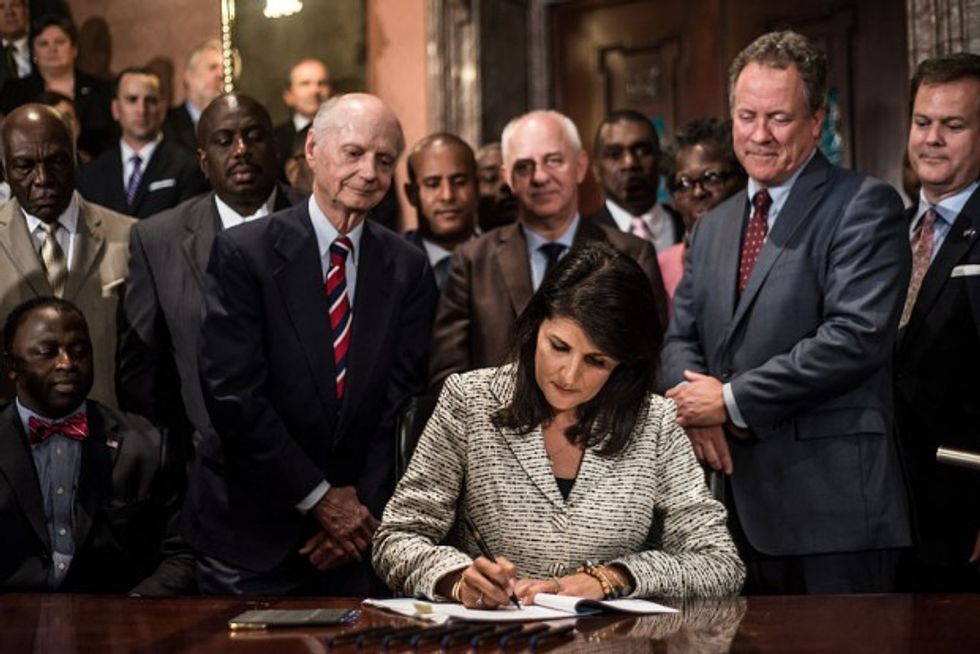 South Carolina Gov. Nikki Haley (R) signs a bill to remove the Confederate battle flag from the state house grounds July 9 in Columbia, South Carolina. (Sean Rayford/Getty Images)
The Charleston shooting at the Emanuel AME Church took place June 17, 2015. The murders were committed by a white male who was reportedly seeking to ignite a race war.
However, in the interview with the news agency, the South Carolina governor made it clear she was not calling Trump supporters racists, describing voters' frustration as a "different kind of anger."
"They're upset with Washington, D.C.," she remarked. "They're upset nothing's got done. The way he communicates that, I wish were different."
Haley was first a supporter of vanquished GOP presidential aspirant Marco Rubio, who withdrew from the race in March. During her time on the trail with the retiring Florida senator, Haley would frequently diss Trump, calling out the businessman for his oft-divisive rhetoric.
"That is not who we are as Republicans," she told a crowd of Rubio supporters in March, according to Mother Jones. "We are seeing a division that is dangerous."
During the same stump speech, Haley told rallygoers that, "instead of bringing [people] back together," Trump is "telling his supporters to punch a guy in the face."
"He's not denouncing the KKK when this is exactly the same group that protested on my statehouse grounds," she added. "We can't have Donald Trump as president — we can't."
After Rubio left the race for the White House, Haley pledged support to Texas Sen. Ted Cruz, who has since suspended his presidential bid. Now she is — somewhat begrudgingly — voicing support for Trump.
"I have great respect for the will of the people," Haley told the Charleston Post & Courier when Trump secured the nomination last month. "As I have always said, I will support the Republican nominee for president."
—
Follow the author of this story on Twitter:
Follow @tregp