On Saturday morning, Republican presidential candidate Donald Trump retweeted a photo posted by a a supporter. The photo shows a black family smiling. Beside the photo is the description: "American families for Trump. We need a common sense president."
The photo was originally posted by Twitter user @Don_Vito_08 just before 9 a.m. Saturday morning, tagging Trump. The presumptive GOP nominee retweeted the the account within minutes.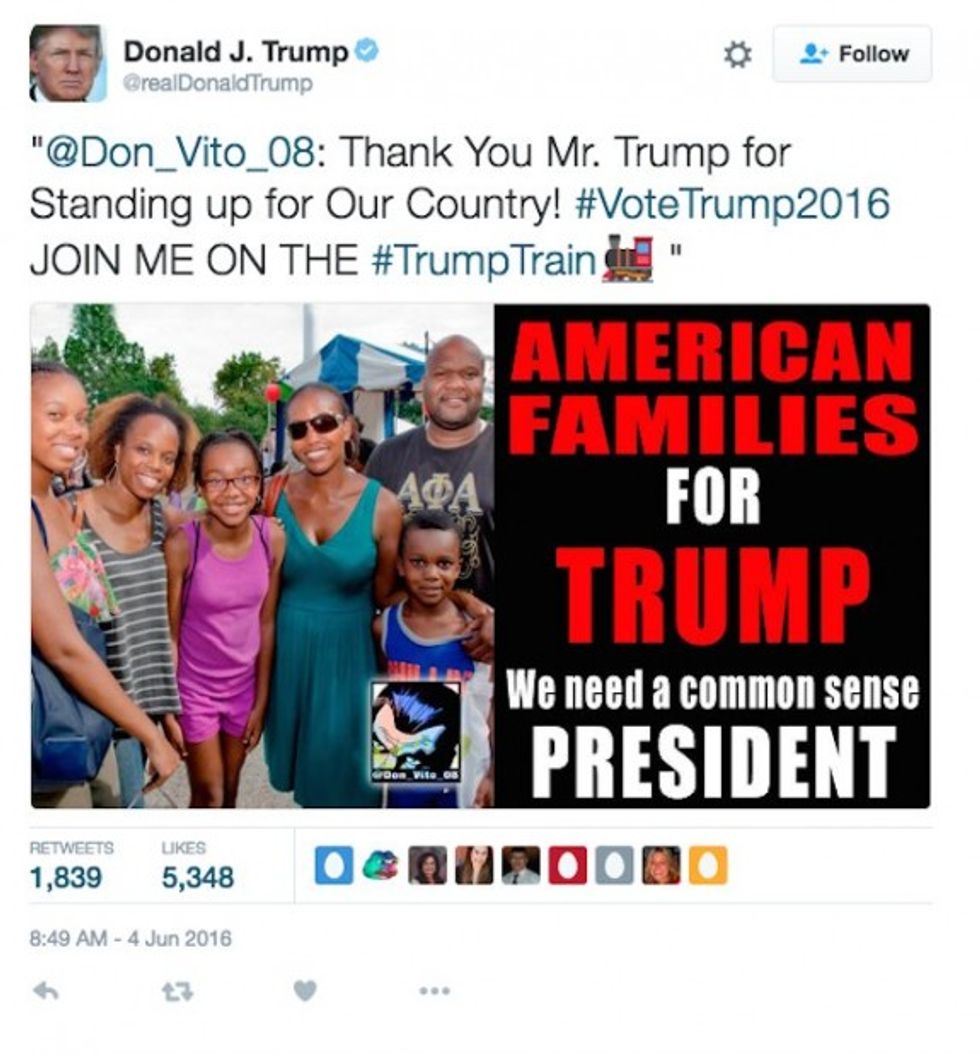 Image via Twitter/David Mack
"@Don_Vito_08: Thank You Mr. Trump for Standing up for Our Country! #VoteTrump2016 JOIN ME ON THE #TrumpTrain🚂 https://t.co/zgopGvSEen"

— Donald J. Trump (@Donald J. Trump) 1465044558.0
But as many Twitter users were quick to spot, the photograph wasn't actually taken at a Trump rally, or any sort of political event.
@realDonaldTrump @Don_Vito_08 You'll get 5% of the black vote... Maybe.

— John Harris (@John Harris) 1465044617.0
@Don_Vito_08 @realDonaldTrump dude.. YOU STOLE THAT PIC FROM GOOGLE!!! https://t.co/6iE3sPeX6U

— Jason (@Jason) 1465045939.0
The photo first appeared on the internet last year in an article published by the Cincinnati, Ohio, station, WCPO-TV. It was taken at the Midwest Black Family Reunion in August.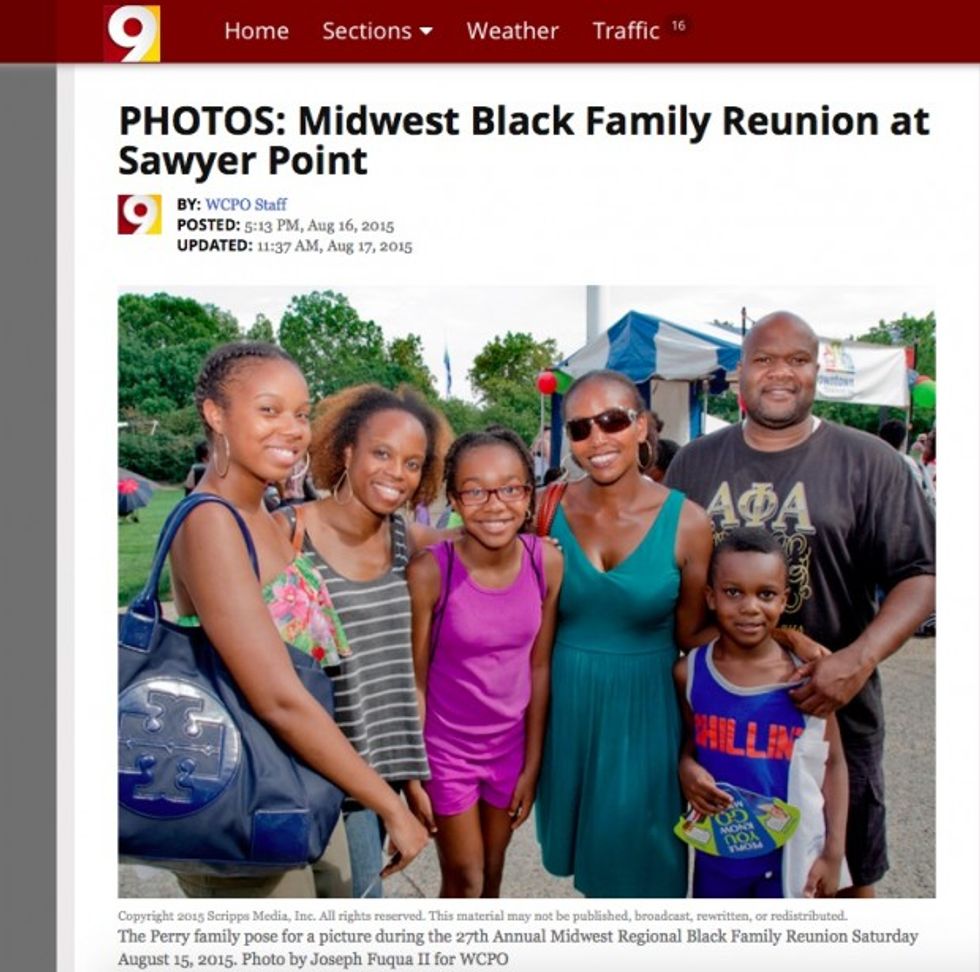 Image source: WCPO-TV
WCPO identified the folks pictured in the article as "the Perry family." And as BuzzFeed and other Twitter users pointed out, the image can be easily found by typing "black family" into Google Images.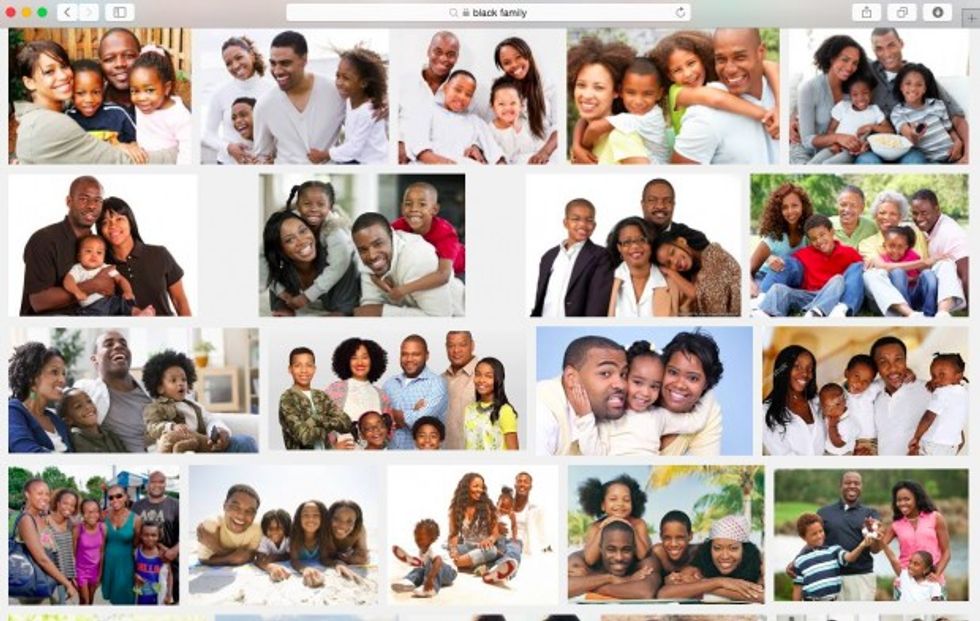 In this Google Images screenshot, the photo of the Perry family appears in the bottom left column. (Image source: Google Images)
BuzzFeed's Andrew Mack was able to track down the parents who appear in the photograph. Their names are Eddie and Vanessa Perry, and they told Mack Saturday that they have not offered their endorsement or public support for any political candidate during the 2016 election.
I spoke to the family in this fake Trump tweet. They're not happy. https://t.co/7v0Q5niJFZ https://t.co/32tmxqBbXY

— David Mack (@David Mack) 1465064145.0
Eddie Perry of Cincinnati told BuzzFeed that his family has attended several of the Midwest Black Family Reunion events in the past. He said he recalls having his picture taken at last year's event. "It was no big deal," he said.
But when a friend texted him a screenshot of Trump's tweet Saturday morning, Perry said, "I immediately knew it was political propaganda."
"Why use it without asking for someone's permission?" he asked. "Why use our image without asking?"
Perry identified the other people in the photo as friends of the family. He called Trump's use of the picture of his family "misleading" and "taken out of context."
"I'm not saying there aren't black families who endorse Trump," he said, "however, this black family didn't endorse anyone."
@Don_Vito_08, who did not respond to BuzzFeed's requests for comment, has since deleted the original tweet.