Actor, economist and former Republican presidential speechwriter Ben Stein declared to the media that presumptive Republican nominee Donald Trump doesn't know "a goddamn thing about economics."
"But I like him anyway," Stein told the Guardian during a recent interview, adding that he thinks Democratic presidential front-runner Hillary Clinton "knows something about it."
"She is an intelligent woman, she went to Wellesley," Stein said. "She was a classmate of mine at Yale law school, and I hope we learned something while we were there."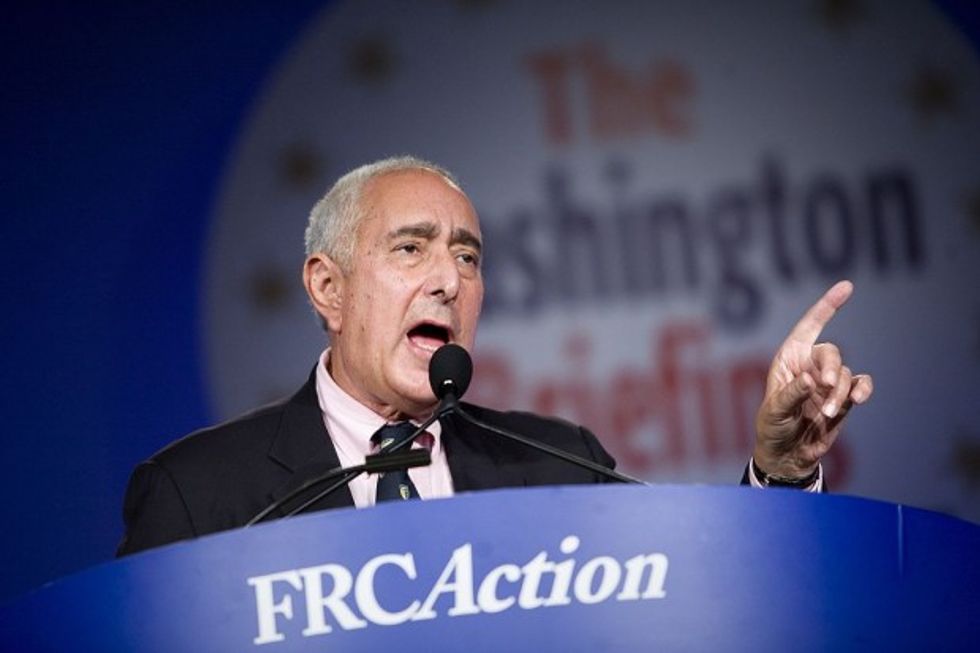 Actor Ben Stein speaks during the Family Research Council's 2007 Washington briefing in Washington, D.C. (Brendan Smialowski/Getty Images)
Stein called Clinton's remaining Democratic rival Sen. Bernie Sanders (Vt.) "purposely, willfully ignorant" about economics, saying, "I think he is a person who could be educated but he has some kind of personality defect that prevents him from being educated."
He went on to declare that all of the candidates are "against free trade" and that "that's a disastrous mistake."
"Free trade is one of the main sources of economic growth" Stein said. "Any interference with free trade in the long run produces negative results for the country that imposes the restrictions. One of the great breakthroughs in all of human history has been free trade."
"When I hear Mr. Trump or Mrs. Clinton or Mr. Sanders talk about how they are going to stop free trade and in some way block America from being part of the world trading system, it makes my blood run cold. That's a terrible, terrible prospect," he added.
Stein expressed shock that Trump was able to become the Republican nominee while opposing free trade: "I am absolutely … I am open-mouthed, gasping, unbelievable. But he has his charms. There must be something people like about him. I don't get him, but there must be something people like.
"I'll vote for him, by the way," he continued. "I'll vote for him because I think he does personify a kind of national pride which I think has been lacking in the Obama days and would be terribly lacking under Bernie Sanders and terribly lacking under Hillary Clinton. But I think his economics is way, way out of whack and he seriously needs some education about it."
Continuing is critique of Trump, Stein the real estate mogul's business acumen, stating, "He inherited a great deal of money. He did some successful real estate deals. Hardly anyone could miss doing successful real estate deals in New York considering the incredible boom that has taken place and the very low base point when he started out. He is not a great businessman at all — in no way."
"Let me back up and say, everyone I know says he is an incredibly nice guy," he added. "That's got to count for something. I don't think he is a great businessman and even if he were a great businessman, that doesn't mean he would be a great steward of the U.S. economy. The two have nothing to do with each other."
Stein lamented the state of the 2016 election, calling it "a testament to the complete collapse of education."
"It's just startling that: a) the candidates know so little and; b) that the voters have not been better informed about this," he said. "The American education system is in a state of freefall collapse so that certainly explains a lot."
—
Follow Kate Scanlon (@kgscanlon) on Twitter