Presumptive Republican presidential nominee Donald Trump bashed his own campaign staff during a call with supporters on Monday, telling his surrogates that his staff sometimes gives them "stupid information," according to Bloomberg Politics.
During the call, Trump ordered his surrogates to defend his attacks regarding a federal judge's Mexican heritage according to "two supporters who were on the call and requested anonymity to share their notes with Bloomberg Politics."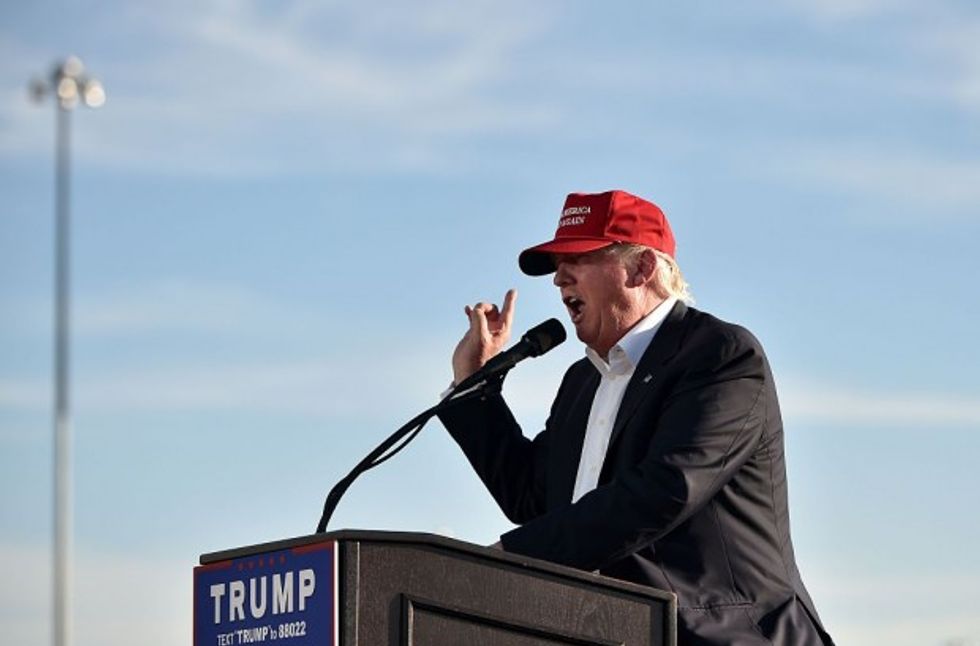 Republican presidential candidate Donald Trump speaks during a rally at the Sacramento International Jet Center in Sacramento, California on June 1, 2016. (JOSH EDELSON/AFP/Getty Images)
Trump has directed a series of personal attacks towards the Hispanic judge hearing the Trump University lawsuit. Trump told The Wall Street Journal that U.S. District Judge Gonzalo Curiel has "an absolute conflict of interest" due to his heritage and Trump's position that a wall should be built on the Mexican border.
According to Bloomberg Politics, during the call, former Arizona Gov. Jan Brewer interjected to tell Trump that she received a memo from his staff telling her not to discuss the lawsuit.
"Take that order and throw it the hell out," Trump said before demanding to know who sent the memo.
"Are there any other stupid letters that were sent to you folks?" Trump said. "That's one of the reasons I want to have this call, because you guys are getting sometimes stupid information from people that aren't so smart."
Brewer told Trump "You all better get on the page," to which he replied that he wants to "hold regular calls" with surrogates in order to communicate the campaign's strategy.
According to Bloomberg Politics, the memo Brewer referenced was sent by Trump staffer Erica Freeman, who told surrogates that "they're not authorized to discuss matters concerning the Trump Organization including corporate news such as the Trump University case."
"The best possible response is 'the case will be tried in the courtroom in front of a jury—not in the media,'" she added.
—
Follow Kate Scanlon (@kgscanlon) on Twitter