The U.S. Navy has issued a complete ban on alcohol consumption for sailors stationed in Japan. The decision came after a car accident over the weekend where a U.S. seaman was suspected of drunk driving.
Petty Officer 2nd Class Aimee Mejia, 21, was arrested Sunday on Japan's Okinawa Island after her vehicle caused a three-car accident Saturday night, according to ABC News.
Mejia was not hurt, but two others involved in the accident were injured, police spokesman Takashi Shirado said. According to Shirado, the sailor was driving the wrong direction on the freeway when the accident took place.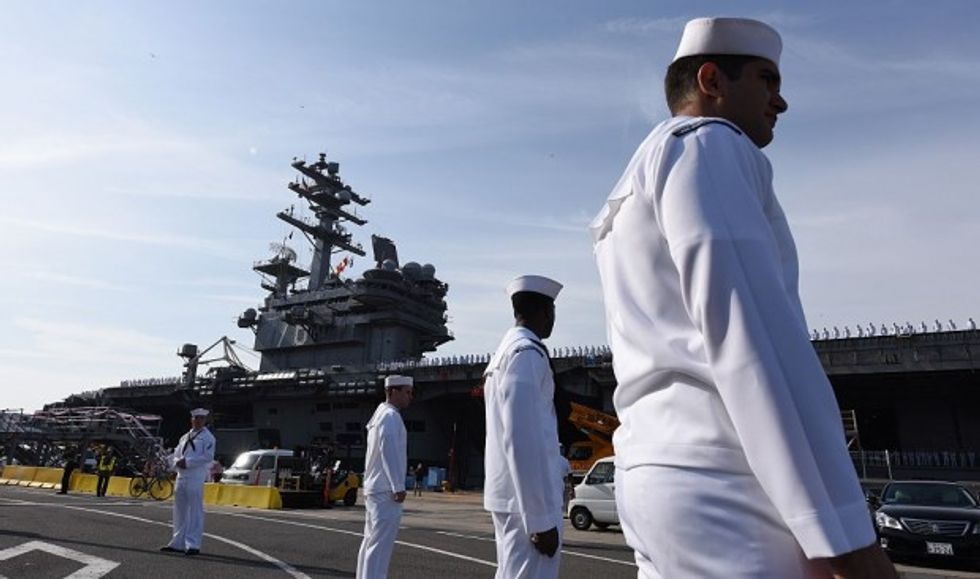 Toru Yamanaka/AFP/Getty Images
As a result, the Navy has barred all 18,600 U.S. sailors stationed across Japan from drinking alcohol — both on and off base. The new mandate was put in place "due to a recent trend of alcohol-related incidents detrimental to the U.S.-Japan alliance," a press release read.
Additionally, the Navy put in place a "liberty curtailment" for off-base activities.
"These measures are not taken lightly," Rear Adm. Matthew Carter, commander of U.S. Naval Forces Japan, said. "For decades, we have enjoyed a strong relationship with the people of Japan. It is imperative that each sailor understand how our actions affect that relationship and the U.S.-Japan alliance as a whole."
Moving forward, all sailors will be kept on base, except for off-base sailors, who will be permitted to travel to and from base and conduct only "essential activities," according to the release.
The rule against drinking, according to the release, is temporary. But off-base liberties won't be reinstated until Navy leadership conducts "face-to-face training."
Secretary of State John Kerry is aware of the incident and is "confident Ambassador [Caroline] Kennedy and the U.S. military will work as appropriate with local authorities moving forward," a State Department spokesperson said.
"We are deeply concerned about accident victims," the spokesperson added. "We wish them a fast and full recovery. Our heartfelt sympathies go out to them and their families."
The rule does not apply to family members or civilian U.S. contractors, which would otherwise would bring the total number of people impacted to 35,000. However, they are encouraged to observe the rules "in a spirit of solidarity."
—
Follow the author of this story on Twitter: