"Do you think Donald Trump is a racist?" 
It was immediately following that question — which was posed on Wednesday to Democratic candidate Hillary Clinton by Washington Post political correspondent Anne Gearan — that Clinton aide Nick Merrill reportedly moved to end an interview between the reporter and candidate.
"Anne, we're gonna, we're going to have to go," Merrill said, before Clinton stepped in to say that she was willing to answer the question. 
Gearan noted in her transcript of the exchange, though, that the interview, at that point, had run 90 seconds over its allotted time, thus the exact reason for the interruption isn't definitively clear.
"Well, I'll just, yeah, I'll answer that," Clinton said. "I don't know what's in his heart. I have no way of telling that. I can just say that if you look at what he's been proclaiming since he started the campaign, he has been engaging in divisive and prejudiced attacks against people."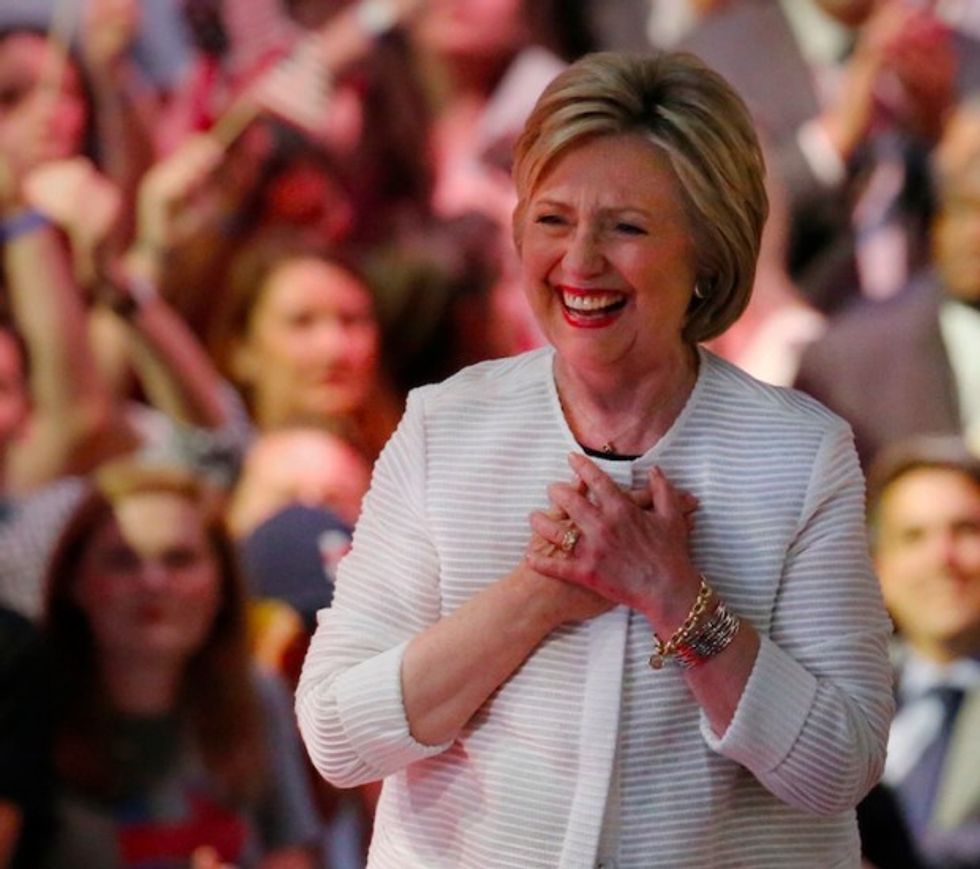 Democratic presidential candidate Hillary Clinton arrives at a presidential primary election night rally, Tuesday, June 7, 2016, in New York. (AP Photo/Julio Cortez)
She went on to recall that she previously called Trump out for comments that he made about Mexican immigrants last summer, and said that, though she could not say what is in his heart, "if you say someone can't do their job because of their heritage, that is certainly a racist attack," calling such a prospect "wrong" and not appropriate for the political realm.
From there, Clinton said that she believes that Trump used "racist language" in an effort to move attention away from controversy surrounding his now-defunct Trump University — a former business endeavor that she called a "scam."
"You know, it's just a reminder that he has insulted and demeaned women, POWs, Muslims, immigrants, African Americans, people with disabilities," Clinton continued. "And I just fundamentally disagree. I don't think you build our country up by tearing people down."
In other parts of the exchange, Clinton discussed her excitement over becoming the first woman to secure the nomination of a major party, her efforts to rally Bernie Sanders and his supporters and her overarching views on Trump's campaign. Read the transcript in its entirety here.
--
Follow the author of this story on Twitter and Facebook and check out his new book "The Armageddon Code: One Journalist's Quest for End-Times Answers":