The Rev. Billy Graham has a pointed message to Americans who are fed up with the political process and, as a result, have decided that they won't be voting come November: "[Voting] is a God-given responsibility."
In a Q&A posted to his Billy Graham Evangelistic Association website, the renowned 97-year-old preacher rhetorically asked what would happen if every individual decide not to vote, saying that, "before long we'd lose our freedoms and be ruled by a power-hungry dictatorship."
While acknowledging that no governmental system is perfect, he said that indifference to the political process is dangerous to the republic.
In this Dec. 20, 2010 file photo, evangelist Billy Graham speaks to the media at the Billy Graham Evangelistic Association headquarters in Charlotte, N.C. (AP)
"I also urge you to vote for another reason: I believe it is a God-given responsibility," Graham said. "When Jesus walked this earth, the whole civilized world was under the authority of one individual: the Roman emperor (or Caesar). He wasn't elected by popular vote, nor did ordinary people have an opportunity to express their views through the ballot box."
He continued, "And the Roman government wasn't perfect; in fact, it promoted paganism and could be brutal."
Despite the nature of that government, Graham said that people still had a responsibility to support the government in "every way they possibly could," with Christ telling people to "give to Caesar what is Caesar's, and to God what is God's." It is that same principal that Graham said is at play today, imploring Americans to "do everything we can to encourage and support good government."
That includes voting, and praying for the nation and her leaders, Graham said, appealing to 1 Timothy 2:1-2, which reads, "I urge, then, first of all, that petitions, prayers, intercession and thanksgiving be made for all people— 2 for kings and all those in authority, that we may live peaceful and quiet lives in all godliness and holiness."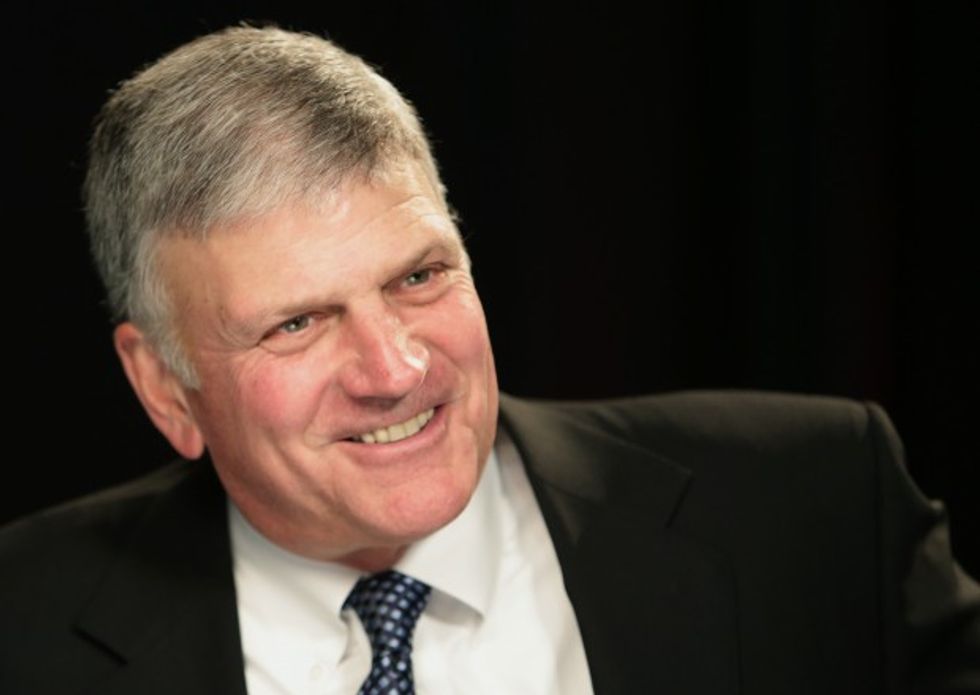 Franklin Graham before an interview at the Associated Press office on Tuesday, Oct. 15, 2013 in New York. (AP Photo/Peter Morgan)
Read Graham's words in their entirety here.
As TheBlaze previously reported, Graham's son, Franklin Graham, has been traveling around the country speaking about faith and politics on his "Decision America Tour." 
Franklin Graham warned back in March that he believes America "is really at a moral tipping point" and warned of what will happen if people refuse to turn out and vote.
"Our nation is really at a moral tipping point," he said in a Facebook post at the time. "If we just stay home, we're going to lose this country and we will only have ourselves to blame."
--
Follow the author of this story on Twitter and Facebook and check out his new book "The Armageddon Code: One Journalist's Quest for End-Times Answers":