The Associated Press reported Saturday that an Italian newspaper had published Hitler's fascist political manifesto "Mein Kampf," angering Italy's prime minister and the country's Jewish minority.
But after receiving widespread media backlash, the conservative Milan daily paper, Il Giornale, corrected the false claim that "Mein Kampf" was reprinted in the actual paper.
Il #MeinKampf non è in regalo con la copia de @ilgiornale. E' allegato al primo volume della collana "Ascesa e trionfo del Terzo Reich"

— ilGiornale (@ilgiornale) June 11, 2016
In a tweet (translated), the paper noted that the controversial work would be given to those who purchased the newspaper and the first installment of William Shirer's "The Rise and Fall of the Third Reich."
The daily is publishing volumes exploring Third Reich history and defended its decision in its Saturday edition by arguing that reading "Mein Kampf" is the "true antidote to the toxins of national socialism."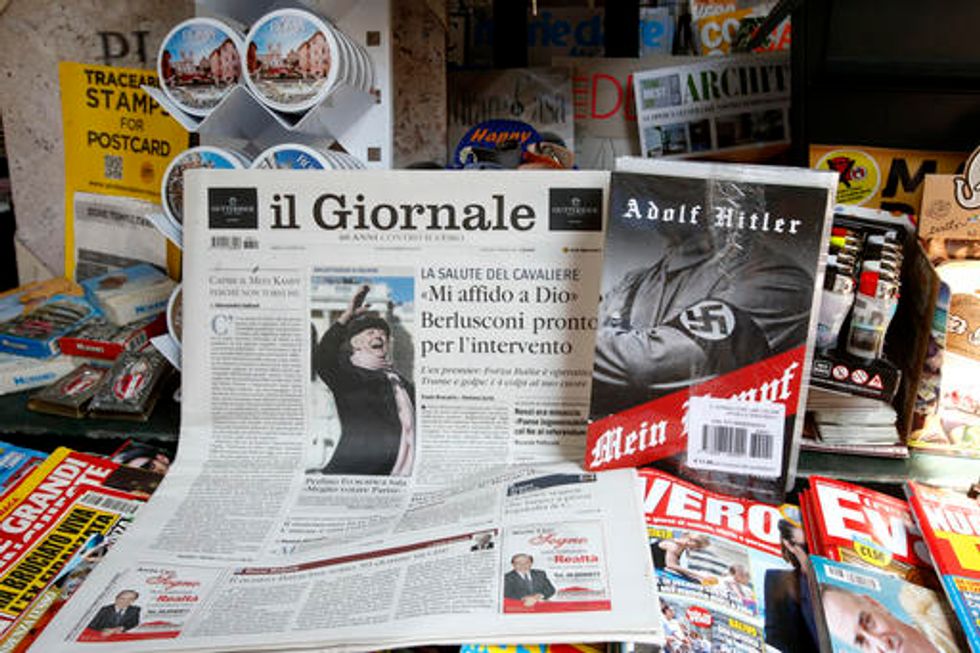 Il Giornale newspaper is seen on sale in a newsstand with Hitler's "Mein Kampf", in Rome Saturday, June 11, 2016. (AP Photo/Fabio Frustaci)
The weighty volume lays out Hitler's ultranationalist, anti-Semitic, anti-communist ideology, which culminated in the Holocaust and a war of conquest in Europe.
Italian Prime Minister Matteo Renzi called it "squalid" that an Italian paper would publish it. After first hearing of the giveaway, the premier announced his solidarity with the tiny Jewish-Italian community.
Trovo squallido che un quotidiano italiano regali oggi il Mein Kampf di Hitler. Il mio abbraccio affettuoso alla comunità ebraica #maipiù

— Matteo Renzi (@matteorenzi) June 11, 2016
An Italian Jewish community leader, Renzo Gattegna, said it was "indecent" of Il Giornale to publish Hitler's work.
Editor Alessandro Sallusti stressed the version of "Mein Kampf" offered in the giveaway includes critical commentary by an Italian professor of contemporary history. Sallusti also said he wanted to make readers understand "where and why absolute evil was born," but acknowledged that protests over the publication were "legitimate" and even "understandable."
The Associated Press contributed to this story.