TAMPA, Florida (TheBlaze/AP) -- Campaigning in the crucial battleground state of Florida on Saturday, Donald Trump bashed Democrats and Republicans alike, from Hillary Clinton to former Republican presidential nominee Mitt Romney on the right.  At a second rally in Pennsylvania, the presumptive Republican nominee also took aim at political correctness and critics offended by his rhetoric.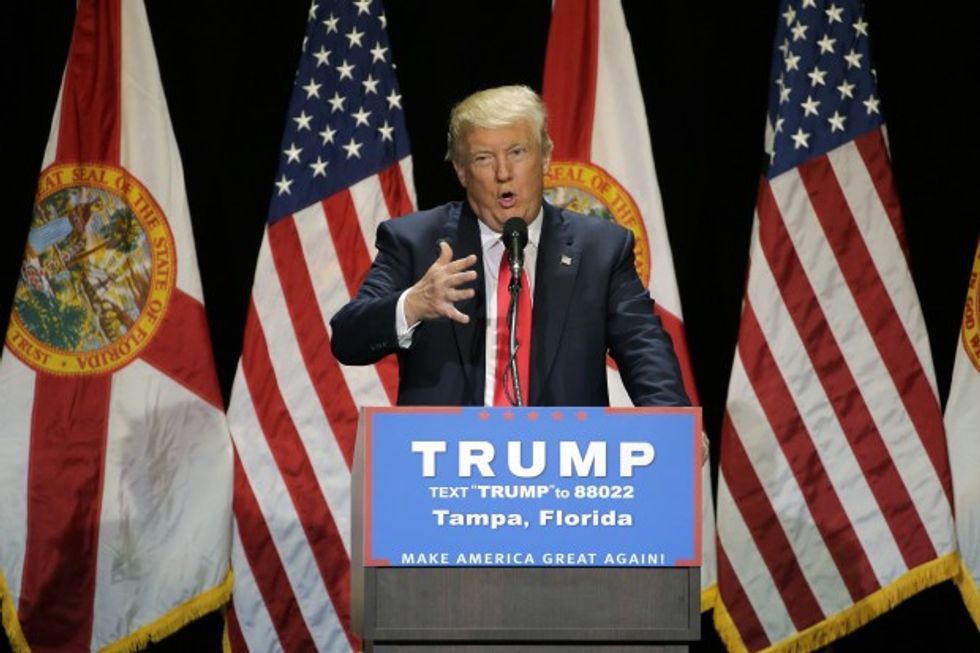 Republican presidential candidate Donald Trump Saturday, June 11, 2016, in Tampa, Fla. (AP Photo/Chris O'Meara)
Addressing a crowd at in Moon Township, Pennsylvania, Trump blasted his politically correct dissenters.
"It's like a bunch of dumb babies," he said. "The world is laughing at us."
"It's like a bunch of dumb babies...the world is laughing at us." - #DonaldTrump says about political correctness pic.twitter.com/pI2JYpDsee

— Fox News (@FoxNews) June 11, 2016
Trump also repeated his promise to "build the wall" and proclaimed that the "Mexican people are great."
In Tampa, Trump tore into "Crooked Hillary," as he calls his likely general election opponent, for the State Department email controversy and called Romney a "stone, cold loser" for not backing him as the presumptive Republican nominee.
He suggested "we won't have a country" left after four years under Clinton.
Trump said the Republican Party "has got to get their act together, come together to win" and slammed GOP senate candidates who are not backing his run for president.
He spoke confidently of his own ability to win the presidency, but warned that down-ballot races for the House and Senate could be at risk if Republicans don't rally behind his campaign.
"The Republican party has to be tough and smart," he said. "If not, I'm gonna win but a lot of other people are not."
Trump was introduced by Florida's top Republicans, Gov. Rick Scott and Attorney General Pam Bondi.
"Donald Trump is hopeful," said Scott, whose support of Trump has generated running mate speculation. "The opposite of hopeful is Hillary Clinton."
Trump, at one point, asked the crowd to shout out names of potential running mates. House Speaker Newt Gingrich, Alabama Sen. Jeff Sessions and Condoleezza Rice, who served as secretary of state in the George W. Bush administration, were among the names he repeated.
"This is fun," bellowed Trump. "We have a lot of good people."
Toward the end of his speech, Trump supporters broke into a chorus of "Happy Birthday." He turns 70-years old on June 14.
As his supporters began singing, Trump laughed and said "I don't want to hear about it."
He said he's "very torn" about the birthday, but added: "I feel like I'm 35. That's the good news."
The Tampa rally is Trump's second since the end of the primary season. He is scheduled to hold another rally later Saturday in Pittsburgh.
---