OAKLAND, Calif. (AP) — Golden State star Draymond Green was suspended for Game 5 of the NBA Finals after the league assessed a Flagrant 1 foul from his scuffle with Cleveland's LeBron James.
The NBA announced the retroactive decision Sunday, issuing James a technical on the play late in Golden State's 108-97 victory Friday during which the two tussled and exchanged words.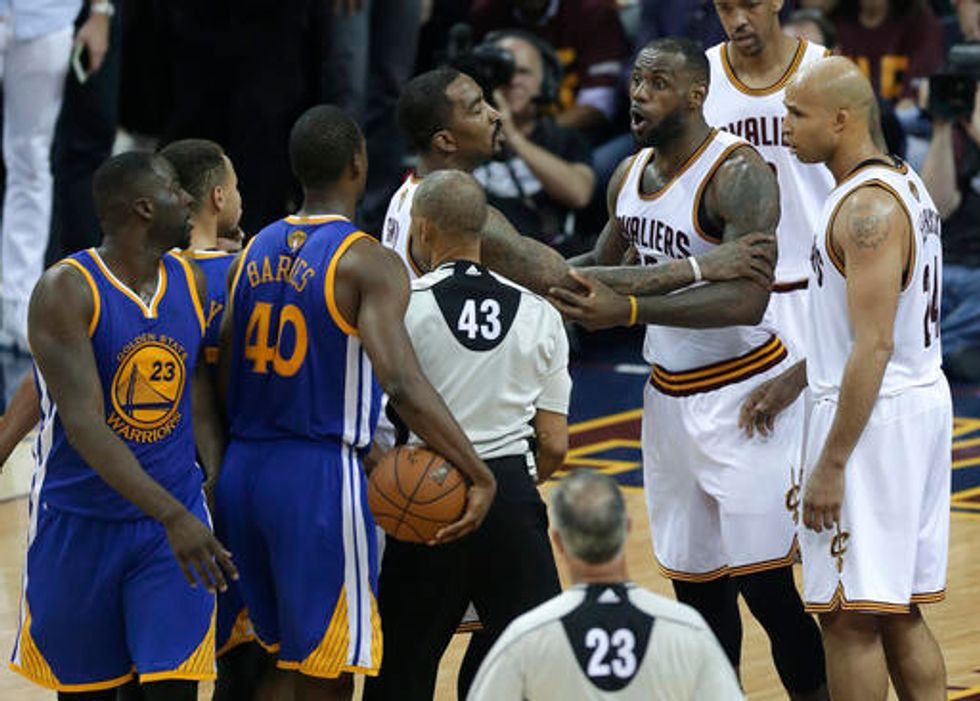 Cleveland Cavaliers forward LeBron James (23) is held back as he argues with Golden State Warriors forward Draymond Green (23) during the second half of Game 4 of basketball's NBA Finals in Cleveland, Friday, June 10, 2016. Golden State won 108-97. (AP Photo/Tony Dejak)
Green has been on the cusp of trouble for much of the postseason. This is his fourth flagrant foul, which resulted in the automatic suspension. He also has five technicals and was fined $25,000 for kicking Oklahoma City's Steven Adams in the groin during the Western Conference finals.
The Warriors lead the series 3-1 with a chance to clinch their second straight championship at home in Oracle Arena.
Warriors coach Steve Kerr spoke to Green earlier in the postseason about keeping his emotions in check, and now Golden State will have a big hole to fill without him.
Green is averaging 15.3 points this postseason — third-most on the team behind Stephen Curry and Klay Thompson — and a team-leading 9.6 rebounds along with nearly six assists.
Green called Friday's incident "stuff that's said on the court." Yet James considered it all inappropriate and said he and his teammates reviewed the sequence on video.
"Draymond just said something that I don't agree with," James said. "I'm all cool with the competition. I'm all fine with that, but some of the words that came out of his mouth were a little bit overboard, and being a guy with pride, a guy with three kids and a family, things of that nature, some things just go overboard."