Hillary Clinton says if Donald Trump is suggesting that she hasn't been calling terrorism for what it is — radical Islam — then "he hasn't been listening."
Clinton, along with President Barack Obama and most Democrats, has strayed away from using the term in the past. The presumptive Democratic presidential nominee was responding to a question from NBC "Today" show anchor Savannah Guthrie, who asked "why not" describe the Orlando attack as "radical Islam."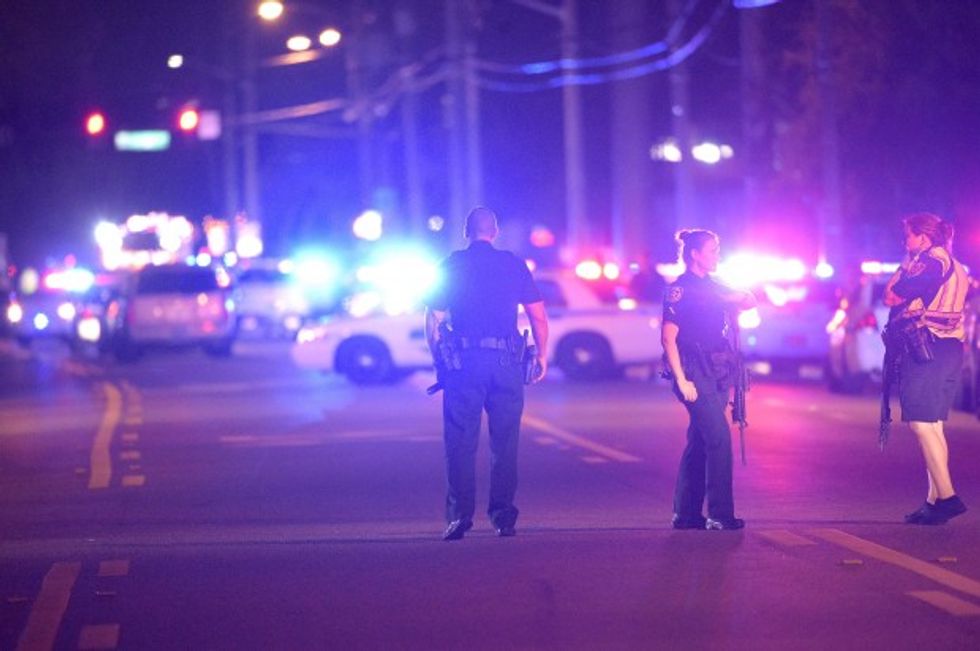 Police officers stand guard down the street from the scene of a shooting involving multiple fatalities at a nightclub in Orlando, Fla., Sunday, June 12, 2016. (AP Photo/Phelan M. Ebenhack)
"It matters what we do, not what we say. It matters that we got bin Laden, not what name we called him," Clinton said. "But if [Trump] is somehow suggesting that I don't call this for what it is, he hasn't been listening."
"I have clearly said that we face terrorist enemies that use Islam to justify slaughtering innocent people. We have to stop them, and we will. We have to defeat radical jihadist terrorism, and we will," Clinton continued.
"And, to me, radical jihadism, radical Islamism, I think they mean the same thing. I'm happy to say either, but that's not the point," Clinton said.
Clinton: "Radical jihadism', 'radical Islamism.' They all mean the same thing. I'm happy to use either." #Orlando

— Jon Street (@JonStreet) June 13, 2016
"All this talk and demagoguery and rhetoric is not going to solve the problem. I'm not going to demonize and demagogue and declare war on on entire religion. That's just plain dangerous and it plays into ISIS' hand," Clinton added.
"This was a terrorist attack."

Watch @SavannahGuthrie's full interview with @HillaryClinton https://t.co/mK0kWyAfJc

— TODAY (@TODAYshow) June 13, 2016
—
Follow the author of this story on Twitter and Facebook: