UPDATE 9:20 p.m. ET:
The Islamic State claims responsibility for the fatal stabbing of a French police captain and his companion just outside Paris, according to the New York Times.
—
A senior French police officer and his partner were knifed to death Monday night by a man in a distant suburb of Paris, officials declared.
The attacker was also killed, while a young boy was rescued from the horrific scene.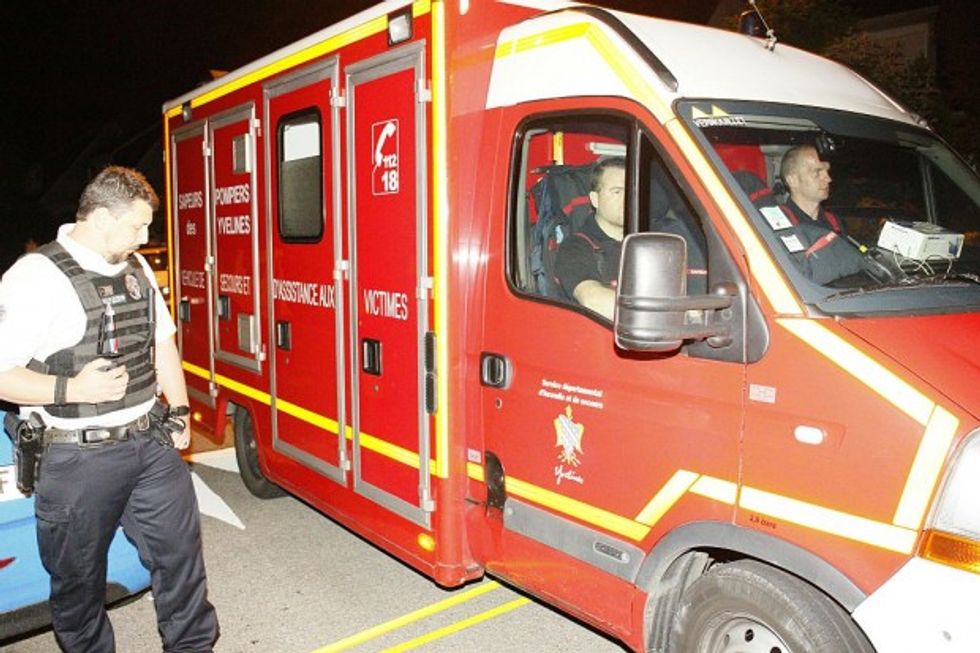 Firefighters vehicle leaves after an assault on June 14, 2016 in Magnanville, 45 kms west of Paris. (Photo by MATTHIEU ALEXANDRE/AFP/Getty Images)
The police commander was stabbed to death outside his Magnanville home, which is about 35 miles west of Paris, the interior minister's spokesman Pierre-Henry Brandet told a gaggle or reporters surrounding the scene. The attacker then fled indoors before police stormed the house.
The woman and the attacker were found dead, but a little boy was left unharmed.
"The toll is a heavy one," Brandet told reporters. "This commander, this police officer was killed by the individual ... [and] we discovered the body of a woman. The assailant, the criminal, was killed. Thankfully, a little boy was saved. He was in the house. He's safe and sound. He was saved by police officers."
The motive and the identity of the criminal was not immediately available, but, according to The Telegraph, the man reportedly yelled "Allahu Akbar" during the attack. France, like several of its European counterparts, has seen a wave of violent attacks credited to the Islamic State recently.
Frances Interior Minister Bernard Cazeneuve said an investigation is being conducted.
—
Follow the author of this story on Twitter: