Hillary Clinton's social media manager held nothing back when she told the National Rifle Association to "f*** off" in a tweet directed at the gun-lobbying organization.
"F*** off," Emily Bengtson wrote in response to a USA Today editorial penned by the NRA that outlines why "gun laws don't deter terrorists."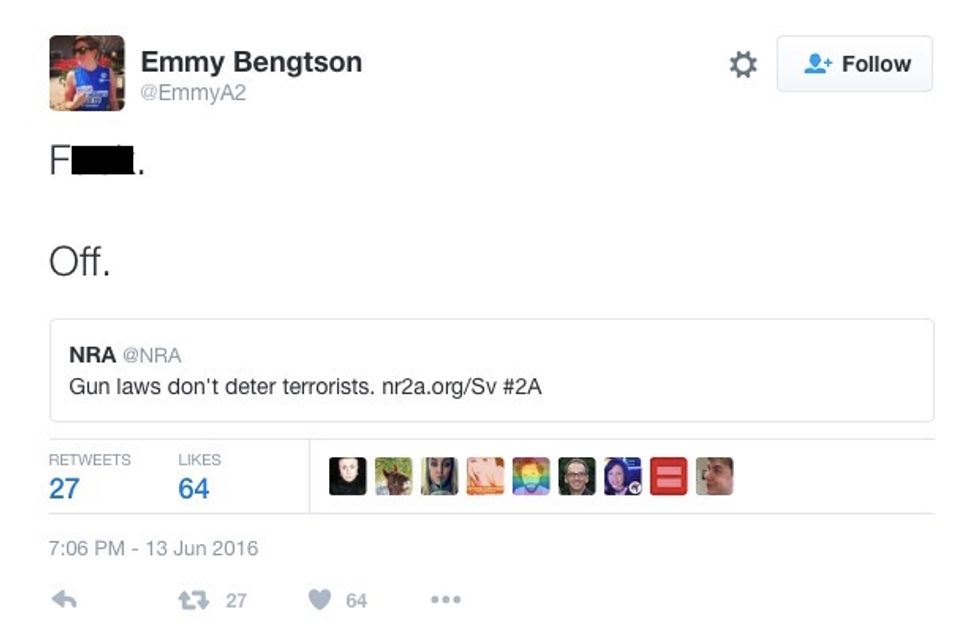 Image source: Twitter @EmmyA2
The article was written by Chris W. Cox, executive director of the NRA's Institute for Legislative Action, which serves as the group's lobbying arm. He argued that new legislation on firearm access would be ineffective because terrorists and criminals "are not deterred by gun control laws."
Instead, Cox argued that the only way to block attacks like the one in Orlando from happening in the future is to destroy radical Islam. He blamed the Florida shooting that left 50 dead and at least 53 injured on the "political correctness" of President Barack Obama's administration.
He also criticized Obama and Clinton for their frequent calls for increased gun control.
"They are desperate to create the illusion that they're doing something to protect us because their policies can't and won't keep us safe," he wrote. "This transparent head-fake should scare every American, because it will do nothing to prevent the next attack."
Not long after Bengtson fired off about the NRA, conservative talker Dana Loesch, who hosts a radio and television show on TheBlaze, tweeted back, "So you're saying gun laws deter terrorists?"
So you're saying gun laws deter terrorists? https://t.co/cyhaaPy9Dt

— Dana Loesch (@DLoesch) June 13, 2016
The Clinton staffer then suggested she was being attacked on the social media platform after being re-tweeted by Loesch, pointing out one Twitter user who wrote, "No thanks I prefer my women to actually look like women."
No thanks I prefer my women to actually look like women https://t.co/izc5k4WsMg

— Dirty Keith (@44magpunk) June 13, 2016
But TheBlaze personality was unflinching in her position, telling Bengtson it's "not very classy to attack innocent Americans."
—
Follow the author of this story on Twitter: