NEW YORK — Gov. Andrew Cuomo (D) lifted up New York as a beacon for the LGBT community and an example of stricter gun control during a Monday evening vigil for the victims of the Orlando terrorist attack.
Thousands of activists, advocates, mourners and tourists gathered Monday evening in front of the historic Stonewall Inn, the Greenwich Village establishment that has been heralded as the birthplace of the modern gay rights movement, to remember the victims of the Orlando terrorist attack over the weekend. Early Sunday morning a 29-year-old man walked into a popular gay nightclub and murdered 49 people and injured more than 50 people. The gunman was thought to have been radicalized and potentially inspired by "foreign terrorist organizations," according to the FBI.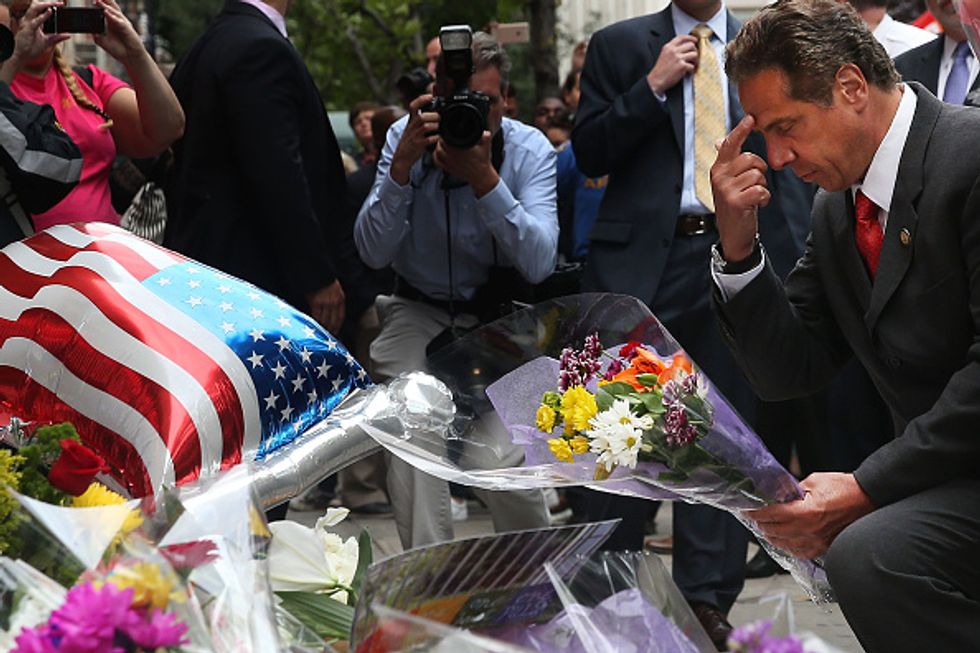 New York Gov. Andrew Cuomo pauses in front of the iconic Stonewall Inn Monday to lay flowers and grieve for those killed in Sunday's terror attack in Orlando, Florida. (Getty Images/Spencer Platt)
"The frustration over a society that would allow a madman to buy an assault weapon has gone on for too long," Cuomo said. "How many people have to die before the federal government comes to its senses? We had Columbine, we had Virginia Tech, we had Sandy Hook, we had San Bernardino, we had Auroro, Colorado. When does it stop?"
As Cuomo decried gun violence, he praised New York's own gun laws and assault weapons ban but said they do no good if a person can just drive a few hours to another state, purchase a weapon and drive back.
"This is an American curse. It is not an international curse, and we should learn, and we should move forward," he said.
Cuomo peddled New York as a prime example for other states in terms of both marriage equality and stricter gun control laws.
"Let's do, my friends, what New York does at its best. What we do at our best is we rise to the occasion, and we show the way forward," the governor said. "That's what we did when we were the first big state to pass marriage equality, and it rippled all across this nation."
"We passed gun control in this state. We outlawed assault weapons in this state. We know it can be done," Cuomo also said. "We know it is controversial. We know it takes political courage, but we're saying to our federal government, 'we want that political courage shown and don't you come home until you pass sensible gun control, and it stops now.'"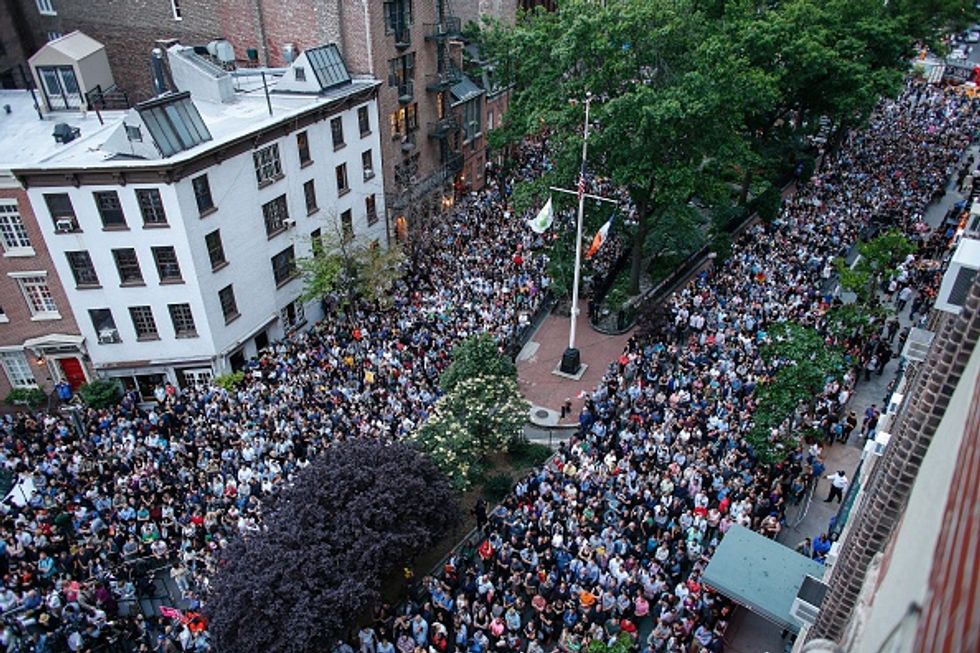 People take part during a vigil in solidarity outside Manhattan's historic Stonewall Inn Monday to express their support for the victims killed at Pulse nightclub in Orlando, Florida. (Getty Images/Kena Betancur)
Cuomo advocated lifting up the Stonewall Inn as its own sort of monument or testament "for all to know that freedom started here in 1969 in the Stonewall and it moved this state, and this state moved this nation."
"Let's say tonight, with this emotion we feel, this is the day that the federal government must promise us that they will pass sensible gun control because enough is enough," the governor added.
Cuomo's hyper-political message didn't resonate with at least a few dozen at the gathering who booed the governor at times during his rally speech. One vigil attendee told TheBlaze that had he known political speeches were to be made by Cuomo and New York City Mayor Bill de Blasio, he would have stayed at home.
"To see it turned into a political rally is an insult to me. I revile these people," the man, who attended some of the protests at Stonewall in 1969 said. "It's an emotional time, and I didn't expect to see a cheer rally for the governor, the mayor and the city council."
New Yorkers holding up lights as names of Orlando victims are read pic.twitter.com/t3yd9iUmqp

— Kaitlyn Schallhorn (@K_Schallhorn) June 14, 2016
Aside from the police speeches made, singer Nick Jonas and actor Tituss Burgess made appearances at the vigil and addressed the crowd. The vigil concluded as the names of the 49 victims were read while those in attendance lifted lights and candles in the dusk.
You can listen to Cuomo's full speech below.
—
Follow Kaitlyn Schallhorn (@K_Schallhorn) on Twitter