© 2023 Blaze Media LLC. All rights reserved.
Anderson Cooper Grills Florida AG on Her LGBT Record During Tense Interview
"You've never tweeted about Gay Pride Month."
CNN's Anderson Cooper grilled Florida Attorney General Pam Bondi over her record on LGBT issues — particularly her defense of traditional marriage — during a tense interview Tuesday.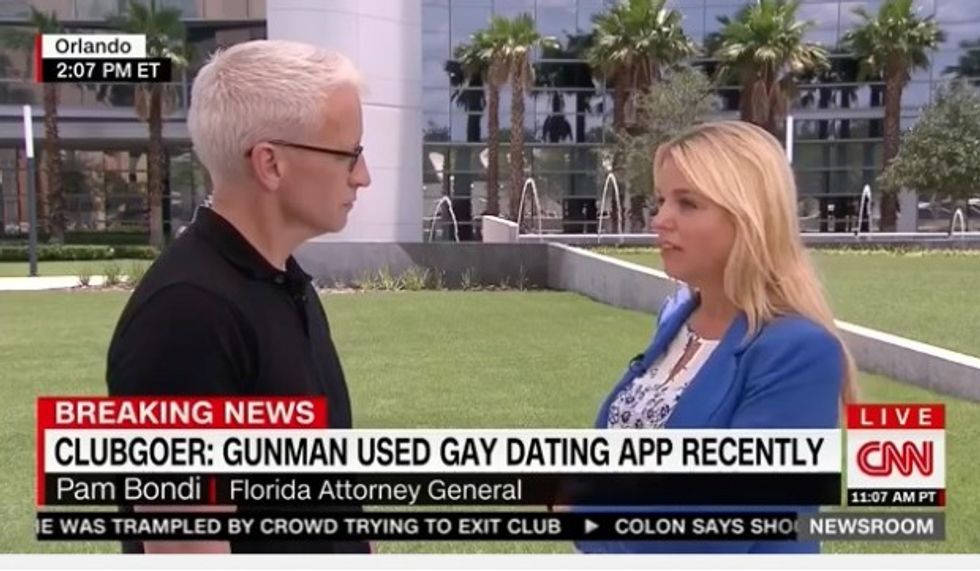 Image source: CNN
Following the terrorist attack at a gay nightclub in Orlando, Bondi said, "We are making it clear that anyone who attacks our LGBT community, anyone who attacks anyone will be gone after to the fullest extent of the law."
Cooper asked Bondi if it was "hypocritical" of her "to portray yourself as a champion of the gay community" after she lead the fight against legalizing same-sex marriage in the state.
Bondi said that as attorney general it is her job to defend the state's Constitution, including its definition of marriage, which she said "over 69 percent of the voters put in the Constitution."
Cooper continued to press: "But you were arguing [in court] that gay marriage, if there was gay marriage, if there was same-sex marriage, that would do harm to the people of Florida, to Florida society. Are you saying you do not believe it would do harm to Florida?"
Bondi replied, "Of course not, of course not. Gay people — no, I've never said that. Those words have never come out of my mouth."
But Cooper wasn't finished and continued to ask Bondi about her record, even her Twitter account.
"I have never really seen you talk about gays and lesbians and transgender people in a positive way until now," Cooper said. "I read your Twitter history for the last year, and I saw you tweeting about National Dog Month and National Shelter Dog Appreciation Day or Adopt a Shelter Dog Month. You know, it is Gay Pride Month, you've never tweeted about Gay Pride Month."
Bondi answered, "Well, actually now if you look at my website now we have hands clasped together, all different color rainbow hands."
The attorney general maintained that her role is to defend Florida's constitution and that she is working to assist "human beings" in the wake of the attack.
"I'm not championing anything other than Floridians," Bondi said.
Watch below:
—
Follow Kate Scanlon (@kgscanlon) on Twitter and Facebook.
Want to leave a tip?
We answer to you. Help keep our content free of advertisers and big tech censorship by leaving a tip today.
more stories
Sign up for the Blaze newsletter
By signing up, you agree to our
Privacy Policy
and
Terms of Use
, and agree to receive content that may sometimes include advertisements. You may opt out at any time.