Donald Trump was in Dallas Thursday speaking to a crowd at Gilley's, a country and western bar with a mechanical bull available for patrons to ride — or attempt to ride.
While mechanical bull rides are a fixture at many country and western bars around the country, a surge in the trend can be traced back to "Urban Cowboy," a 1980 John Travolta film that spotlighted the popular ride at the original Gilley's bar outside of Houston.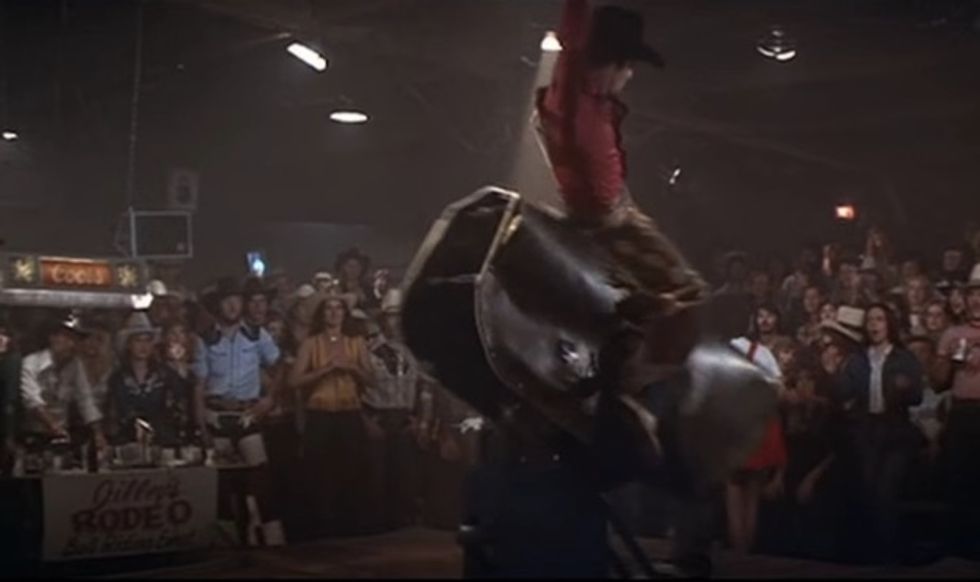 Image source: YouTube
Mr. Trump made reference to the bull; however, he misidentified it as a horse.
"Where's that horse? I wanna go on the horse. Hey, you wanna hit the papers tomorrow? Let's get that horse. I'll ride that horse," said the GOP's presumptive nominee.
"Let's get that horse," Trump said, adding, "Even if I make it, they'll say I fell off the horse and it's terrible."
The crowd's reaction to Trump's faux pas appears to be mixed, with both cheers and jeers heard.
Watch.
In case you've never seen "Urban Cowboy" or experienced a mechanical bull ride in person. Here's one we found on the internet:
—
Follow the author of this story on Twitter and Facebook: