Multiple MEPs warned Friday that the European Union would soon "crumble to pieces" in the wake of the U.K.'s historic Brexit decision.
"This is the beginning of the end for the EU," far-Right Sweden Democrat Party MEP Peter Lundgren told the Daily Mail. "So many other countries will follow the U.K. Europe will fall."
"It's just a matter of time," Lundgren added. "Britain has set a precedent. Other members of states will follow and the whole thing will fall apart. It will happen very soon."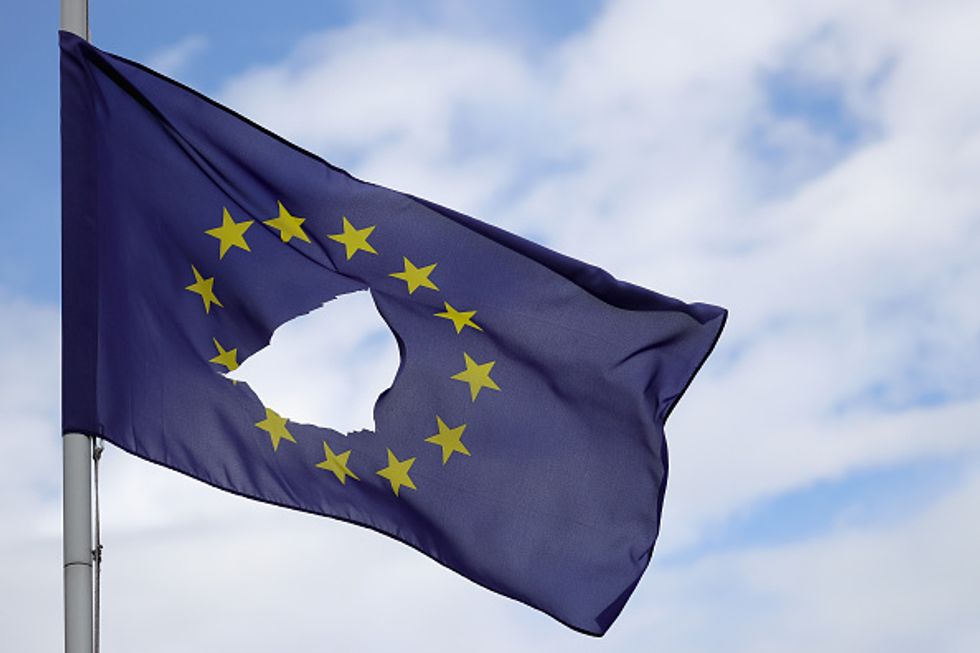 A European Union flag, with a hole cut in the middle, flys at half mast outside a home in Knutsford in the U.K. after the historic Brexit referendum. (Getty Images/Christopher Furlong)
The Daily Mail reported that multiple Eurosceptic MEPs from France, Germany, Italy and Sweden believe that governments will be under pressure to hold similar referendums to renegotiate the terms of their own involvement with the EU.
In fact, Britain's exit from the EU could "start a process that can't be stopped," Beatrix von Storch, a MEP of Germany's Alternative Für Deutschland told the Daily Mail.
"Let's not forget that even those who voted to remain didn't like the EU much," von Storch said. "Remain campaigners kept repeating, 'the EU is not perfect.' They didn't passionately believe in it; they have just been scared into supporting it."
But Danish politician Jeppe Koford, leader of the Social Democrats in the European Parliament, contended that it was "too early" to make any judgments regarding the fate of the EU.
"It's not the U.K. referendum that would make Europe fall apart," he said. "It's the lack of solutions to problems, whether its low wages, high unemployment or the terrorist threat. These are the main drivers of disintegration if we're not strong enough."