In her coverage of Thursday's referendum to determine whether Britian would remain a part of the the 28-nation European Union, CNN anchor Christiane Amanpour lamented the decision to leave as one motivated by "xenophobia" and "white identity politics."
Earlier Thursday evening, before the official results were in, Amanpour voiced her concerns about the U.K.'s push for national sovereignty.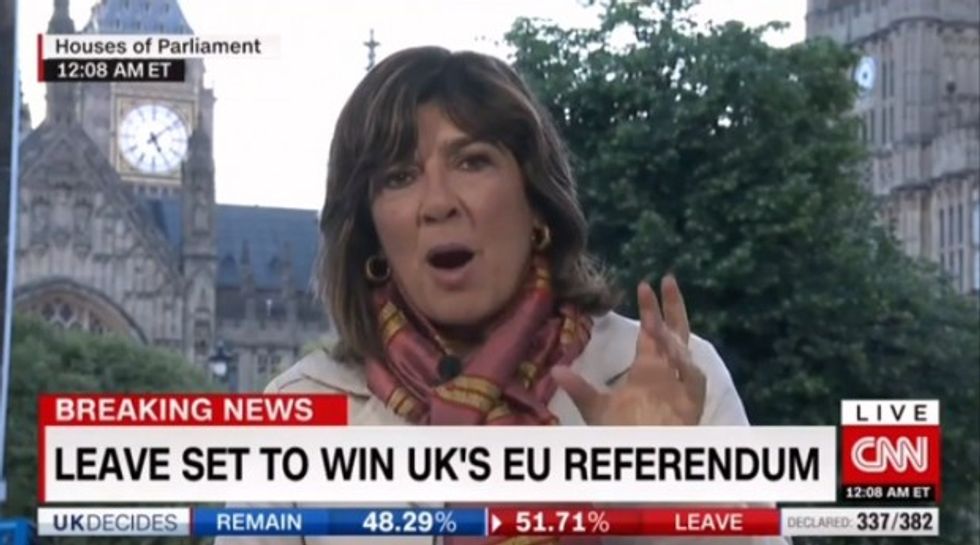 Image source: CNN/MRCTV
"A lot of the Leave movements are led by the hard-right, very, very xenophobic, anti-immigrant, very populist, nationalist, white identity politics — they are the leaders who are pushing this momentum," she told Anderson Cooper.
As the votes poured it that evening, and it became clear that the British exit, or Brexit, campaign was likely to succeed, Amanpour referenced a scathing "Economist" to support her previous claims.
"This marks a victory for the kind of economic nationalism, to quote this article here, for the kind of xenophobia, that will imperil the liberal world order that has guaranteed Western prosperity and stability since World War II," she said.
U.K. Independence Party leader, Nigel Farage, who also headed the Leave movement, said last year that immigration and tightening borders would be the "defining issue" of the Brexit referendum.
After the results were announced, Amanpour called Farage out by name, dubbing him the "anti-immigrant, xenophobic" spokesman for the Brexit victory.
Watch: