A vigil for a California teen who was fatally shot by police descended into chaos Sunday after demonstrators waving Confederate flags showed up, shouting "f*** the police," KSEE-TV reported. Some carried "White Lives Matter" signs, the New York Daily News reported, citing local reports.
#UPDATE: Hundreds of people at @Chevron where 19 y/o man shot yesterday in OIS with @FresnoPolice. Died in hospital. pic.twitter.com/duvyir1WSz

— Connie Tran (@MissConnieTran) June 27, 2016
Dylan Noble was shot multiple times Saturday in Fresno after officers pulled him over for driving erratically, KFSN-TV reported. Police allege that the white 19-year-old refused to cooperate after being asked to show his hands. Noble died in the hospital later that day.
According to police, Noble exited his vehicle and began running toward two officers, making "bizarre comments."
"The subject made a statement he hated his life," Fresno Deputy Chief Pat Farmer told KSEE.
The two cops, with body cameras strapped to their chests, told the station they feared the teen was reaching for a weapon when they opened fire.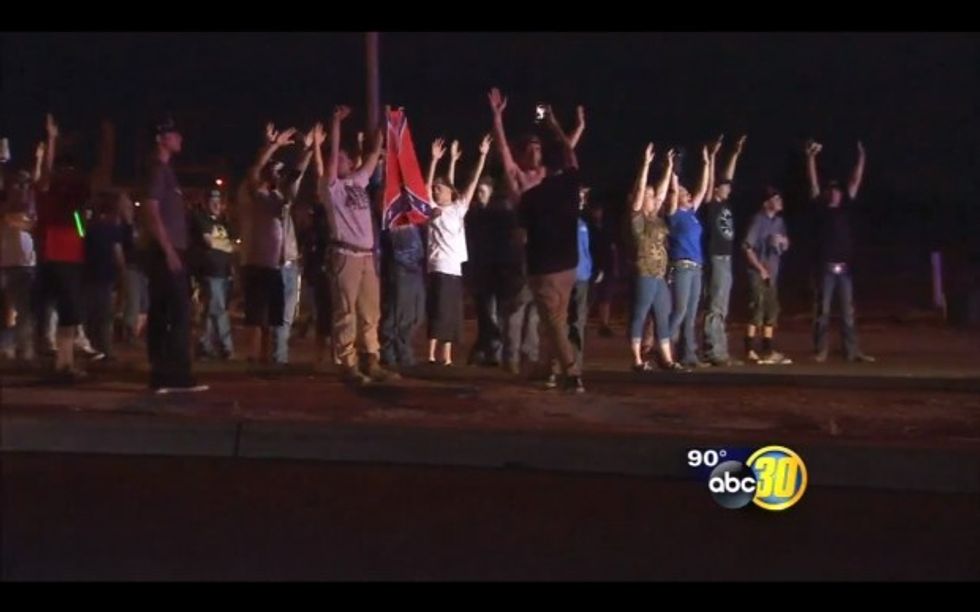 Image source: KFSN-TV

Noble's friends and family arranged the Sunday vigil, but KFSN reported that after about hour, some of the teen's friends began setting off fireworks in the street, doing "donuts" with their cars and even standing in the middle of the road, blocking traffic.
#BREAKING: HUGE crowd blocking the street on Shields near Armstrong.. Chanting "F" the police. @FresnoPolice here. pic.twitter.com/gMCzCbI6ek

— Connie Tran (@MissConnieTran) June 27, 2016
Police were notified of a disturbance and arrived to stabilize the situation, but the unruly attendees stood in the middle road for about 30 minutes, according to KFSN.
Officers spoke to them over a PA, ordering them to move to the sidewalk.
The situation ended peacefully after a male protester walked over to where the police were stationed and spoke to the crowd over the PA system.
Saturday's shooting remains under investigation. During this time, the officers involved, who have a combined 37 years of experience, are on administrative leave.