Presumptive Republican nominee Donald Trump is starting to make up some ground with evangelicals, according to a Gallup Poll out Monday.
Still, "highly religious" white Protestant Republicans were only "slightly more positive" about the candidate in June than they were in the February to May time frame.
Trump's support is fairly steady among both the religious and non-religious white Protestant Republicans, as opposed to former presidential candidate Sen. Ted Cruz, who was much more popular among highly religious evangelicals than the less religious people polled.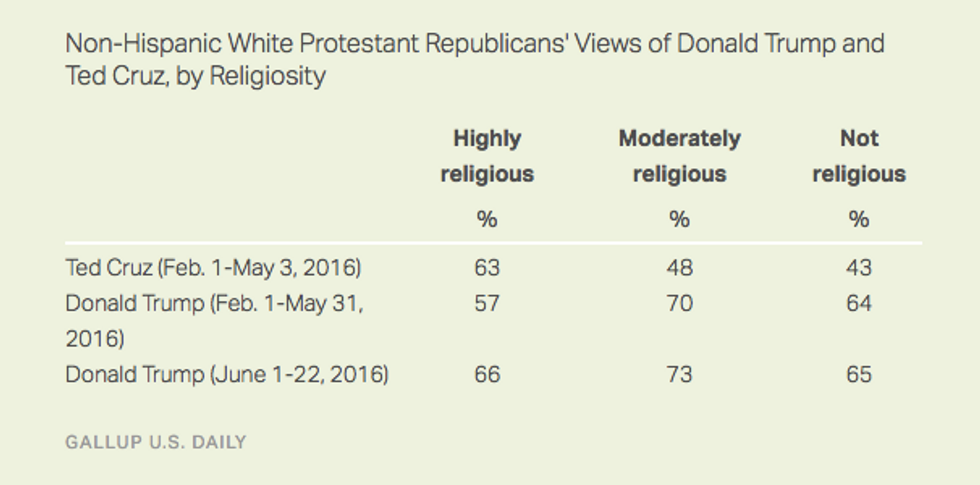 Gallup
Last week, Trump met with nearly 1,000 evangelical Christian leaders in an attempt to earn their support. In the meeting, he promised attendees that he would appoint pro-life justices to the Supreme Court. (In a 5-3 decision announced Monday, the court struck down Texas' increased health regulations for abortion clinics.)
Gallup pointed out that the data in the new survey shows that level of religious fervor has little impact on Republicans' willingness to support Trump — which could be a disadvantage for the businessman, since faith is often a motivating factor in voter turnout and in their choices at the polls:
In short, among Protestants -- once partisanship and race are taken into account -- religiosity doesn't appear to make much of a difference in views of Trump. This stands in contrast to this group's views of Cruz earlier this year, when he was still an active candidate for the GOP nomination. At that point, white Protestant Republicans who were highly religious were significantly more positive about Cruz than were those who were either moderately or not religious.

Based on personality, history and other factors, it's not clear whether Trump will ever generate the type of differentially strong appeal among evangelicals as was the case for Cruz. But, in terms of sheer numbers alone -- 54% of white Protestant Republicans are highly religious -- if there is a way for Trump to increase his image and support among this group, it would appear to have significant upside potential for his campaign.
—
Follow the author of this story on Twitter and Facebook:
[facebook //www.facebook.com/plugins/like.php?href=