ZANESVILLE, Ohio (AP) — A former college student who gave birth in her sorority house was sentenced Monday to life in prison without parole for killing the newborn by throwing her in the trash.
Emile Weaver, 21, was found guilty by a jury last month of aggravated murder, abuse of a corpse and tampering with evidence.
Prosecutors said Weaver gave birth in a bathroom at the Delta Gamma Theta sorority at Muskingum University on April 22, 2015, then purposefully caused the death of her baby.
Muskingum Co. Prosecutor, Michael Haddox says 20 yo Emile Weaver has been arrested, charged w baby's murder.@10TVpic.twitter.com/4BTp4vzTEb

— Bryant Somerville (@Bryant10TV) July 23, 2015
They said that the baby girl died from asphyxiation after Weaver put her in a plastic trash bag and left the bag outside the sorority house.
Weaver, of Clarington, testified at trial that she had been in denial about the pregnancy and thought the baby was already dead when she put the newborn in the trash bag. She tearfully apologized in court and said she will appeal the sentence.
Judge Mark Fleegle could have sentenced Weaver to life with a chance for parole in as little as 20 years, which was requested by her attorney, but the judge said he wasn't convinced she was remorseful.
Fleegle referred to text messages from Weaver sent afterward to the man she thought was the baby's father that said, "No more baby," followed by "taken care of."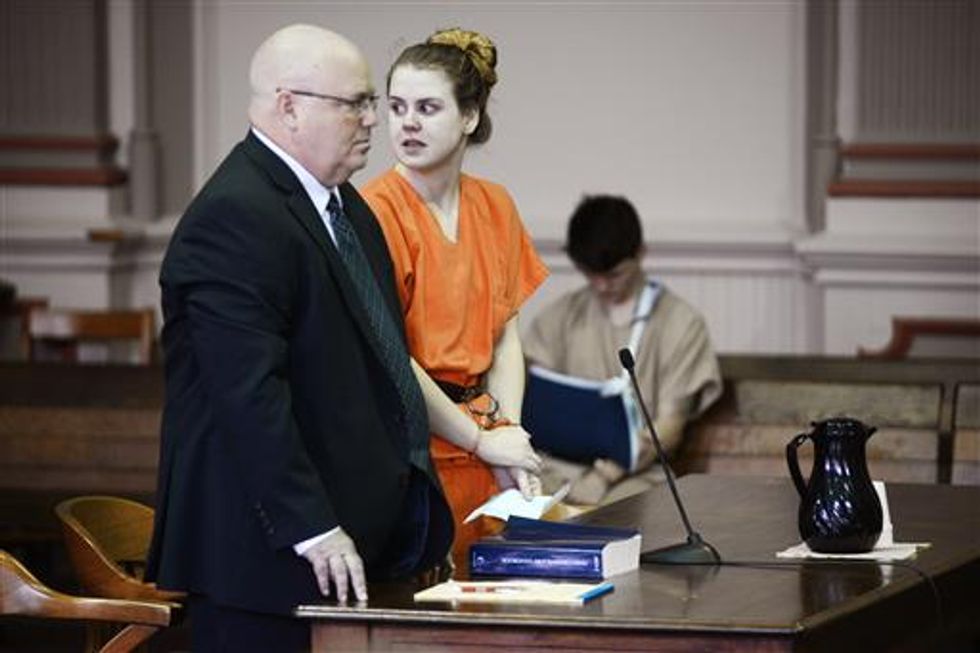 Emile Weaver, center, standing next to her attorney Aaron Miller, left, looks toward the gallery while addressing the court during her sentencing Monday. (Chris Crook/Times Recorder via AP, Pool)
Prosecutors said at trial that Weaver knew she was pregnant all along and engaged in risky behaviors like drinking alcohol, smoking marijuana and playing in a dodgeball tournament because she never intended to keep the baby.
Weaver wrote in a letter to Fleegle before her sentencing that she didn't fully comprehend her actions until she was staring at the body of the baby, who was named Addison, in a tiny casket at her funeral.
"I ask God for forgiveness, and today, all I can do is ask for all of yours," she said in court.
Early in the process, Weaver had pleaded not guilty by reason of insanity, but the judge ruled that she was mentally competent.
Muskingum County Prosecutor D. Michael Haddox said he was satisfied with the sentence.
"We believe justice has been served as best as humanly possible," he said Monday.
After Weaver was found guilty last month, Haddox recorded a video in which he expressed his thoughts on the ruling: