A gay Virginia man is in jail after posting multiple tweets in which he threatened to shoot at least two United States senators, WRC-TV reported.
Kyler Schmitz, who works as an Uber driver, sent the tweets in the days immediately following the terrorist attack on a gay Orlando nightclub earlier this month. According to testimony delivered Monday at a Virginia court hearing, Schmitz allegedly threatened to shoot Sen. Roy Blunt (R-Mo.) in a tweet directed at the senator's official Twitter handle.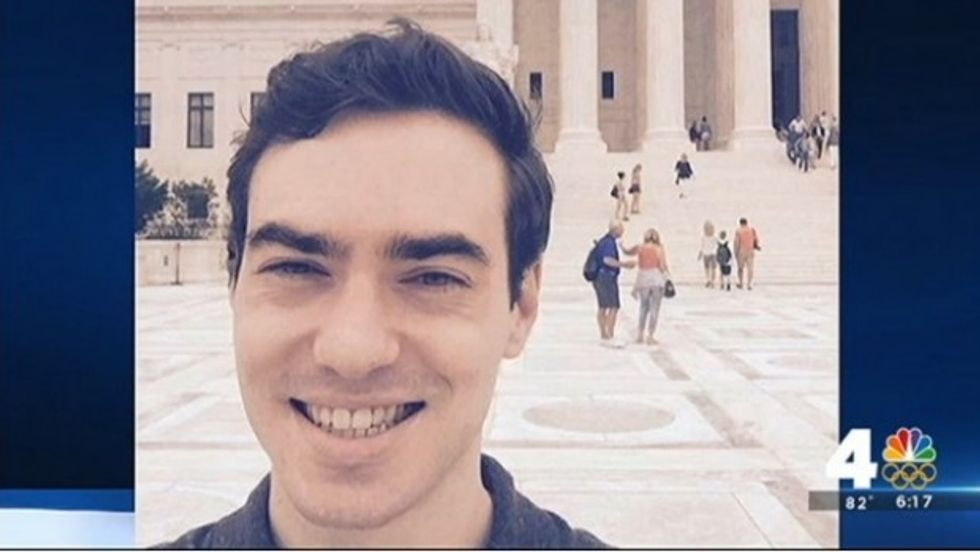 Kyler Schmitz (Image source: WRC-TV)
The tweets, which reportedly included explicit and violent language, prompted an investigation led by U.S. Capitol Police.
In the hours after Schmitz posted some of the messages, authorities used an automated license plate reader to track down his car, which was within two blocks of the U.S. Capitol, prosecutors said Monday.
Schmitz admitted to sending the tweets, his partner, Paul Cianciolo, told WRC, but said that the tweets were nothing more than "parody" and satire. Schmitz's defense attorney deemed the messages "inartful political discourse" on the topic of gun control.
Testimony delivered Monday claimed Schmitz is not a gun owner.
U.S. Capitol Police, however, argue in a court filing that Schmitz intended to make a "direct threat" to a U.S. senator, according to WRC.
Schmitz is accused of threatening other members of Congress with another tweet in which he wrote, "I can't wait to shoot you in the face one by one."
A judge ordered Schmitz held Monday until future court proceedings, WRC reported.
"I don't know how to read these tweets in any way but as threatening," the judge told Schmitz.