After completing a two-year investigation into the 2012 terror attacks on the U.S. consulate in Benghazi, Libya, House Republicans released an extensive report Tuesday that they claim "fundamentally changes the public's understanding" of the event.
House Select Committee on Benghazi Chairman Trey Gowdy (R.-S.C.) and fellow committee members spoke to the press Tuesday morning about the more than 800-page document.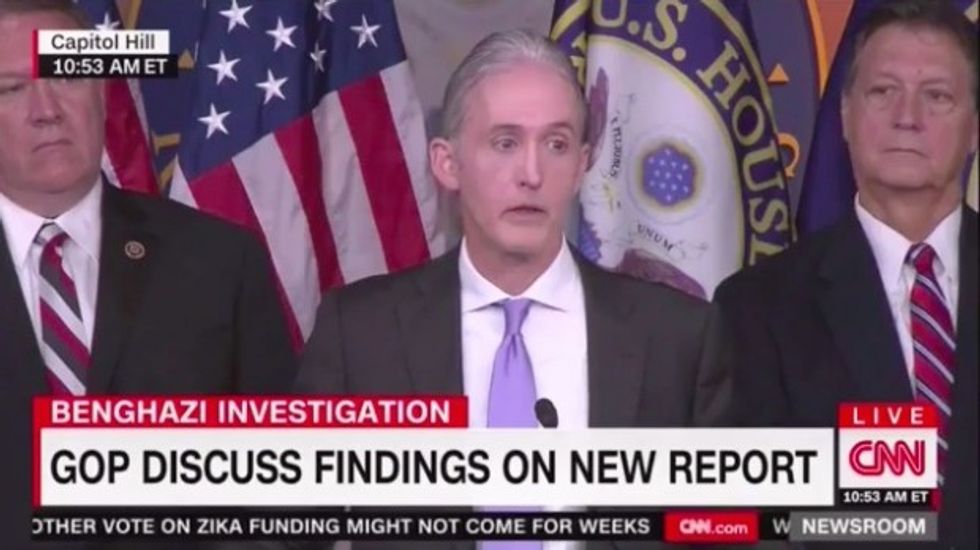 Image source: YouTube
Though Gowdy stressed multiple times that the purpose of the investigation was not to focus on former Secretary of State Hillary Clinton — Gowdy previously told MSNBC Tuesday morning, "We mention … Clinton's name less times than the Democrats do" in their report, which was released Monday — a reporter asked the chairman a question about a particularly partisan take on what happened in Benghazi.
"There are bumper stickers and T-shirts all over this country that say 'Hillary Clinton lied, people died'… is that true?" the reporter asked.
"You don't see that T-shirt on me, and you don't see that bumper sticker on any of my vehicles," Gowdy fired back. "And you've never heard me comment on that."
"Could you shed light on that?" the reporter pressed.
"Have you read it?" Gowdy asked.
"I haven't had time yet," the reporter replied.
"Well, I'm asking you to read it," Gowdy answered.
Throughout the press conference, Gowdy repeatedly encouraged the American public to read the lengthy report and to draw their own conclusions based on the committee's findings.
"I'm not gonna tell you what to be on the look out for. I'm gonna tell you there's new information," he said.
The committee announced Tuesday that they found no new evidence specifically against Clinton, though it suggests she and other officials did not adequately address the risks involved in keeping Americans in Benghazi given the high likelihood of a terrorist attack.