The time for Bill Kristol's yet-to-be recruited third-party candidate to launch a campaign is drawing nigh, but that didn't stop Mitt Romney's son from asking his dad to run for president — yesterday.
Speaking at the Aspen Ideas Festival Wednesday, the 2012 Republican presidential nominee indicated his wife, Ann, and his children were concerned with the way the GOP nominating process played out and were insisting Romney enter the presidential fray.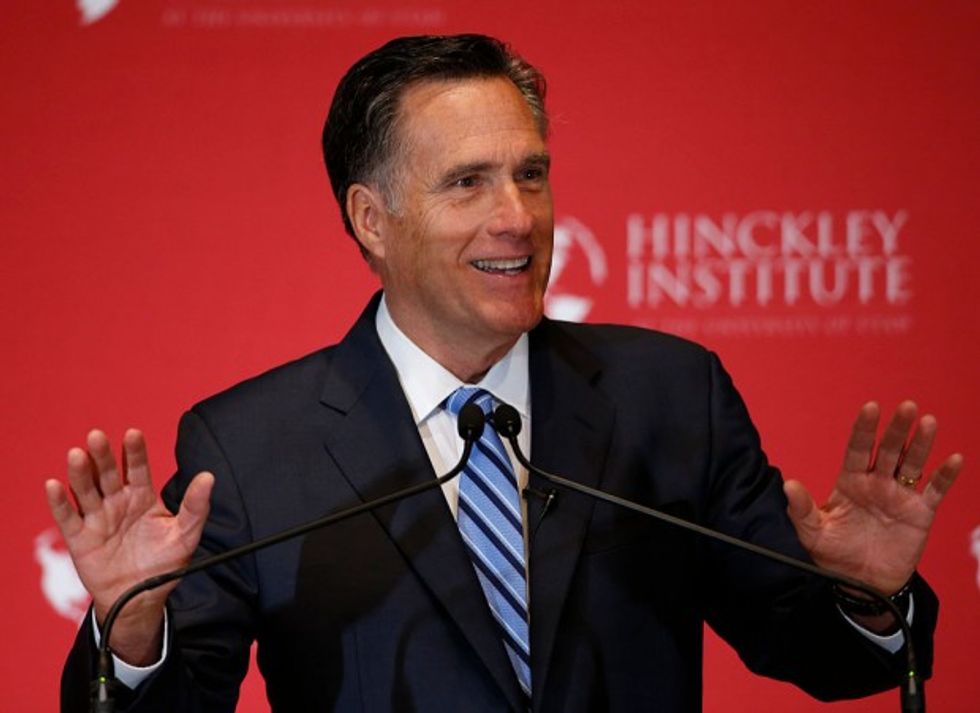 Photo by George Frey/Getty Images
"I got an email from one of my sons yesterday saying, 'You've gotta get in, dad, you've gotta get in," Romney said during a question-and-answer period moderated by CBS News anchor John Dickerson.
But the former Massachusetts governor denied the last-minute request, citing the fact that such a campaign would be difficult on the family and the likelihood that he would lose.
"It's hard on family," Romney said. "It's hard on your spouse sitting there in debates agonizing over what you're going to say next or what your kids go through and your grandkids to go through."
"I looked at it and I said I don't think in good conscience I'm the right person to run as long as there was a better alternative who had a better chance of winning, rather," he added. "And once the nomination was locked up, I didn't see a chance of winning that was realistic."
Romney's son is not the first to request the two-time presidential hopeful launch an independent bid for the White House. Kristol, editor of the Weekly Standard, met privately with Romney in May to ask him to run for president, but the former governor declined.
"The door is closed unless both candidates come up to me and say please save them," Romney jokingly reiterated to Dickerson. "I can't imagine the circumstances that would lead me to be in the race."
Additionally, Romney attempted to recruit Ohio Gov. John Kasich (R) and Nebraska Sen. Ben Sasse (R), both of whom have expressed disapproval of Trump, for a third-party run. Both men also declined to jump into the race.
(H/T: Business Insider)
—
Follow the author of this story on Twitter: