The two days following Britain's vote to exit the European Union put a shock into the stock markets in England and around the globe.
The Friday and Monday after the vote saw equity markets worldwide experiencing significant sell-offs, losing trillions of dollars in value for investors.
However, less than a week after the global market meltdown, stocks appear to have rebounded. In the case of the FTSE 100 Index (England's equivalent of the Dow Jones Industrial Index), shares are back to near pre-Brexit levels, closing Wednesday at 6264.20 — within 1.1 percent of the close ahead of the Brexit vote.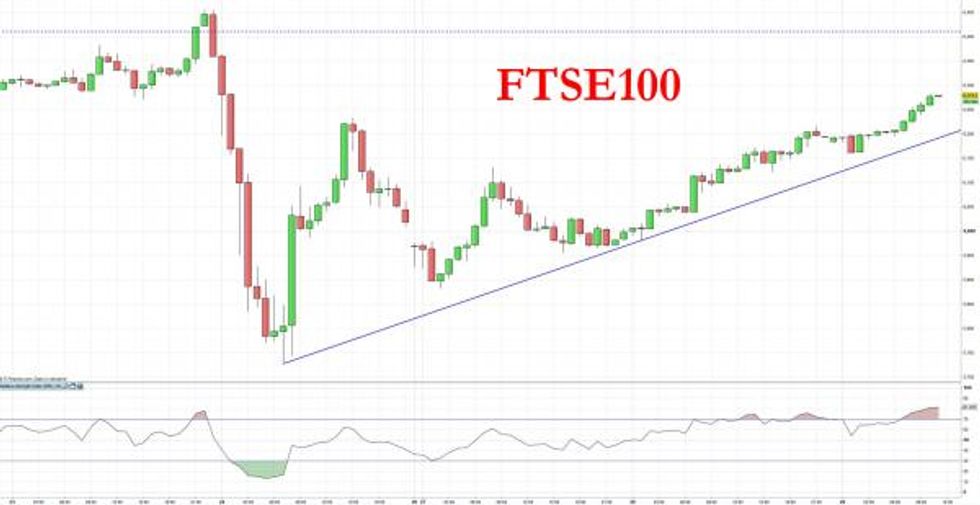 Image source: Zero Hedge
While long-term stability of the market is still in question, it appears that stocks in other countries are rebounding as well:
● The Dow Jones Industrial Index closed at 17,409.72 Tuesday, which is approximately 2 percent below the pre-Brexit vote.
● After falling 8 percent last Friday, Japan's Nikkei Index has regained almost half of the losses related to the U.K. referendum results.
● Australia's All Ordinaries Index initially dropped more than 3 percent following the vote. The Aussie market has recovered some of those losses and currently sits almost 8 percent higher than that market's lowest point in the past 12 months.
Many investment gurus believe central banks will take action to bolster the markets (Quantitative Easing, interest rate cuts, etc.).
The Brexit decision is believed to have pushed an expected rate increase by the U.S. Federal Reserve Bank to later in the year or possibly even next year.
Zero Hedge quotes Bloomberg's Mark Cudmore warning investors to be cautious, "Don't read too much into the relief rally of the past 24 hours."
Cudmore's caution is likely tied to the "unknowns" in the split between Britain and the EU.
"While the initial panic may have passed, markets are very far away from having fully priced the impact of the referendum," Cudmore opined.
—
Follow the author of this story on Twitter and Facebook: