Apparently the 12-year-old boy was talking trash to 16-year-old Kane Millsaps, "running his mouth saying he was an MMA Fighter and he could beat him up," the Log Cabin Democrat reported, citing an affidavit.
Soon someone was holding Millsaps' cellphone, aiming the camera at the 16-year-old who smirked as he glanced at the lens, raising two middle fingers — and showing off a set of brass knuckles on his left hand.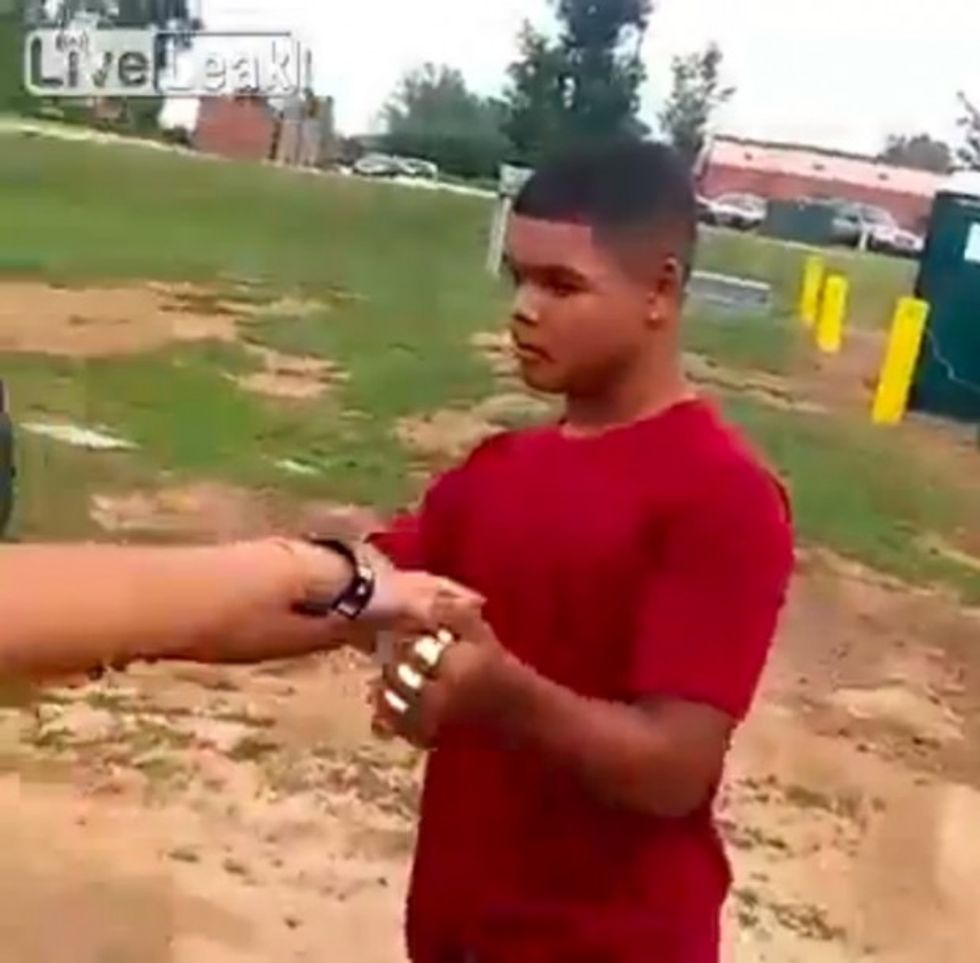 Image source: Live Leak
Seconds later, Millsaps walked toward the 12-year-old boy and reared back his left fist.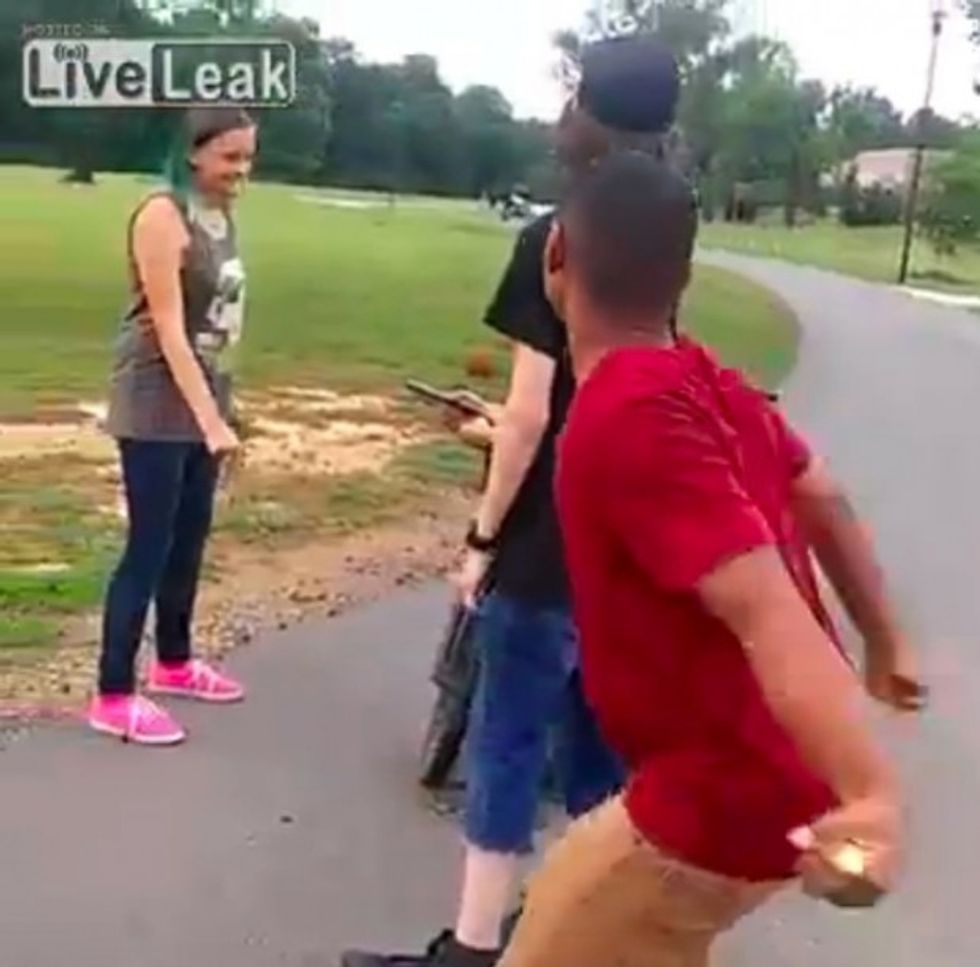 Image source: Live Leak
The younger boy was facing the opposite direction and never saw the punch that landed on his face and knocked him to the ground.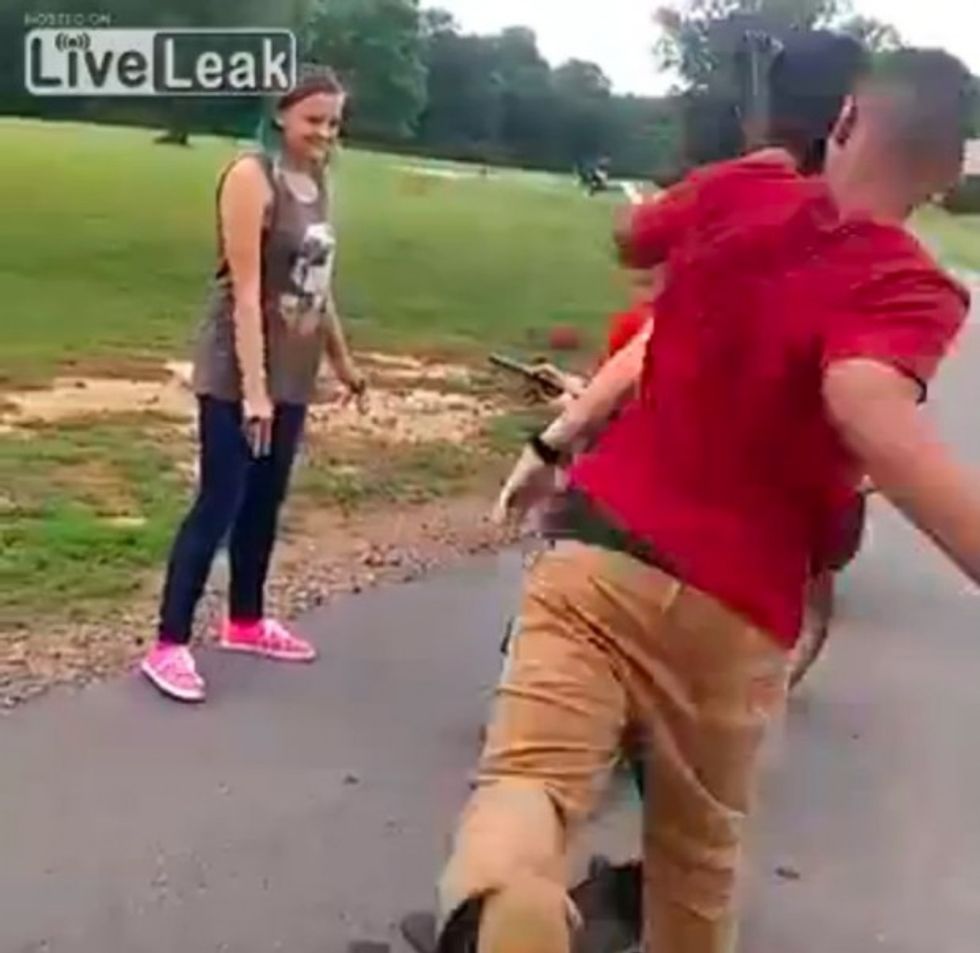 Image source: Live Leak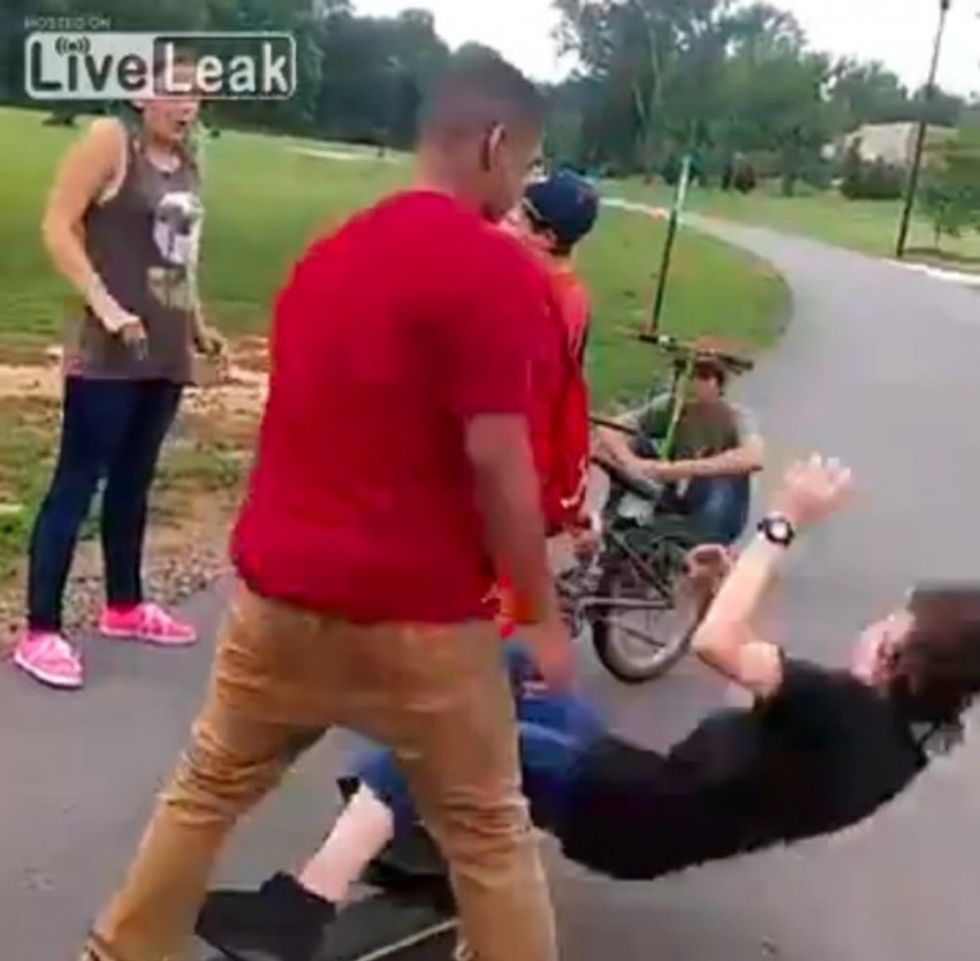 Image source: Live Leak
Millsaps didn't stop there, delivering three more blows to the victim crumpled on a walking trail in Conway, Arkansas.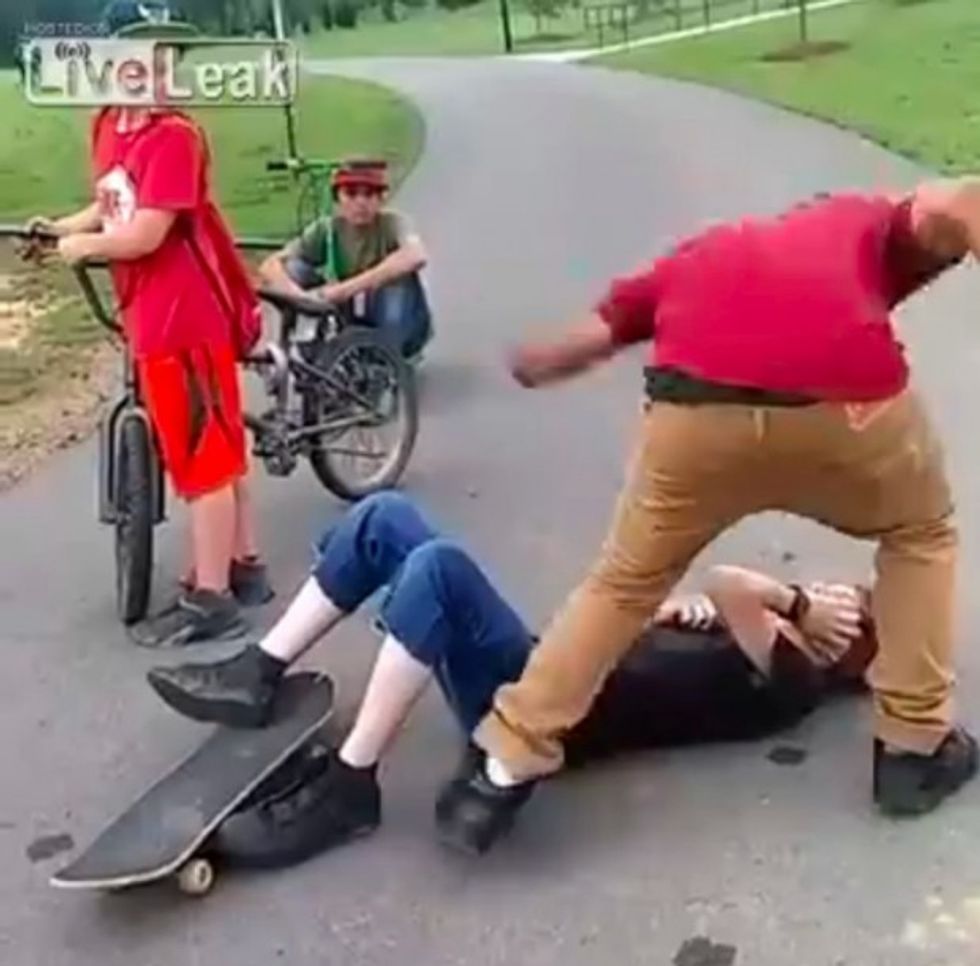 Image source: Live Leak
The victim said that he lost consciousness and "when he woke up he thought he had gravel in his mouth but it was pieces of his teeth," the Democrat reported, citing the affidavit.
That may have been that, but KARK-TV said that investigators believe Millsaps posted the May 31 video online.
A witness' family member brought the clip to Conway Police on June 1, the Democrat reported, and Millsaps was arrested the next day. He told police that he punched the victim because he was "running his mouth," KARK reported, and that "he found the brass knuckles at his apartment complex and after the incident he threw them in the dumpster," the Democrat added, citing the affidavit. Millsaps pleaded not guilty June 3 to first-degree battery, a felony, and possessing an instrument of crime, a misdemeanor, according to the Democrat.
While the victim — who told police he doesn't know Millsaps — recovers from a bruised right eye, a cut on his neck and broken teeth, Millsaps is being charged as an adult. To that end, his battery felony comes with a maximum sentence of 20 years in prison, KARK-TV reported.
"It's serious," Prosecutor Cody Hiland told the station. "We feel like it's something that needs to be pursued as an adult. It's an adult act."
Millsaps' mother told KARK, "I'm sorry to that family. I don't know why he did it."
But Millsaps' attorney Frank Shaw holds a different point of view.
"If he gets the maximum sentence, which I hope he doesn't, he'll get out when he is 36 years old. ... Then what?" Shaw asked KARK.
Millsaps' mother told the station on Monday that her son deals with mental health issues and had spent 18 months in a juvenile detention center for fighting, KARK said.
"It's my opinion that this is an untreated 16-year-old who needs help," Shaw told the station.
On Thursday ,Shaw filed a motion asking the court for a mental evaluation, saying he has "reasonable suspicion" Millsaps is "not fit to proceed forward with criminal proceedings," KARK reported.
"I think it's a tragedy," Shaw added to the station, "and it has caused not only my client to be incarcerated ... but it's also caused a victim to be injured."
(Content warning: Violence and rough language)
This story has been updated.