Hoping to unite the often-divided supporters of Hillary Clinton and Bernie Sanders, the Democratic National Committee's draft platform mentions Donald Trump a record 35 times.
The draft was released Friday afternoon ahead of the Independence Day weekend and mentions the presumptive Republican nominee on all 35 pages of text. The platform slams Trump on his economic plan, his criticism of international alliances, his contentious comments about women and minorities and his business career flubs.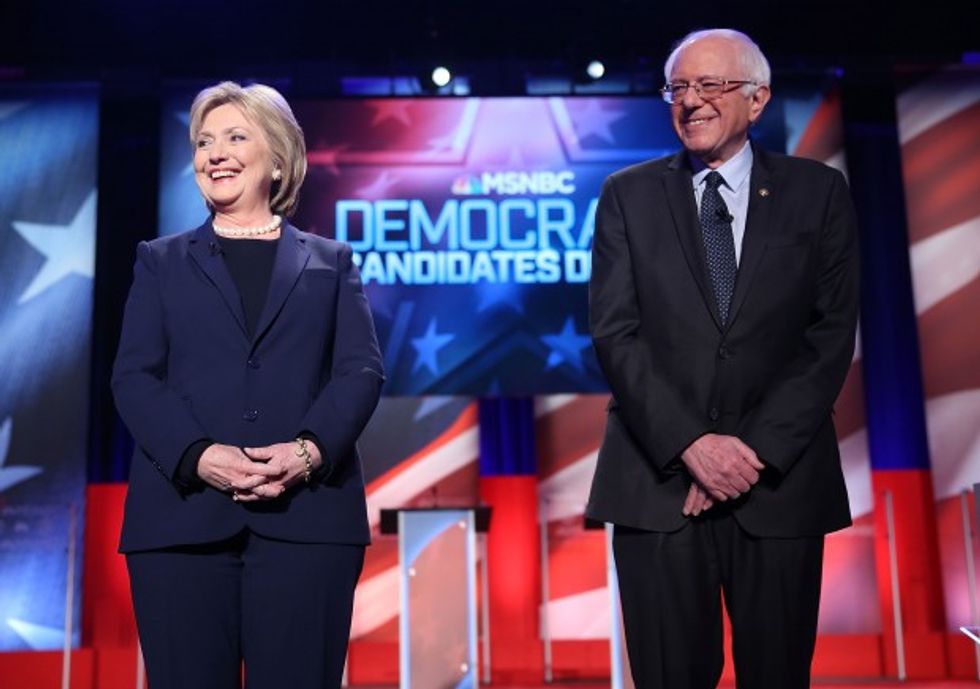 Photo by Joe Raedle/Getty Images
"Donald Trump has shown time and again that he cannot be trusted to secure the basic economic dignity of Americans," the platform reads.
Of his record in the private sector, the platform reads, "Donald Trump has often stiffed small businesses — nearly bankrupting some — with his deceptive and reckless corporate practices, the Democratic Party will make it easier to start and grow a small business in America."
The platform also tears into Trump for his comments about Muslims and his proposed ban on Muslim immigration.
"The stakes have been high in previous elections," it says. "But in 2016, the stakes can be measured in human lives — in the number of immigrants who would be torn from their homes; in the number of faithful and peaceful Muslims who would be barred from even visiting our shores; in the number of allies alienated and dictators courted; in the number of Americans who would lose access to health care and see their rights ripped away."
Trump is mentioned more than previous Republican presidential nominees Mitt Romney and former President George W. Bush. Romney was mentioned 22 times in 2012 and Bush was mentioned only eight times in 2008.
The document is a sign Democrats are working to bring Bernie Sanders, who has not withdrawn from the race for the Democratic nomination and has vowed to take his fight to the convention, under the umbrella, offering the Vermont senator several concessions.
Sanders appointed five members to the 15-member platform drafting committee. The platform was approved by 13 members — three of whom were chosen by Sanders — while one Sanders backer abstained and another missed the vote.
"Democrats believe that cooperation is better than conflict, unity is better than division, empowerment is better than resentment, and bridges are better than walls," the document says of unity. "It's a simple but powerful idea: we are stronger together."
"As Democrats, we respect differences of perspective and belief, and pledge to work together to move this country forward, even when we disagree," it continues. "With this platform, we do not merely seek common ground — we strive to reach higher ground."
A section in the platform regarding "economic fairness and inequality" draws substantially from the Sanders campaign's foundational issues. The document calls for a $15 minimum wage, the protection of Social Security, ending income inequality and reforming campaign finance laws.
See the complete platform below:
—
Follow the author of this story on Twitter: