As the Republican National Convention nears, fears over presumptive nominee Donald Trump haven't exactly subsided among many in the party, but could an effort to "unbind" delegates really be the "Never Trump" crowd's solution?
Those seeking to unbind convention delegates are fighting battles on two fronts, sources within the Republican Party revealed to TheBlaze.
The first front is to convince the convention Rules Committee to enact a "conscience clause" so that delegates would not have to vote for Trump if they don't feel comfortable doing so.
The second, party insiders say, is to unbind delegates from their state party obligations and completely redo the vote for the GOP nominee at the convention.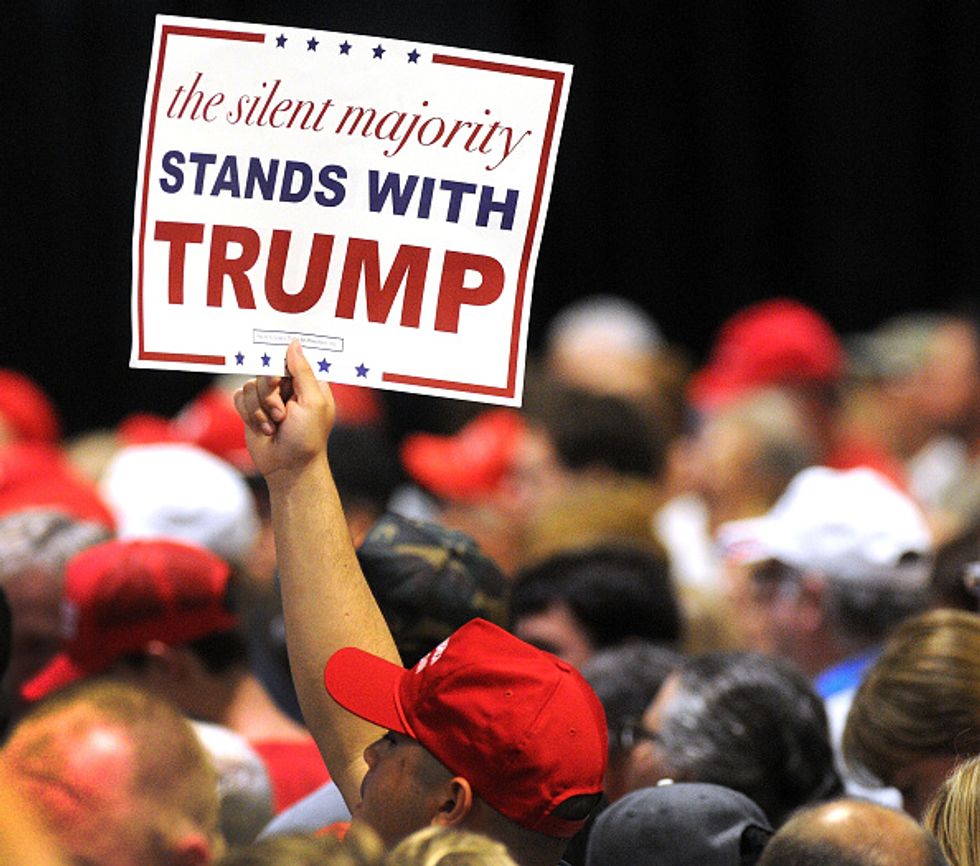 Supporters attend a campaign rally of presumptive Republican presidential nominee Donald Trump. (Getty Images/Gerardo Mora)
Curly Haugland, a national committeeman from North Dakota, has often argued that delegates are already unbound and not required to vote consistent to their state party rules once they get to the convention in Cleveland.
"The delegates in 2016 are free birds," Haugland told TheBlaze in an interview. "Whether they know it or not, they've been lied to. I'll confess to knowing that the staff of the Republican Party in Washington has lied repeatedly to the media and to the candidates themselves as well as to the delegates about the binding, and they continue to do it. I can't explain why they do that; I guess they just like to lie."
Haugland, whose book "Unbound: The Conscience of a Republican Delegate" was published in May, also blamed the media for misleading the public about the terms of delegates' duties: "The simple question is: do the primaries choose the party's nominee or do the delegates to the convention choose the nominee? It's one or the other; it can't be both."
"I'm on the side of the convention delegates because I'm a member of the Republican Party from the state of North Dakota," Haugland said. "I'm a delegate to the convention. Our duty and our responsibility as delegates is to protect and defend the right of the party and its members to choose the nominee of its party for the national race."
He added, "That right does not belong to the general public, it doesn't belong to independent or unaffiliated voters or Democrats in many of the states that have open primaries. It belongs solely to Republicans."
The RNC declined to comment for this story.
The 'Free the Delegates' Movement
Haugland's assertions are backed by multiple delegate-unbinding organizations and super PACs, including the Free the Delegates advocacy group and DelegateRevolt.com, an organization described by its founder, James Lamb, as a "cheerleader" of the so-called "free the delegates" movement.
"There's a lot of information that is coming out now — this looks like this was a manipulation of Republican primary structure," Lamb told TheBlaze in an interview, adding, "Millions of Democrats voted for Mr. Trump with ulterior motives having him be the candidate so that [presumptive Democratic presidential nominee Hillary Clinton] could basically crucify him in November."
Since Trump decided to run as a Republican, he not only needed to win the primary but also "maintain the trust of the delegates," which Lamb said is a "safety net" against an unreliable and highly questionable candidate prevailing.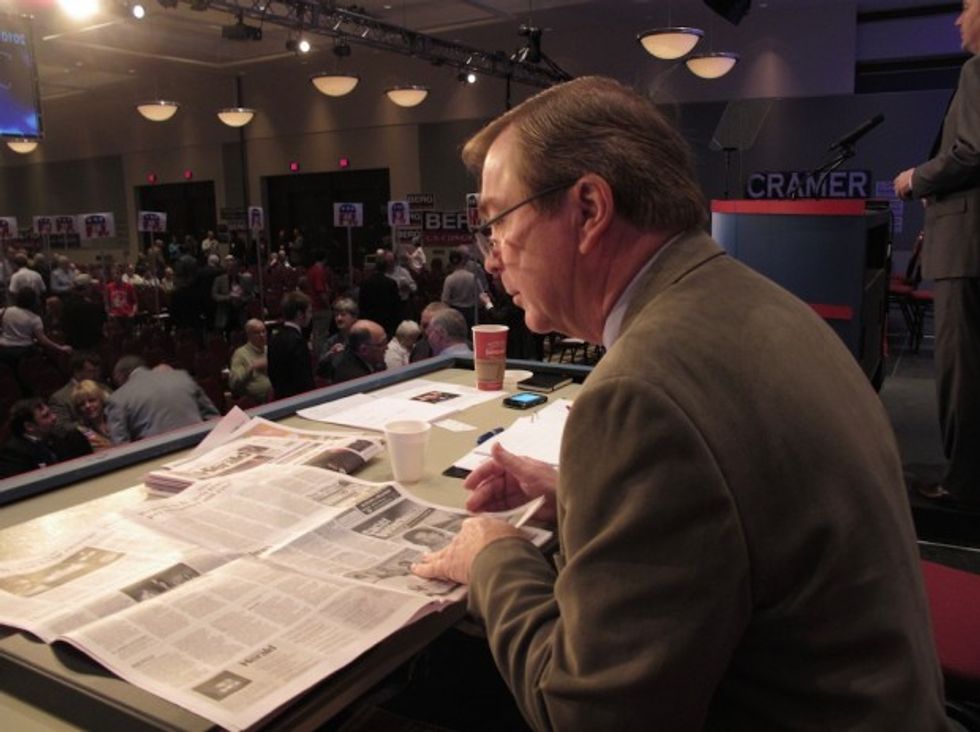 Curly Haugland, a Bismarck businessman and North Dakota representative on the Republican National Committee (AP Photo/Dale Wetzel)
"We have a rogue, loose cannon candidate that's leading an angry mob, and the delegates are essentially the RNC's quality reassurance team to make sure that something doesn't go wrong here," Lamb, who was a fundraiser for Florida GOP Sen. Marco Rubio's presidential bid, said.
Regina Thomson, former Colorado director for Texas Republican Sen. Ted Cruz's presidential bid and co-founder of Free the Delegates, told TheBlaze that her organization is working to get a conscience clause added to the RNC's rules in order to allow delegates to vote for whichever candidate they choose.
"We do not see [Trump] as being fit for the office," Thomson, a delegate who unequivocally said she would not vote for Trump as the GOP nominee, said. "Not just that he's not our chosen candidate; we don't see him as being fit."
Both Thomson and Lamb cited Haugland's book and expertise as a propelling force behind their movement, but several other RNC members disputed Haugland's interpretation of delegates' duties.
'It's a Fantasy'
Virginia RNC Chairman Morton Blackwell, a longtime member of the RNC Rules Committee, told TheBlaze that Haugland is "mistaken" in his assertion that delegates are already unbound and "doesn't seem to recognize that there are specific provisions in the rules about the binding of delegates."
"He's a friend of mine, but he makes this claim repeatedly, and he doesn't get support of the members of the RNC Standing Committee on Rules," Blackwell said. "I don't think it's going to be enormously confusing. It's possible to get publicity for saying such a thing, because it would be intriguing if it was valid — but it's not valid."
"So there's an effort to change the rules; if what Curly said was correct, then there wouldn't be any need to change the rules," he added. "It's a fantasy."
Blackwell asserted that there are currently three major factions within the GOP: Trump supporters, establishment people and Cruz supporters — the latter being where Blackwell lumps himself.
Trump supporters certainly oppose any move that would harm Trump's chances of becoming the nominee, Blackwell said.
Among the establishment types, very few are open to amending the rules, he added.  One of those mavericks is 2012 GOP presidential nominee Mitt Romney, who has expressed openness to a rules change. However, RNC Chairman Reince Priebus has made his opposition to such a move abundantly clear.
"There are, I know, a lot of others who were Cruz supporters who agree with me that it would be wrong to change the rules at the end of the process and know that if we did change the rules, it would split the party horribly," he said. "So where would the support come from to get a majority either on the convention Rules Committee or on the floor of the convention to make such a change?"
Another RNC source, who wished to remain anonymous, laughed when asked about Haugland's assertion that delegates are unbound and simply said, "That's just Curly for you," before declining to comment further.
If Not Trump, Then Who?
Several convention delegates simply dismissed Haugland's interpretation of their duties as well as any effort to change the RNC's rules to unbind delegates.
"To me, they're kind of academic exercises because there is no other candidate who is running," a Minnesota delegate who asked not to be named told TheBlaze. He suggested that once the "rigamarole" of unbinding delegates is completed, proponents of the movements don't exactly have another candidate or plan in mind to replace Trump as the GOP nominee.
"It's a pointless exercise when you don't have anyone else to be nominated," the delegate, who is bound to Rubio for the first round of voting, said. "There isn't really anyone else that they want nominated. There isn't a kind of dark horse candidate waiting in the wings. That just seems kind of silly, honestly."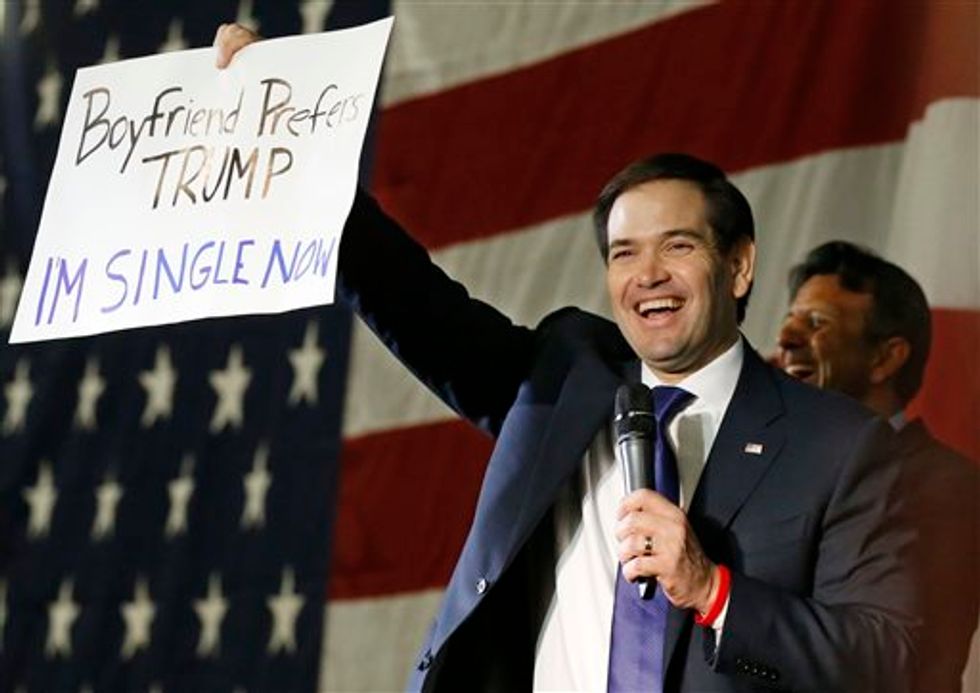 Former Republican presidential candidate Florida Sen. Marco Rubio holds up an anti-Trump sign during a Feb. 29 rally in Oklahoma City. (AP/Sue Ogrocki)
But as Lamb points out, his group's focus is not another particular candidate but "about making sure we don't make a huge mistake with Donald Trump."
"We'll figure out what happens next, and it's really up to the delegates to decide that once they determine that Donald Trump is not the way to go," Lamb said.
Thomson said her group "would not presume" to name who the nominee should be but admitted that she knew of certain candidates who "are watching this" independently of the group.
Cruz's campaign spokeswoman, Catherine Frazier, told TheBlaze that Cruz is "not involved" in any "free the delegates" movements as he is "fully focused on his work" back in the Senate.
Delegates Take Sides
Matthew Hurtt, a 29-year-old Virginia delegate, told TheBlaze that he doesn't anticipate that the delegate-unbinding movement will work, and he doesn't support changing the rules this late in the game.
"Having delegates decide any other way than what was a pretty clear mandate from primary voters would cause a mutiny, and we'd lose against [Clinton] for sure," Hurtt said. "States or state parties should be allowed to decide how, or if, to bind delegates. Activists then learn those rules and use the process."
Furthermore, a knowledgeable GOP source in Colorado told TheBlaze that no one within the state party supports a movement to pass a rule targeting any one candidate. While elected delegates "have every right to propose any rules they wish," the Colorado GOP will not push such a rule, the source added.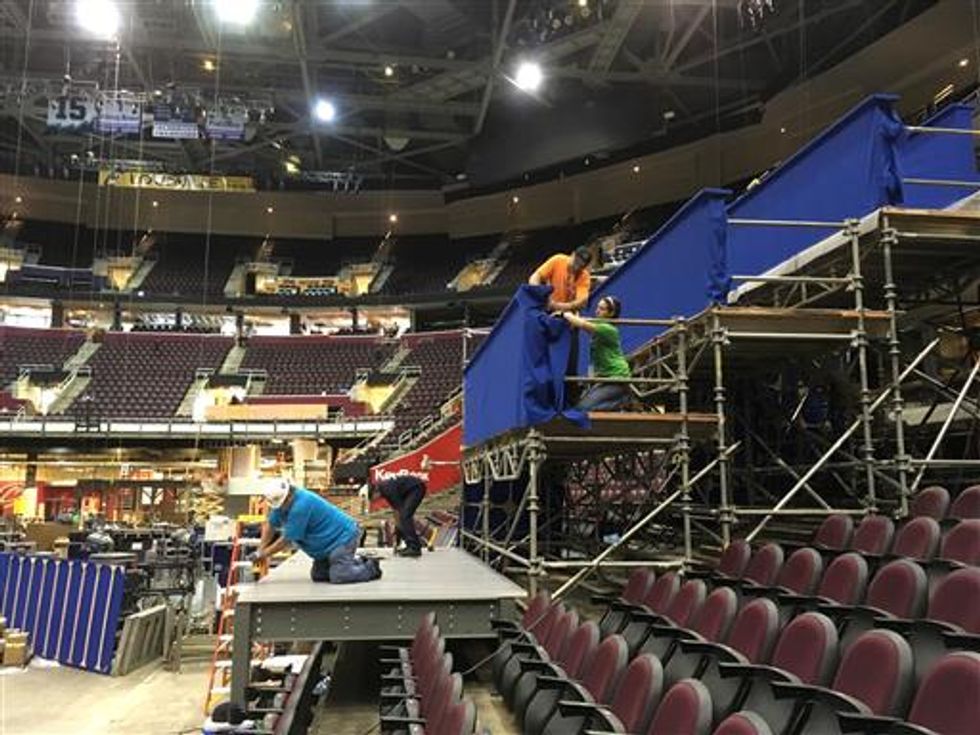 Workers build a camera platform inside Cleveland's Quicken Loans Arena in preparation for the Republican National Convention. (AP/Mark Gillispie)
Despite reports that anti-Trump activists have already descended upon the convention, GOP strategist Ron Bonjean told TheBlaze that efforts to unbind delegates and prevent Trump from becoming the nominee are simply not "in the realm of the probable."
"Seems like a last-ditch effort so that Donald Trump wouldn't have to be the nominee," Bonjean said in a phone interview. "It's highly unlikely that the Rules Committee would allow that occur."
One thing many delegate-freeing advocates will admit is that their efforts are a direct result of Trump outperforming expectations in the primary.
[sharequote="center"]"We are representatives, not a rubber stamp."[/sharequote]
"The whole idea of what we're doing has never been done before on this scale in the Republican Party," Thomson said. "You didn't see it after Romney, you didn't see it after McCain, even though [for] many of us in the conservative grassroots movement they were not our choices for candidate. But you didn't see us thinking this should be done or looking for a way to do it."
Brian Bledsoe, a 36-year-old Texas delegate, told TheBlaze that he supports the unbinding movement even though he is bound to Cruz, the presidential candidate he supported.
"It's a difficult choice," Bledsoe said. "I'm for following the rules as well, so that's something I'd have to contend with if I was a Trump delegate."
"I have no problem with people voting their conscience," he said. "We are representatives, not a rubber stamp."
The 'Romney Rule'
No matter where Republicans have stood on the issue of unbinding delegates, one thing has remained consistent: the spiral the so-called "Romney Rule" has created since it was implemented in 2012.
Romney presented a unique situation to the RNC in 2012 when he came into the convention with a host of demands for rule changes, including the Rule 40 (B) bylaw, which instituted a requirement that the nominee had to have won at least eight states in the primaries. The measure was pushed as a way to ensure Romney's nomination against a possible coup by libertarian-leaning Ron Paul.
"As the presumptive nominee, he got what he wanted out of the convention Rules Committee, including a lot of very ill-advised things which centralized power within the party, did away with significant things that were valuable and changed in absurd ways," Blackwell said. "For example, he changed the rules to disenfranchise any delegate who voted at the convention for anybody other than Mitt Romney. That left hundreds of delegates who had been elected supporting other candidates not having their votes counted."
"That was an outrageous thing, and Romney hurt himself badly, I believe," he continued. "Coming in with demands for changes of the rules — what Romney did — was unique and it was politically harmful."
Thomson cited Romney's call for rule changes as an example of a pathway for her own organization's efforts.
"Four years ago, the Romney rule was put into place and upset everything that had been pretty consistent within the convention rules for decades," she argued. "So really what [the GOP] should have said four years ago to Mr. Romney's team was 'no, you can't make this change' — but they didn't."
That should give hope to the "Never Trump" crowd, she added.
"This is how the Republican Party functions: Every four years the rules are rewritten, either minutely or largely, ever since the party was started," Thomson added. "Changing them this late in the game [is] par for the course."
—
Follow Kaitlyn Schallhorn (@K_Schallhorn) on Twitter