Citing "sources" familiar with the investigation into former Secretary of State Hillary Clinton's private email server, CNN's Evan Perez reported there will be an announcement of no charges by the FBI in the coming weeks.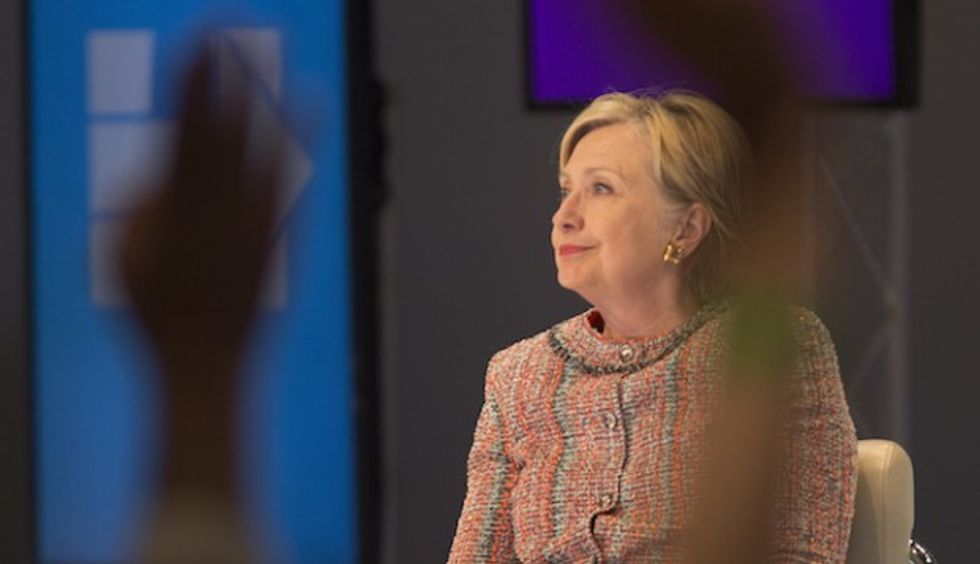 LOS ANGELES, CA - JUNE 28: Audience members raise their hands to ask a question of Democratic presidential candidate Hillary Clinton at a town hall discussion with digital content creators at Neuehouse Hollywood on June 28, 2016 in Los Angeles, California. (Photo by David McNew/Getty Images)
The unconfirmed report comes on the same day Clinton was questioned by the FBI for over three hours.
In a Saturday interview with MSNBC's Chuck Todd, Clinton refused to comment on the still ongoing investigation into her private email use.
"I am not going to comment on the process. I have no knowledge of any timeline. This is entirely up to the Department," she said.
Conservative radio host expressed deep skepticism about CNN's "source," responding to the report in a series of tweets Saturday night.
That "source" would have had to have been in this AM's interview if only for 18 USC 1001 purposes. They called Evan? https://t.co/Fp37aeioWF

— Hugh Hewitt (@Hugh Hewitt) 1467495997.0
2. So while 18 USC 1924 is underlying issue, any "source" would have to have been in meeting to know if https://t.co/C3jw6lcdZJ

— Hugh Hewitt (@Hugh Hewitt) 1467496813.0
3. 18 USC 1001 was violated. Time will tell. I'm just skeptical of any source telling people all is clear for https://t.co/C3jw6lcdZJ

— Hugh Hewitt (@Hugh Hewitt) 1467496849.0
4. @HillaryClinton It may turn out to be, but no one who knows is talking and anyone talking doesn't know.

— Hugh Hewitt (@Hugh Hewitt) 1467496883.0
The FBI's probe into her emails has plagued the Clinton campaign from the start, resulting in more questions about her honesty and transparency. The issue remains divisive during the heated 2016 election season.
The FBI is investigating the potential mishandling of sensitive information. The matter was referred last summer by the inspectors general for the State Department and intelligence community following the discovery of emails that were later determined to contain classified material.
Further, Clinton's sit-down with the FBI comes just days after her husband, former President Bill Clinton, met with Attorney General Loretta Lynch on a plane in Phoenix. They claimed it was an impromptu meeting.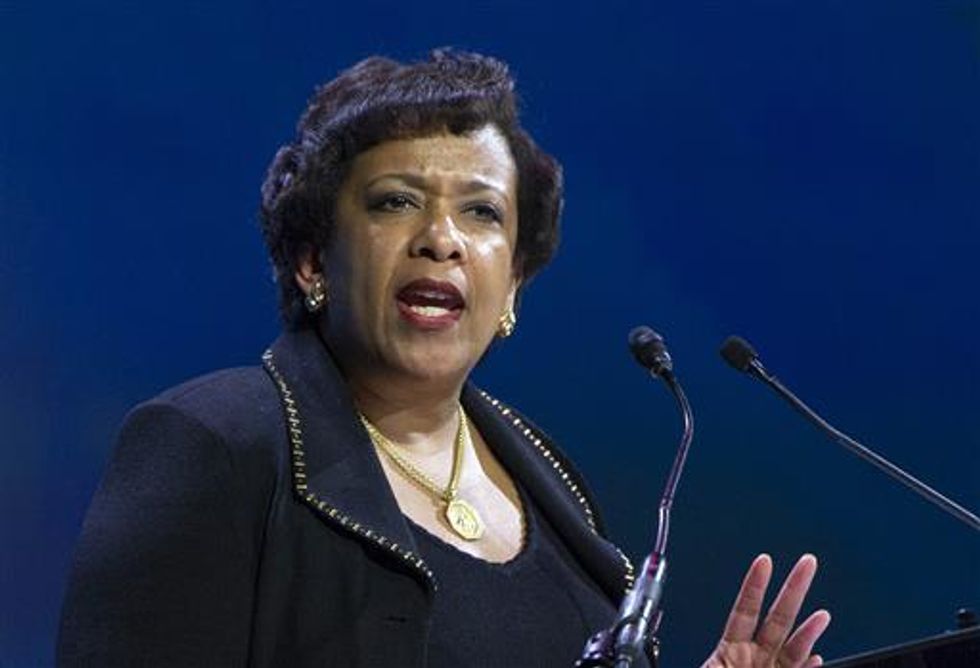 In this June 14, 2016 file photo, Attorney General Loretta Lynch speaks in Washington. Former President Bill Clinton spoke with Lynch during an impromptu meeting in Phoenix, but Lynch says the discussion did not involve the investigation into Hillary Clinton's email use as secretary of state. (AP/Cliff Owen)
Lynch later said she wished she hadn't met with the former president after receiving bipartisan criticism. She maintained the meeting was social in nature and they did not discuss the email review. Bill Clinton nominated Lynch as U.S. attorney for the Eastern District of New York in 1999.
Lynch said Friday that she intended to accept the findings and recommendations of career prosecutors who have spent months investigating the case. As far as the meeting with Clinton, she said in hindsight that she would not do it again.
Clinton has repeatedly said that none of the emails were marked classified at the time they were sent or received. As part of the probe, she has turned over the hard drive from her email server to the FBI.
The State Department's inspector general, the agency's internal watchdog, said in a blistering audit in May that Clinton and her team ignored clear warnings from State Department officials that her email setup violated federal standards and could leave sensitive material vulnerable to hackers. Clinton declined to talk to the inspector general, but the audit reported that Clinton feared "the personal being accessible" if she used a government email account.
The Associated Press contributed to this report.
---