American rapper Boosie BadAzz gave a brutally honest answer in a radio interview this week after he was asked to comment on previous statements and social media posts he's made regarding homosexuality.
Speaking to VladTV host DJ Vlad, Boosie claimed that modern TV shows and cartoons are designed to "make kids gay" by showcasing homosexual characters.
The Lousiana-born rapper explained that he has nothing against the LGBT community, but he believes it's wrong for the entertainment industry to push a homosexual agenda on people "for monetary gain."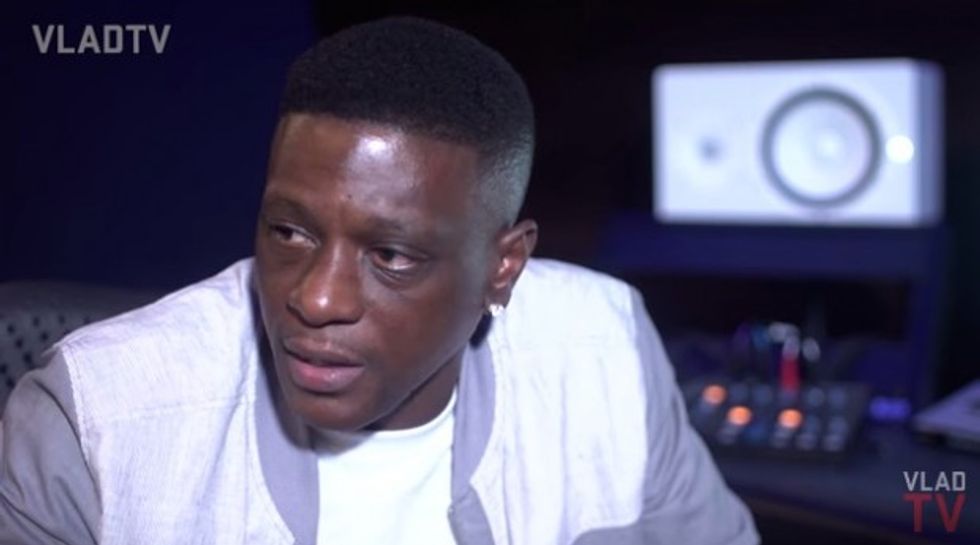 Image source: YouTube
"They trying to make everyone all f***ing gay. That's what I think," Boosie told DJ Vlad. "They're putting it on our culture; they're putting it everywhere."
He added that "gay stuff is everywhere, and I think they're just trying to do it to make monetary gain. They're not doing it for the gays."
The 33-year-old rapper, who was jailed in the Louisiana State Penitentiary from 2009-2014 on murder charges and conspiracy, said a lot changed during the years he was locked up.
"Since I've came home every time I turn on the TV some gay s**t on," he reportedly wrote on Instagram last year. "Walked n on a cartoon doing gay s**t a f***in cartoon kids watch TV."
When asked about the social media post, Boosie revealed that his thoughts on the matter haven't changed.
"It wasn't like that when I was coming up," he said. "The Ninja Turtles wasn't kissing. They didn't have two men on The Flintstones kissing. The Jetsons wasn't kissing."
"I say in 10 years, you're going to have damn near half the population gay because of what they put on TV," he added.
DJ Vlad asked Boosie, who has children of his own, what he would do if one of his sons showed signs of being gay.
"First, I'm gonna try to slap his a** back straight," he said frankly. "I'm gonna kick his a**, and maybe he'll realize that he's not gay," he said.
"But if I can't stop him from being gay," he continued, "I'm not going to ban my son from my life. I'll just have to find some crazy-a** way to deal with it."
Watch (Content warning: Explicit language):
One day after the video of the interview was posted, Boosie took to Twitter to address those who disagreed with his comments:
rough times ahead...

— Boosie BadAzz (@BOOSIEOFFICIAL) July 1, 2016
You might not agree with the real, but the real will relate.

— Boosie BadAzz (@BOOSIEOFFICIAL) July 1, 2016
Boosie's comments got the attention of gay rights activist, Jermone Trammel, who addressed the rapper in an open letter, which he tweeted Friday. Trammel accused the rapper of making uneducated claims about homosexuality while suggesting that his criminal record leaves him no room to judge others.
RETWEET:
My Letter To Boosie Regarding His Homophobia!

cc: @BoosieOfficial @VLADtv @DJVlad #LGBT pic.twitter.com/XmwZ1p8ZaN

— Jerome Trammel (@MrJeromeTrammel) July 1, 2016
"TV also shows a lot of violence & crime, is that the reason your criminal record is so lengthy?" Trammel asked. "For a person to dislike gays so much, you sure stay in and out of prison a lot!"