Noting criticism he's endured in his global warming crusade, former Vice President Al Gore invoked the legendary Jackie Robinson — who broke Major League Baseball's color barrier — as a fellow "messenger" of a cause who met struggles and resistance along the way.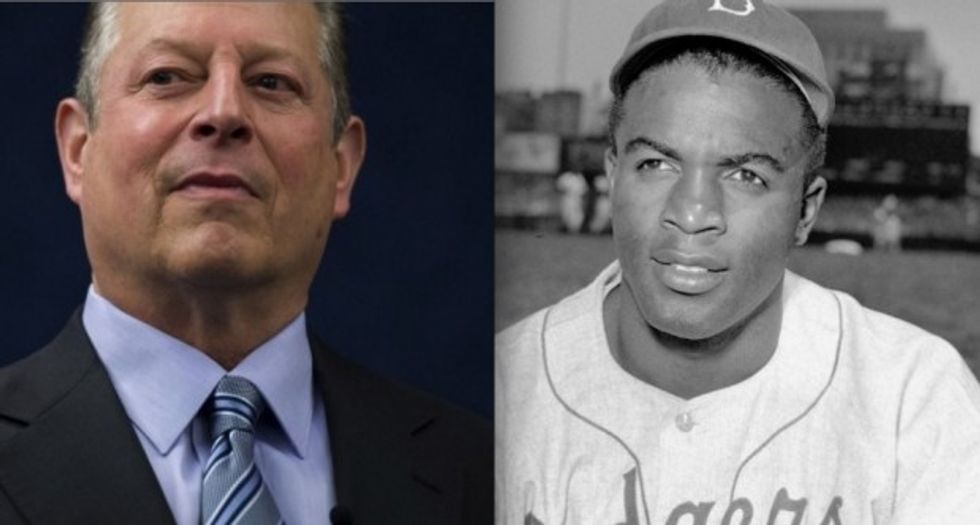 From left, former Vice President Al Gore; 1948 portrait of Brooklyn Dodgers' infielder Jackie Robinson. (Image sources: Gore - Saul Loeb/Getty Images; Robinson - AP)
"There is a time-honored tradition of people who strongly disagree with a message and take it out on the messenger, and opponents of integration had a personal animus for Jackie Robinson," Gore said in an interview with the Nashville Tennessean. "Opponents of all the great social movements would take out after the advocates that were most effective in asking people to change."
Therefore, Gore told the paper, he doesn't "take it personally when the criticism comes at me. I believe so passionately in this mission, if you will. The word 'mission' might sound a little grandiose, but that's kind of what it feels like to me. Honestly, it is a joy and a privilege to have work that justifies pouring every ounce of energy you can pour into it. That is a blessing that is to be cherished."
The Tennessean's interview with Gore coincided with the 10th anniversary of his book, "An Inconvenient Truth."
(H/T: Truth Revolt)