© 2023 Blaze Media LLC. All rights reserved.
ESPN's Stephen A. Smith Lets Loose on Kevin Durant for Joining Golden State: 'Ran Away From the Challenge'
"I think it's incredibly weak."
ESPN's Stephen A. Smith laid into NBA star Kevin Durant after the Oklahoma City Thunder small forward announced Monday his decision to sign with the Golden State Warriors.
When discussing Durant's big news Monday evening on ESPN, Smith called it "the weakest move I've ever seen from a superstar."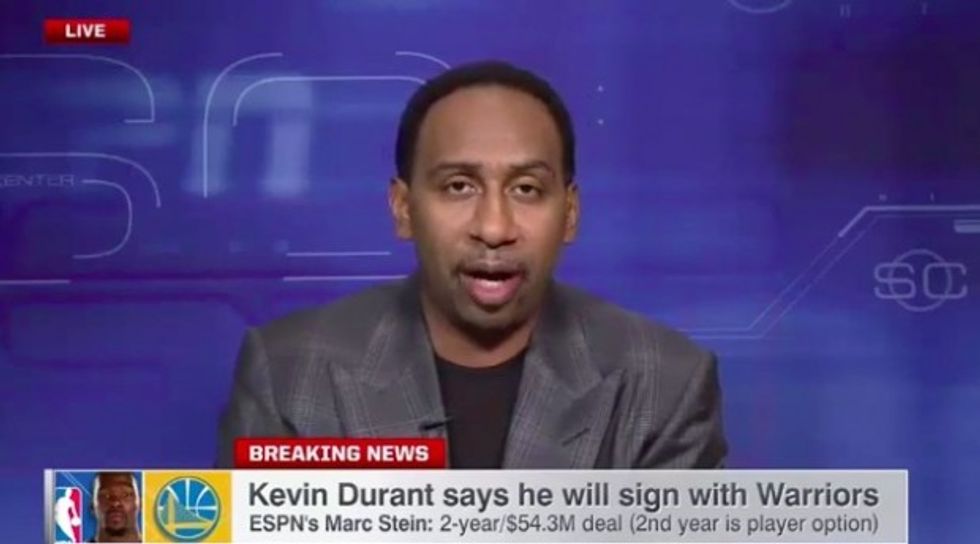 Image source: YouTube/ESPN
"I think it's incredibly weak. I don't want to hear any comparison to that of LeBron," he added, referring to the NBA legend's decision to leave the Cleveland Cavaliers to play for the Miami Heat in 2010 before returning to the Cavs in 2014.
Smith noted that James left behind a weaker lineup of teammates than Durant, who has shared the court with stars like Russell Westbrook and Steven Adams.
In Smith's mind, Durant is abandoning the Thunder for a team that is only slightly better, rather than trying to build on the success his team experienced in the recent NBA season.
"Kevin Durant is one of the top three players in the world. And he ran away from the challenge that he faces in order to jump on the bandwagon of a team that's a little bit better," he explained.
The ESPN commentator's rocky relationship with Durant began last summer after the Thunder forward refuted Smith's claim that he would consider joining another team once he became a free agent. Not only did Durant deny this claim, which turned out to be true, but he said Smith was "lying."
Smith addressed Durant's comments last year on "First Take," offering the star a warning.
"I'm looking right into the camera and I'll say it again: You do not want to make an enemy out of me," Smith said. "I'm not having it. I've done nothing wrong, and I'm not going to tolerate it."
Watch:
Want to leave a tip?
We answer to you. Help keep our content free of advertisers and big tech censorship by leaving a tip today.
more stories
Sign up for the Blaze newsletter
By signing up, you agree to our
Privacy Policy
and
Terms of Use
, and agree to receive content that may sometimes include advertisements. You may opt out at any time.