After NBA Star Kevin Durant announced Monday that he is leaving the Oklahoma City Thunder to join the Golden State Warriors, reaction was swift and varied.
While Warriors fans are excited about the addition to their team, YouTube is filling up with clips from angry Thunder fans burning Durant's jersey in a public display of their displeasure.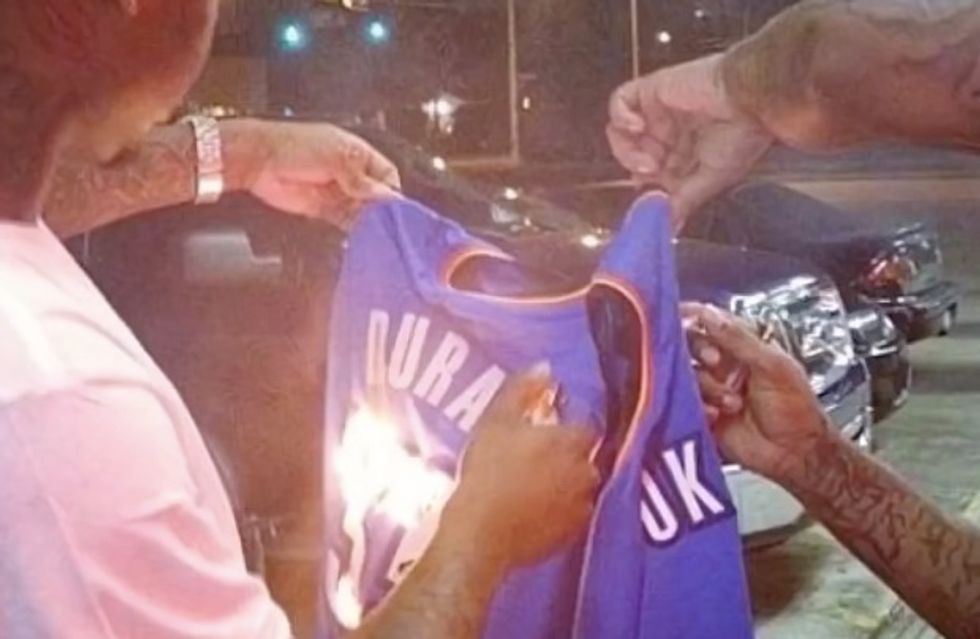 Image source: YouTube
ESPN's Stephen A. Smith ripped into Durant, calling his decision "the weakest move I've ever seen from a superstar."
Comedian and celebrity impersonator Frank Caliendo decided to use the news to create something entertaining.
Caliendo, who does a spot-on vocal impression of Oscar-winner Morgan Freeman, took Durant's departure essay and read it as Freeman.  The resulting bit of hilarity is going viral.
Why did Caliendo choose to mock Kevin Durant's farewell note? Perhaps the message Caliendo added to the end of the video is a clue to his inspiration for creating this bit of comedy.

Image source: YouTube
Durant's essay included references to the strong relationships and friendships he had forged as a member of the Thunder. He also wrote how he would "forever cherish" his teammates and the fans from Oklahoma.
Frank Caliendo also has a friend who plays for the Oklahoma City Thunder, point guard, Russell Westbrook.
Watch:
—
Follow the author of this story on Twitter and Facebook: