© 2023 Blaze Media LLC. All rights reserved.
Kim Davis Is Being Sued for Denying a Man the License to Marry His Laptop
"This lawsuit is frivolous."
A man who wants to marry his laptop has filed a federal lawsuit against Kentucky Clerk Kim Davis for denying the issue him a marriage license.
According to the Liberty Council, Mark "Chris" Sevier, the plaintiff, has also filed lawsuits against Gov. Matt Bevin and Kentucky Attorney General Andy Beshear.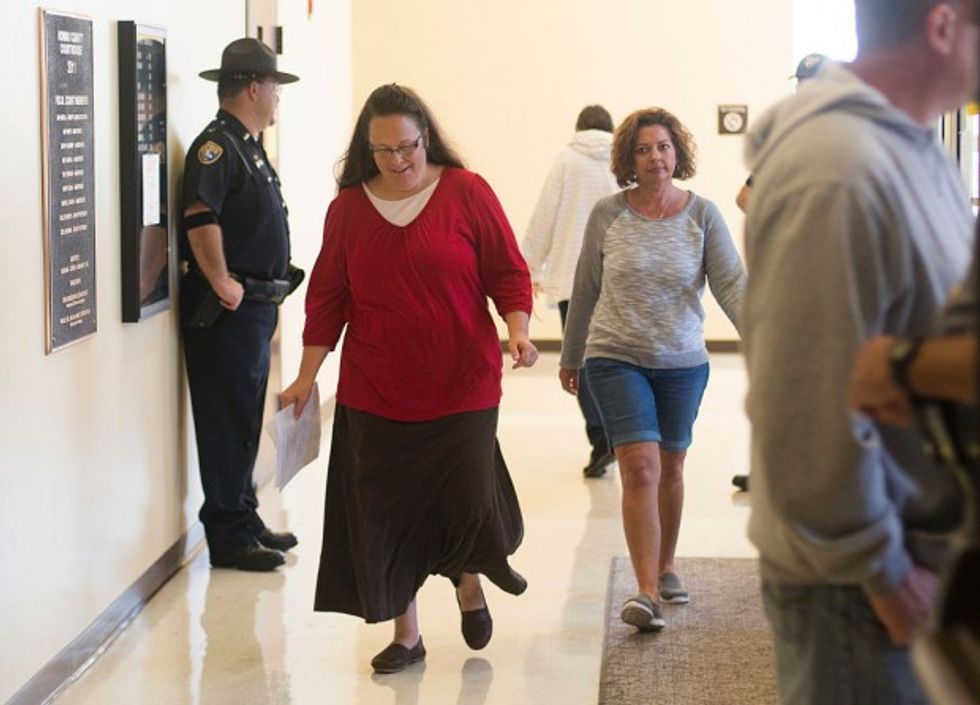 Rowan County clerk Kim Davis (L) walks through the halls of the courthouse on her first day back to work, after being released from jail last week, at the Rowan County Courthouse September 14, 2015 in Morehead, Kentucky. Davis was jailed for disobeying a judges order for denying marriage licenses to gay couples on the basis of her religious faith. (Photo by Ty Wright/Getty Images)
Davis first made headlines last year when she denied to issue marriage licenses to same-sex couples, and now Sevier is out to make a point about marriage.
The Vanderbilt Law School graduate is trying to prove to the embattled clerk that marriage between same-sex couples bears the same legitimacy as a marriage between humans and inanimate objects. It is important to note, Sevier's law license was revoked in 2011.
"This lawsuit is frivolous," Liberty Council founder and chairman Mat Staver said. "There is obviously no right for a man to marry a machine. When you make gender irrelevant to a gender-based relationship, you open Pandora's box and make a mockery out of marriage."
As it turns out, this is not the first time Sevier is attempted to marry an object.
He filed similar lawsuits in Florida and Texas, where he sued the governor, the attorney general and a county clerk earlier this year, according to the Houston Press.
According to USA Today, the Florida case was thrown out, noting the 24-page document that suggested Sevier is against gay marriage and wanted to make the point that if gay couples "have the right to marry their object of sexual desire, even if they lack corresponding sexual parts, then I should have the right to marry my preferred sexual object."
Sevier is determined to prove that marriage between a man and a woman can justify any sort of marriage, to include a union between a man and a machine.
He is trying to prove that the landmark U.S. Supreme Court decision legalizing gay marriage — Obergefell v. Hodges — allows people to marry whomever or whatever they are attracted to.
—
Follow the author of this story on Twitter:
Want to leave a tip?
We answer to you. Help keep our content free of advertisers and big tech censorship by leaving a tip today.
more stories
Sign up for the Blaze newsletter
By signing up, you agree to our
Privacy Policy
and
Terms of Use
, and agree to receive content that may sometimes include advertisements. You may opt out at any time.