Charles Bloch approached the taxi on a Leicester, England, street Friday and was quickly rebuffed.
Bloch, who is visually impaired, was with his guide dog — and the taxi driver wasn't too keen on the pooch as a passenger.
"Me, I don't take the dog," the driver said on a cellphone video captured by Bloch's girlfriend Jessica-Amy Graham, who is also visually impaired.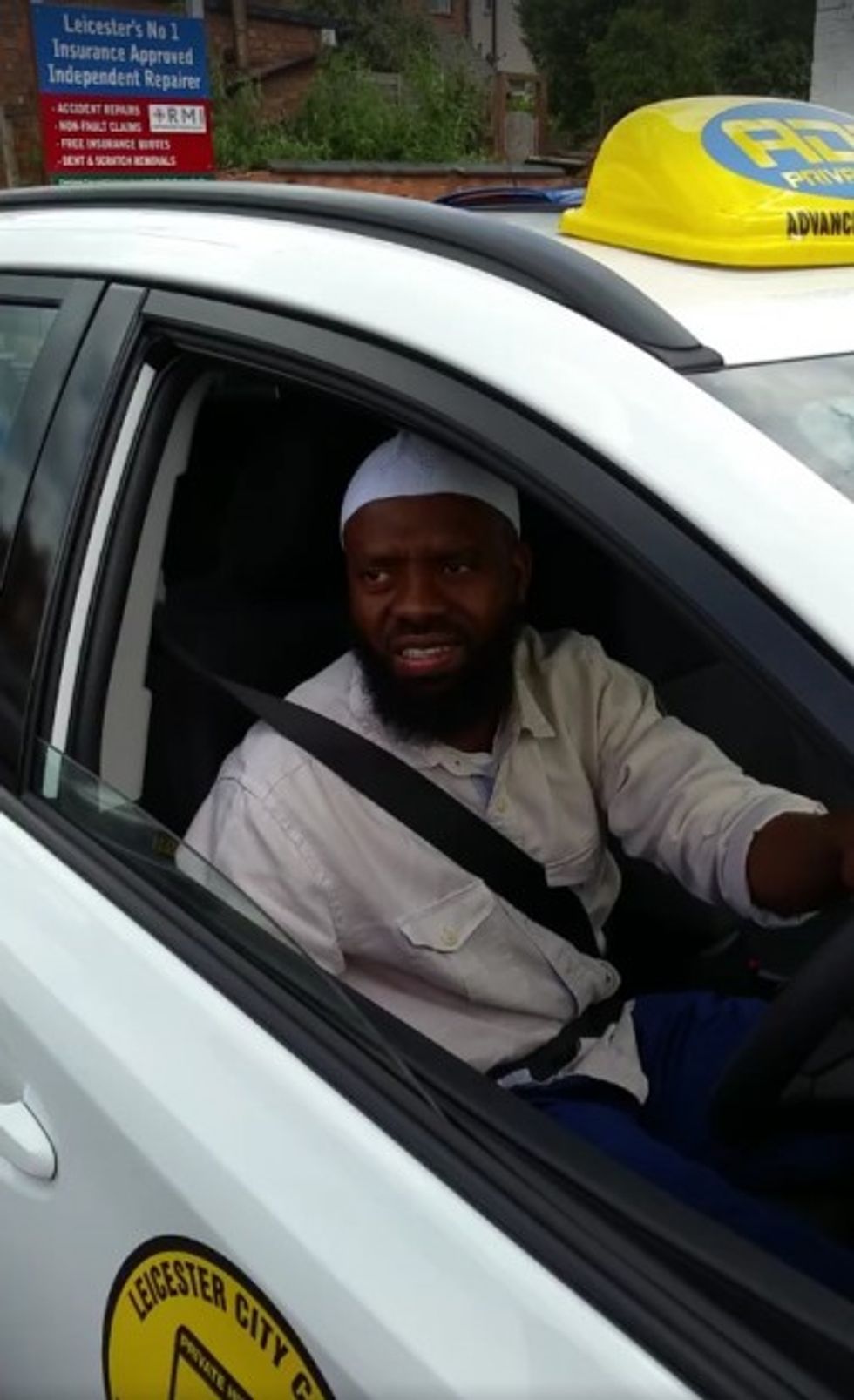 Image source: Facebook
"Why?" Bloch asked him.
"Well, it's a choice for me," the driver replied.
"By law you can't deny us," Bloch protested.
"It's about my religion," the driver said.
Bloch replied that the driver's actions violated a disability law that prohibits taxi drivers from denying service to visually impaired people accompanied by guide dogs.
Still, the driver insisted on calling it in — and after Bloch & Co. stepped around to the other side of the cab, the driver prevailed.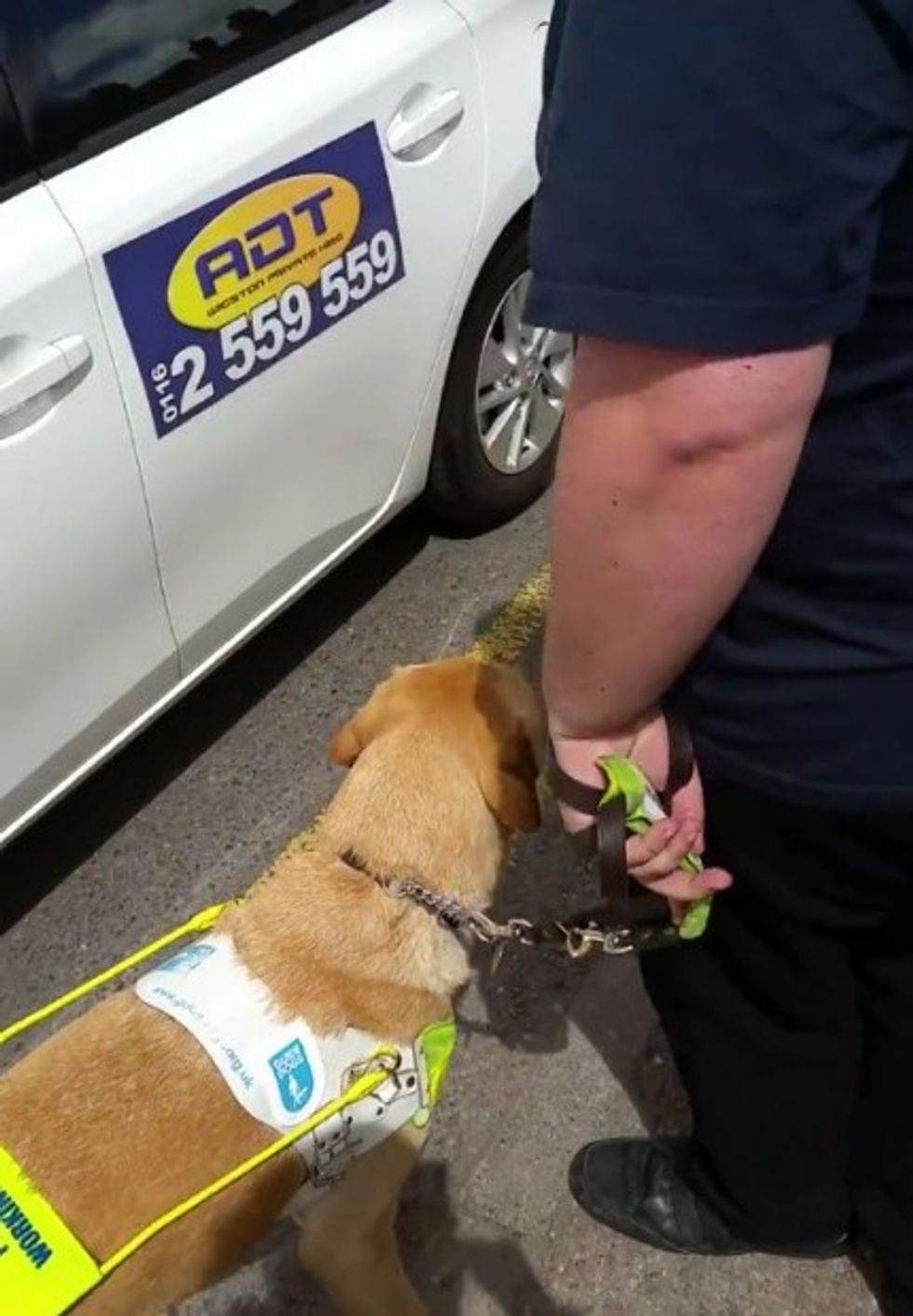 Image source: Facebook
The video shows the driver in the car apparently talking to dispatch operator over a radio who agrees with the driver first to send another cab — despite Bloch's protests that he didn't want another cab — and then to cancel the ride.
"If you drive away, I'll sue you," Bloch told the taxi driver.
"Yeah, I'm ready to go to the police," the driver replied as he drove off.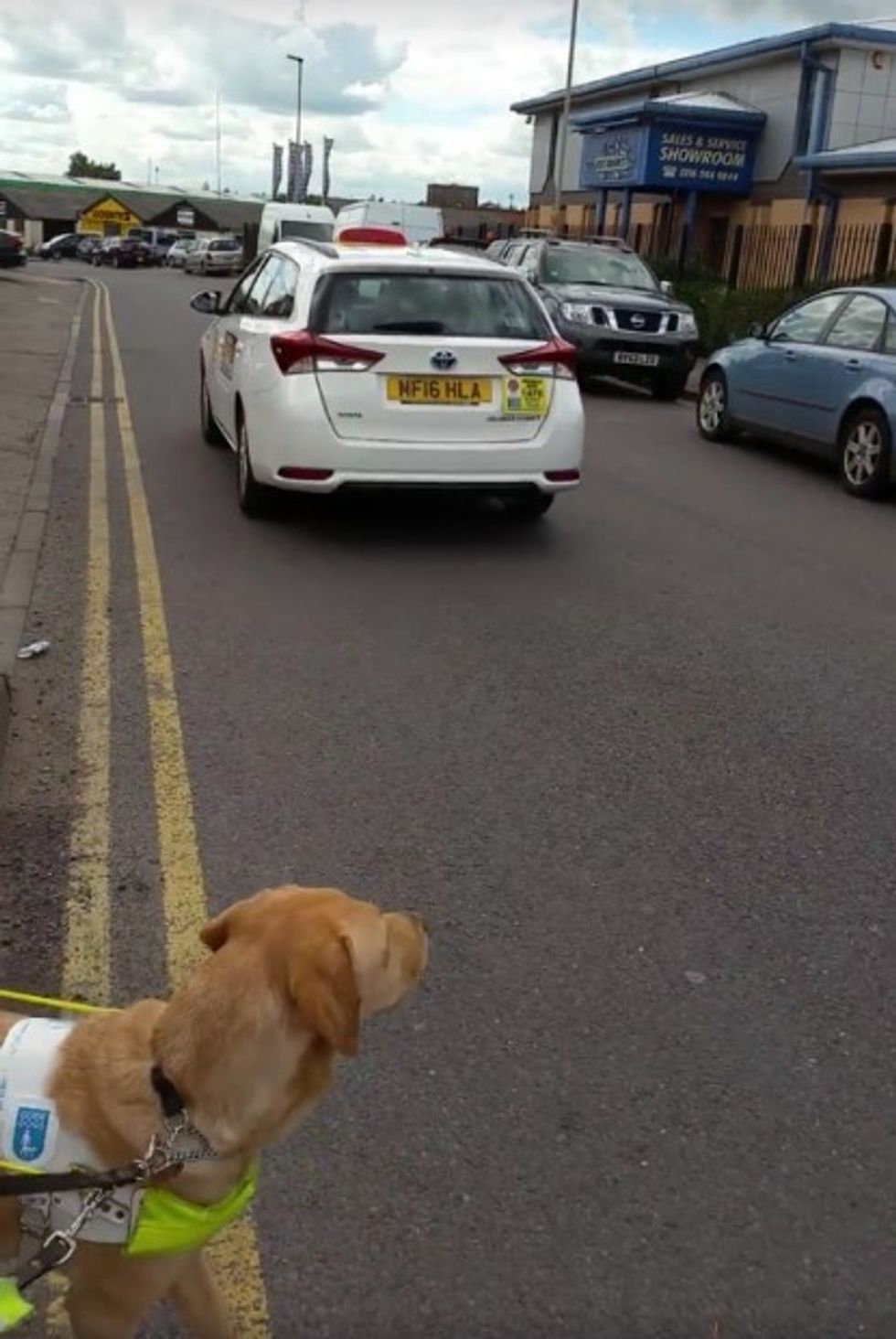 Image source: Facebook
The taxi driver is reportedly a Muslim, according to the Daily Mail and the Daily Star.
Suleman Nagdi of the Federation of Muslim Organizations told ITV that Islam commands care for vulnerable people, whether they're with dogs or not.
"I'm very sad to hear that a particular individual was discriminated," Nagdi told the outlet. "Firstly, there's no basis within the faith to discriminate, and of course, there are legal rulings as well to do with this. On faith, the individual has to be protected, because Islam protects all those who are weak and vulnerable in society, and we talk about the prophet Mohammed who came as a mercy to all of creation."
Nagdi added, "This is just individuals making their own interpretation — I would encourage them to speak to religious leaders if they are concerned."
Others who commented on Facebook took a harsher stance.
"For religious purposes my arse!" Emrah Gokce wrote, the Daily Star said. "How can he deny a blind man. He was clearly a Muslim. I'm a Muslim myself and I think what he did was disgusting!"
Sabaah Patel echoed that sentiment, the Daily Star said: "Guide dogs are actually allowed to enter mosques so for this man to refuse him for religious reasons is just stupid."
Husman Khan also chimed in, according to the Daily Star: "Dogs in typical Muslim cultures are functional animals and are not kept as pets. There is also a tradition around how the saliva of a dog is ritually impure. One imagines dogs in pre-modern times carried diseases. Despite that there is no reason to refuse a guide dog. None."
Here's the clip, which has received more than 1.6 million views on Facebook as of Wednesday afternoon:
ADT Taxis apologized to Bloch and Graham in a statement:
We are deeply ashamed of the conduct of this Leicester City Council licensed driver and he clearly broke the law after not accepting a booking we gave to him on religious grounds and has been dispensed with as well as being reported to the council. The driver is now free to work for any firm he chooses.

Our policy is clear, we do not discriminate, however in the taxi trade drivers are self-employed and free to take work from any source, i.e. Uber/any other private hire firm.

If we have drivers reported to us for breaking terms of their license, we cut them off from our bookings system and no longer use their service.

The manager is contacting the customer concerned, and will offer him a full apology and some free journeys.
Bloch said he and Graham aren't happy with what happened to them.
"We are both very angry and upset about this," he told the Leicester Mercury. "It is not good enough in 2016."