Both Republican Sens. Joni Ernst (Iowa) and Bob Corker (Tenn.) Wednesday essentially scratched themselves from the shortlist of potential running mates for their party's presumptive nominee, Donald Trump.
"There are people far more suited for being a candidate for vice president, and I think I'm far more suited for other types of things," Corker told the Washington Post in an interview. He reportedly effusively praised Trump and said he would serve as an informal advisor to the candidate.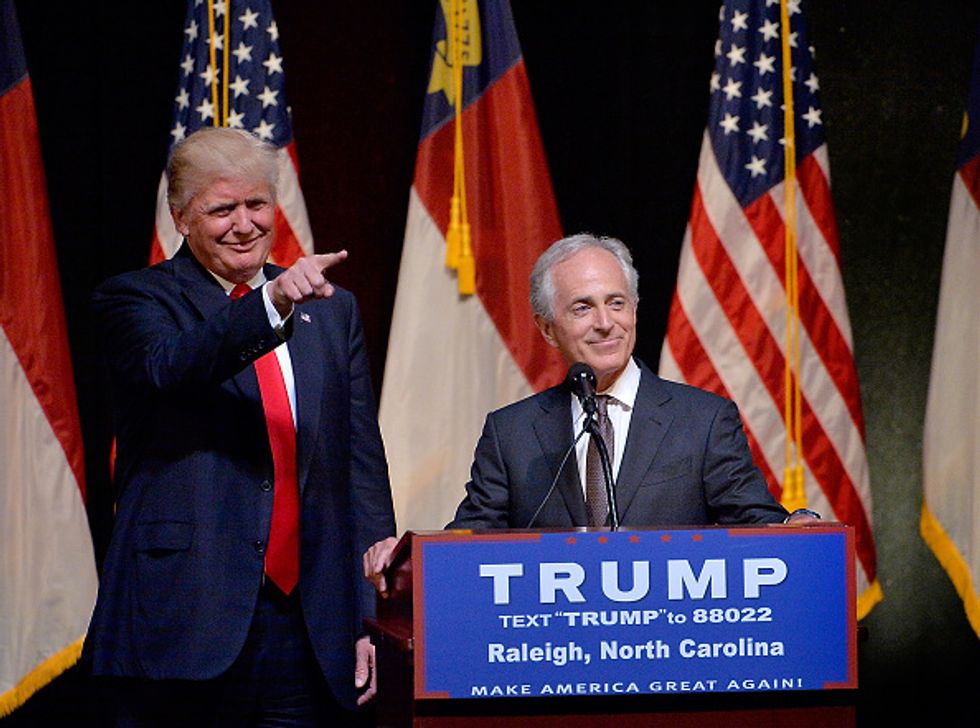 Presumptive Republican presidential nominee Donald Trump stands next to Sen. Bob Corker (R-Tenn.) during a July 5 campaign event in Raleigh, North Carolina. (Getty Images/Sara D. Davis)
Corker said that he told Trump that he is more policy-oriented than political and that some of the duties that come along with being a running mate weren't really suited for him.
"It's a highly political job, and that's not who I am," he said. "We had a very open conversation about that, and actually, we have been very candid about it from the very beginning of our meetings. I left there feeling very good about him as a person but also realized that at age 63, I know the things I'm good at doing. And knowing what a candidate for vice president has to do, it's just not the right thing for me, and I don't think it's the right thing for them."
Corker's announcement that he is taking himself out of consideration came just one day after NBC News reported that he had submitted his vetting materials to Trump's campaign.
As for Ernst, while she all but withdrew from Trump's search completely, the Iowa senator told Politico in an interview that her focus is on Iowa and helping Trump in the Senate.
"I made that very clear to him that I'm focused on Iowa," Ernst said of her meeting earlier this week with the Manhattan real estate tycoon. "I feel that I have a lot more to do in the United States Senate. And Iowa is where my heart is."
"I'm just getting started here. I have a great partner with Chuck Grassley, we've been able to accomplish a lot," she added. "And I think that President Trump will need some great assistance in the United States Senate, and I can provide that."
With Corker and Ernst out, a handful of potential running mates remain, including former House Speaker Newt Gingrich, New Jersey Gov. Chris Christie and Arkansas Sen. Tom Cotton.
Trump is expected to announce his running mate next week.
—
Follow Kaitlyn Schallhorn (@K_Schallhorn) on Twitter