© 2023 Blaze Media LLC. All rights reserved.
D.C. Firefighter Under Investigation Over Violent Anti-Cop Post in Aftermath of Louisiana Shooting
"Those pigs in Baton Rouge deserve nothing short of a bullet in their heads."
A Washington, D.C., firefighter is under investigation after he allegedly advocated for the killing of police officers in a Facebook post published Wednesday.
Norman Brooks, a nine-year veteran of the D.C. Fire and EMS Department, works at the station near George Washington University. Brooks published the controversial post after hearing about the fatal officer-involved shooting of 37-year-old Alton Sterling in Baton Rouge, Louisiana.
Police were made aware of Brooks' social media posting and later reported it to D.C. Fire and EMS. The post has since been deleted, but WTTG-TV published a screenshot of the post.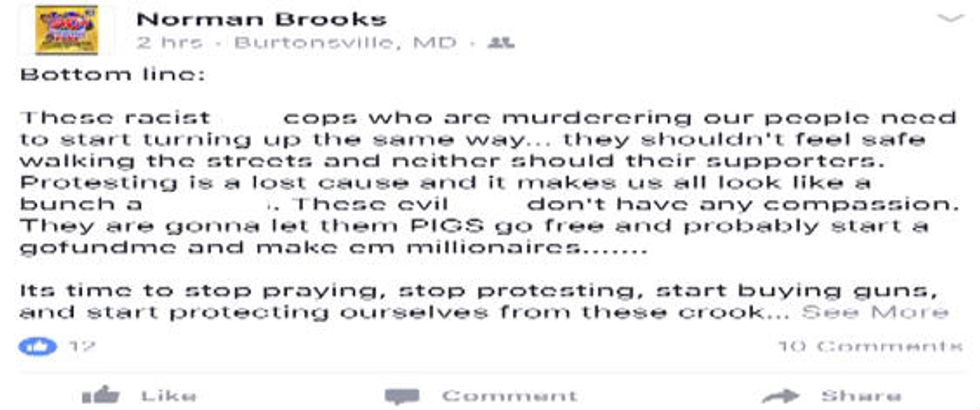 Image source: WTTG-TV
The original posting read:
Bottom Line:

These racist [expletive] cops who are murder our people need to start turning up the same way… they shouldn't feel safe walking the streets and neither should their supporters. Protesting is a lost cause and it makes us all look like a bunch a [derogatory term]. These evil [expletives] don't have any compassion. They are gonna let them PIGS go free and probably start a gofundme and make em millionaires…….

Its time to stop praying, stop protesting, start buying guns, and start protecting ourselves from these crooked [expletive] racist cops. If you are a cop and are not in support of these people then its about time to start turning these type a [expletives] in or at least givin out some addresses so we the people can handle em.

End of rant (Please share)
In another post, Brooks wrote that "those pigs in Baton Rouge deserve nothing short of a bullet in their heads."

Image source: WTTG-TV
That second post, also published by WTTG, said:
The answer is "yes"…Im saying the citizens should take the law in their own hands and target racist cops. Those pigs in baton Rouge deserve nothing short of a bullet in their heads. See how their families feel after that
Doug Buchanan, a spokesman for D.C. Fire and EMS, said Brooks was placed on administrative duty pending the outcome of a police investigation and internal review by D.C. Fire and EMS.
Brooks spoke with WTTG-TV on Wednesday, saying he doesn't condone hurting police.
"My post was in regard to something that happened in Baton Rouge, Louisiana, this morning where what appeared to be two rogue cops shot a man who was on the ground pinned by police in cold blood," Brooks said. "Amongst many things that have been happening in this country over the past couple of years, all of these police officers have been walking."
"I do not condone any violence against any good, innocent people, cops or whatever," Brooks said.
(H/T: WTTG-TV)
—
Follow the author of this story on Twitter and Facebook:
Want to leave a tip?
We answer to you. Help keep our content free of advertisers and big tech censorship by leaving a tip today.
more stories
Sign up for the Blaze newsletter
By signing up, you agree to our
Privacy Policy
and
Terms of Use
, and agree to receive content that may sometimes include advertisements. You may opt out at any time.