© 2023 Blaze Media LLC. All rights reserved.
'The Most Horrific Thing I've Ever Seen': Family of Minnesota Man Killed by Police During Traffic Stop Speaks Out
Clarence Castile said his nephew had the "permission and privilege" to carry a firearm.
Family members of Philando Castile, a Minnesota man killed by police during a traffic stop Wednesday, told CNN on Thursday morning that he was a "law-abiding citizen" with a concealed carry permit.
Philando Castile's mother and uncle said that he was riding in a car with his fiancee, Diamond Reynolds, and their child when he was pulled over by police.
Reynolds reportedly told police that Philando Castile informed the officer that he was in possession a firearm and reached for his identification when the officer opened fire. Reynolds posted the aftermath of the incident on Facebook Live.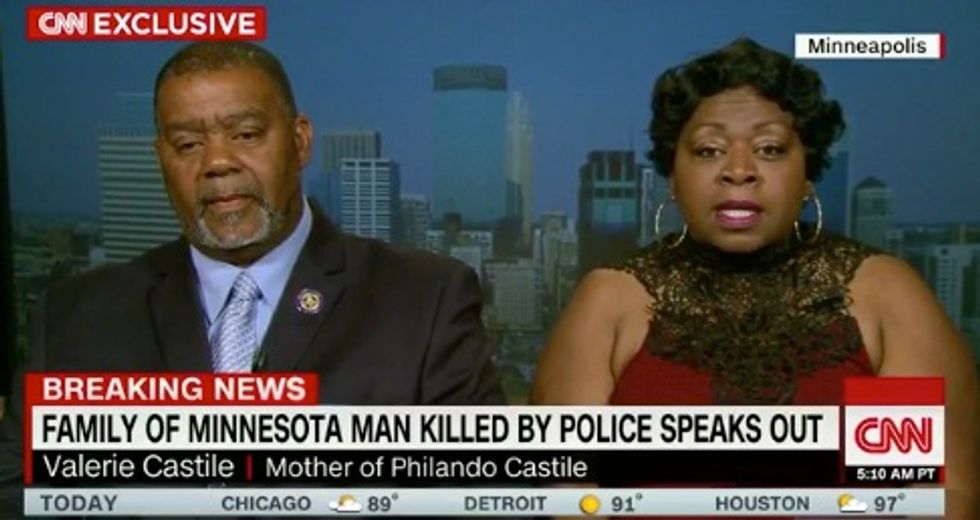 Image source: CNN
Valerie Castile, Philando's mother, told CNN's "New Day" that "they took a very good person" and said her son was "black in the wrong place."
"Everybody that knows my son knows that he is a laid back, quiet individual that works hard every day, pays taxes and comes home and plays video games. That's it," she said. "He's not a gang banger. He's not a thug. He's very respectable. And I know he didn't antagonize that officer in any way to make him feel like his life was threatened."
She said that she taught her son that in any encounter with police he should "comply, comply, comply."
Valerie Castile said that her son was a victim of racial profiling.
"We're hunted every day. It's a sign of war against African-American people as a whole," she said.
Clarence Castile, Philando's uncle, said on "New Day" that the images of his nephew dying were the "most horrific thing I've ever seen in my life," adding, "We all know my nephew was a good kid, and we want justice as well as relief."
When Valerie Castile mentioned "the officer" responsible, Clarence Castille interjected, "He's not an officer."
"He's just a man," Clarence Castille said. "An officer is supposed to protect and serve. That was a man who did that. That man is a destroyer and he came into our lives and done something and took something from us."
Clarence Castile noted that his nephew had the "permission and privilege" to carry a firearm from the state of Minnesota.
Valerie Castile said that she has not yet been permitted to see her son's body or identify him.
Watch a clip from the interview:
WATCH @AlisynCamerota's full interview with #PhilandoCastile's mother and uncle: https://t.co/tebqvDKwjt https://t.co/gOdiQrtHlF

— New Day (@NewDay) July 7, 2016
—
Follow the author of this story on Twitter and Facebook:
Want to leave a tip?
We answer to you. Help keep our content free of advertisers and big tech censorship by leaving a tip today.
more stories
Sign up for the Blaze newsletter
By signing up, you agree to our
Privacy Policy
and
Terms of Use
, and agree to receive content that may sometimes include advertisements. You may opt out at any time.