Hours before gunmen opened fire on police officers in downtown Dallas, killing five cops and injuring seven others, Louis Farrakhan posted a message of hatred and violence against white people on social media.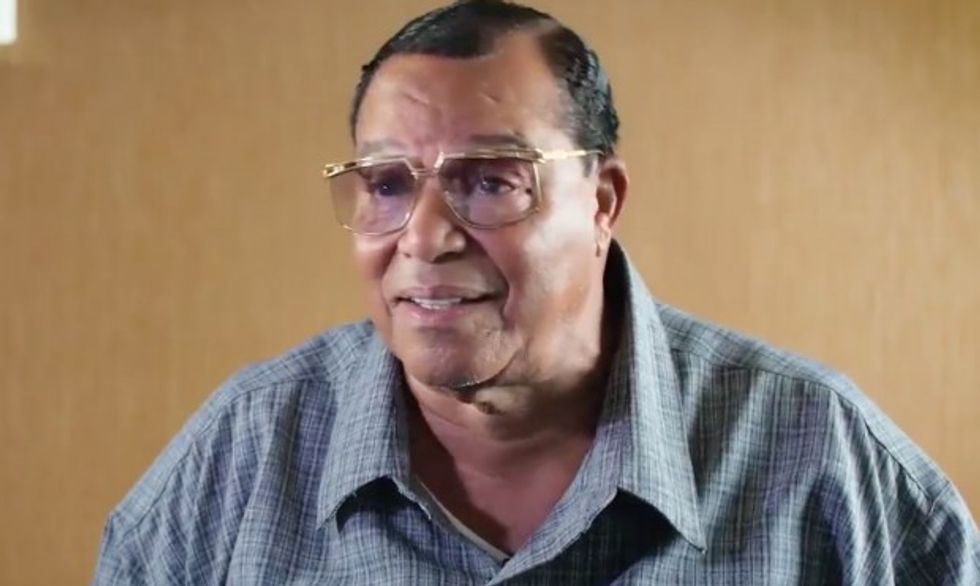 (Twitter video)
Dallas Police Chief David Brown said on Friday that one of the suspected shooters, Micah Xavier Johnson, told officers he was angry about recent police shootings and wanted to kill white people.
"When you are willing and not afraid anymore to pay the price for freedom — don't let this white man tell you that violence is wrong," Farrakhan said. "Every damn thing that he got, he got it by being violent — killing people, raping and robbing and murdering. He's doing it as we speak, and then he has the nerve to come and tell us that violence and hatred won't get it. Don't buy that!"
Speaking about white people as one entity, Farrakhan proclaimed, "He is worthy to be hated." He also claimed that "God hates," and man is no better than God.
The shocking video was posted on Twitter at around 5 p.m. on Thursday. Watch below (Warning: Disturbing content):
Are you truly ready to pay the price for freedom? pic.twitter.com/5xS2trn7mw

— MINISTER FARRAKHAN (@LouisFarrakhan) July 7, 2016
Brown blamed "snipers" for the deadly attack, but it was unclear how many shooters were involved. Authorities initially said three suspects were in custody and a fourth dead, killed by a robot-delivered bomb in a parking garage where he had exchanged fire with officers. Hours later, officials were vague and would not discuss details.
The shooting began about 8:45 p.m. Thursday while hundreds of people were gathered to protest the killings in Baton Rouge, Louisiana, and suburban St. Paul, Minnesota. Brown told reporters that snipers fired "ambush-style" on the officers. Two civilians also were wounded.
The Associated Press contributed to this report.
(H/T: Jason Buttrill)
---