Following Thursday's horrific attack on Dallas police officers, Fox News host Bill O'Reilly condemned racial "provocateurs" and the Black Lives Matter movement on his show, "The O'Reilly Factor."
O'Reilly did note Friday evening that law enforcement agencies need to acknowledge that there is a problem and that there have been "too many" fatal mistakes. He added that he was slow to comment on the police-related killings of black men this week in Lousiana and Minnesota because "emotions were white hot."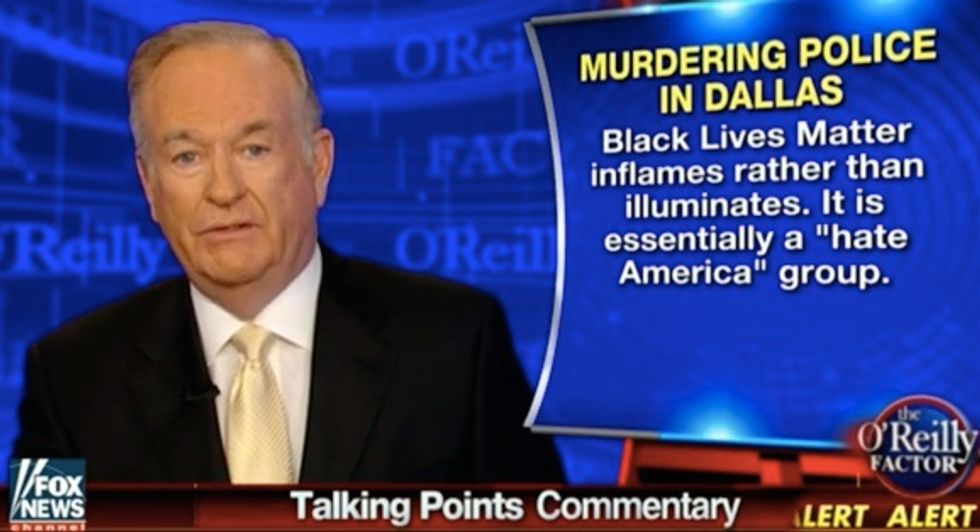 Image source: World Around/Fox News
He mentioned some of the racially and politically charged comments made by Don Lemon, Spike Lee and CNN commentator Bakari Sellers this week about black men being profiled or "hunted" by the police.
O'Reilly then turned to the subject of the Black Lives Matter movement and its role in the upheaval. He said that while the Black Lives Matter rally in Dallas Thursday was peaceful leading up to the shooting, protests that occurred on the same day in Oakland, California, were far more aggressive.
"Black Lives Matter," he concluded, "inflames rather than illuminates. It is essentially a 'hate America' group."
Former New York Mayor Rudy Giuliani joined O'Reilly Friday night to discuss the Black Lives Matter movement as it relates to police, saying that it should turn its attention to violent crime committed within the African-American community.
Giuliani agreed with O'Reilly that Black Lives Matter isn't helping to eradicate racism, saying that black lives matter, but so do all lives.