Rev. Jeff Hood of Dallas shouted "God damn White America" hours before the deadly attack Thursday that killed five police officers. Hood, a key organizer of Thursday's anti-police brutality protest in Dallas, later condemned the tragic shootings at a press conference Friday morning. But critics were quick to recall his provocative comments.
The community leader appeared on "The Kelly File" Friday night to discuss the incident.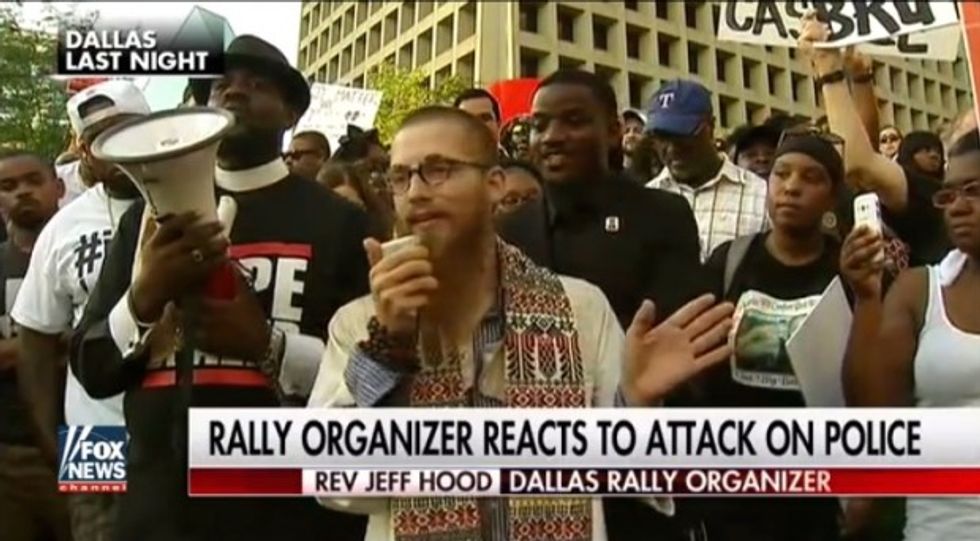 Image source: Fox News
Host Megyn Kelly asked Hood Friday evening if he regretted his choice of words before the protest.
The reverend said that if he could do it over again he would have been more careful with his words, but he was quick to add that his intention was to express the anger of the African-American community following the police-related killings this week in Lousiana and Minnesota.
"Obviously, what I was saying was that there needs to be an end to white-controlled America; there needs to be an end to white dominance in America. We have to come together as one America," Hood said.
Before uttering the controversial statements ahead of Thursday's protest, Hood invoked President Obama's disgraced former pastor, Rev. Jeremiah Wright, who once claimed that "white supremacy" drives "world policy."
Kelly asked Hood Friday if he understood the potentially damaging effects of condemning "White America" as that could be interpreted to include the white officers who were out in Dallas Thursday night serving as security for the protestors.
"In the wake of this slaughter, does that kind of language need to stop?" she pressed.
The religious leader told Kelly his intention was to condemn "the infrastructure of white dominance," noting that there still needs to be a conversation about that, but he is "devastated" by loss of the five police officers.
Watch: